printer friendly version
Flue gas analysis
December 2000
Analytical Instrumentation & Environmental Monitoring
South Africa is in a catch-up phase regarding efficient energy use and pollution control. Pressure is mounting on industry and local authorities to 'clean up their act' by monitoring and controlling harmful emission from combustion processes.
Fortunately, the necessary instrumentation has become more versatile and compact, making the task easier.
Typical applications for flue gas analysis include boilers, burners, furnaces, power stations, incinerators and heating systems using gas, oil or solid fuels.
Gases that require monitoring during combustion are:
CO2: Carbon dioxide is the result of complete combustion. The maximum achievable concentration (CO2 max) depends on the fuel being used. CO2 monitoring provides a measure of combustion efficiency.
CO: Carbon monoxide originates from incomplete combustion. The gas is colourless and odourless and is extremely dangerous for human beings (a concentration of 12 500 ppm leads to death within a few minutes). Reasons for CO emission are lack of air, excessive airflow or too-early cooling of the flame.
C: Carbon-C results from incomplete combustion and soots up the chimney.
CxHy: Unburned hydrocarbons are formed due to incomplete combustion and contribute to the greenhouse effect.
O2: Oxygen is consumed during combustion. The remaining oxygen is a measure of combustion efficiency.
N and NOx: In case of high temperatures, nitrogen combines with oxygen, forming nitrogen oxide. This is a respiratory poison damaging the lungs.
SO2: Sulphur dioxide is formed during combustion of coal and oil. If the flue gas temperature drops below the dewpoint, sulphuric acid is formed which soots up the chimney and pollutes wastewater.

Changing the measuring cells is as easy as changing a rechargeable battery. Thanks to the built-in electronics, the measuring cells are immediately ready to operate, saving you service costs
Some parameters related to flue gas analysis are calculated from the above measurement results. These include:
QA: Flue gas heat loss.
l: The ratio of excess oxygen to the theoretical air requirements.
effn and effg: Net efficiency and gross efficiency relate to the calorific value of the fuel and the latent heat of water vapour contained in the flue gas.
The trend in development and manufacture of flue gas analysers is towards smaller and more complex measuring instruments. Modern instruments use location-independent condensation traps and filters to protect the cell. New electrotechnical gas sensors provide rapid availability of the measured values, small space requirements, maintenance by the user and low manufacturing costs. However, a great deal of development work is necessary to create suitable measuring cells. Allowance has to be made for cross-sensitivity. The layout of the gas path is a major consideration when designing portable flue gas analysers. Another practical aspect is the ease of replacement of cells.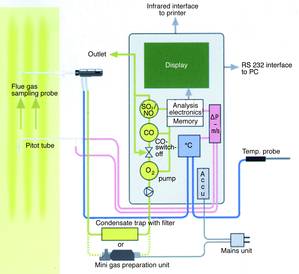 The Festo 300's external connections
A leading manufacturer in this field is Testo (Lenzkirch, Germany). 70% of their turnover comes from products that are not older than three years, showing clearly the innovation power and pace of progress being made. Testo specialises in portable instruments. The range includes entry-level units for single gases to highly complex systems for longer term monitoring of power stations above 500 kW. Testo offers a two-year warranty on its flue gas analysers. To the customer this represents a significant saving in maintenance costs. Testo will also provide a service for measuring instruments that are up to 15 years old.
South African companies that have benefited from Testo flue gas analysers include Iscor, Polifin, Steinmüller, various Technikons, Daimler-Benz and Volkswagen.
Further reading:
Water and wastewater treatment in the digital age
Endress+Hauser South Africa Editor's Choice Analytical Instrumentation & Environmental Monitoring
In these testing times of declining water security, IoT technology has been proven to boost operational efficiency and inform smart investment decisions.
Read more...
---
New webpage showcases natural gas plant analysers
Elemental Analytics News Analytical Instrumentation & Environmental Monitoring
Flagship products include multi-component odorant monitoring, hydrogen sulphide and carbon dioxide measurement, BTEX analysis and saybolt readings.
Read more...
---
Versatile handheld indoor air quality meters
GHM Messtechnik SA Analytical Instrumentation & Environmental Monitoring
Both instruments are easy to handle and compact in design, and can be charged easily with a mobile phone cord.
Read more...
---
Digitally managing energy costs and decarbonisation
Yokogawa South Africa Electrical Power & Protection Analytical Instrumentation & Environmental Monitoring
Real-time data combined with a single, asset-wide digital twin and proprietary analytics capabilities enable automatic opportunity identification and performance gap breakdown.
Read more...
---
Modified atmosphere packaging – making the right choice of gas analysis
Elemental Analytics Analytical Instrumentation & Environmental Monitoring
Modified atmosphere packaging (MAP) is used within the food and pharmaceutical sectors to extend the shelf life of many products that would otherwise deteriorate quickly in the presence of oxygen. It 
...
Read more...
---
Reducing the carbon footprint of milk production
Analytical Instrumentation & Environmental Monitoring
The certified Valio Carbo environmental calculator is used in monitoring the carbon balance of Valio dairy farms. In 2021, more than a thousand of them (about a quarter of all the company's dairy farms) 
...
Read more...
---
Avoiding South Africa's water crisis
Analytical Instrumentation & Environmental Monitoring
Collaboration and technology can make South Africa a water-secure nation.
Read more...
---
Electrical measurement and process analytics for hydrogen production
Mecosa Analytical Instrumentation & Environmental Monitoring
Knick products optimise the hydrogen production process and electrolyser operation.
Read more...
---
Non-Nuclear online slurry density measurement
Allpronix Analytical Instrumentation & Environmental Monitoring
When a local metal smelting operation had a requirement to remove manual sampling from its slurry line, Allpronix was approached to advise on a solution.
Read more...
---
Portable combustion gas analyser
Elemental Analytics Analytical Instrumentation & Environmental Monitoring
The E8500 Plus is a powerful and advanced portable emissions analyser, a complete, portable tool for EPA compliance and level emissions monitoring of boilers, engines and other combustion equipment.
Read more...
---