printer friendly version
Rationality in machine automation
April 2003
System Integration & Control Systems Design
Gefran's new generation of integrated machine automation products greatly simplify the task of machine automation. The machine integrator and systems rebuilder can now buy their MMI, PLCs, intelligent SSRs with PID and sensors from a single source.
Geflex - an all-in-one PID-SSR - a super building block
This advanced intelligent power SSR (or is it a Power PID controller?) is a fully programmable PID solid-state relay. Described as an "integrated control and power system for multizone temperature control," the Geflex product is a perfect marriage of a SSR and a PID controller, all in one DIN mount module with various bus connection possibilities.
* The Geflex concept cuts down on 30% of cabling and installation time.
* The SSR-PID controller can be located close to the switched load and to the temperature sensor and communicates with a range of MMI interfaces via modern bus connections.
* Available in Profibus, Modbus or on a CAN-OPEN bus, the Geflex offers opportunity to simplify machine design and layout.
In practice, the benefits include lower design and manufacturing costs - and less cabling for the maintenance technician to wade through on site. Troubleshooting a machine in a production environment is quick, resulting in less downtime and maximising production time.
Possibly the biggest benefit is the effect on the machine PLC. Running many PID control loops within the PLC always slows it down. Adding Geflex offloads this overhead onto the control point - where it should be - resulting in a far superior control on each loop while reducing the size of the required PLC, with the associated cost savings.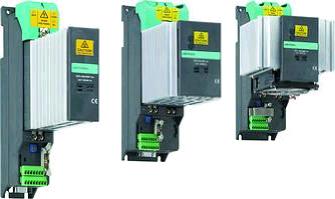 Geflex – latest SSR-PID controllers from Gefran, 40 A, 60 A, Master and 120 A slave
Programming Geflex is easy, with plenty of power available
Set-up, programming and operator interface is via a PC or the new Chatty range of matching man-machine interfaces or the DigiStar industrial PCs from Gefran. The Winstrum software is similar to the version used for the panel mounted controllers and digital indicators from Gefran.
* Geflex GFX master modules carry a fieldbus interface, slave modules are external.
* Available in ratings between 25 A and 120 A switching capacity.
* Geflex can handle single and three-phase loads up to 480 V a.c.
* Geflex control offers all modern PID functions (14 control algorithms).
* Up to three relay outputs for cooling and 6 configurable alarms.
* Digital input for dual set-point selection, auto-manual switching or for resetting of latched alarm functions.
The PID-SSR has more functions for automation than conventional PID controllers, as the on-board current transformer monitors the load and reports on load failure immediately. An optional voltage transformer also allows monitoring of the mains voltage, power and energy levels.

Gefran Chatty man-machine terminal
GiLogik universal fieldbus PLC
Gefran has long been known for its dedicated automation systems for the plastics and packaging machinery industry. Now GiLogik takes this concept to a holistic integration level, whereby all parts can be supplied from a single supplier, including the PLC.
* GiLogik fieldbus PLCs are modular and form the heart of any automation task.
* With a wide choice of GiLogic CPUs, Profibus, DeviceNet and Ethernet TCP/IP interfaces, CAN-OPEN and serial bus RS485 interfaces communication to all interfacing equipment is possible.
* GiLogik offers a wide range of I/O modules, including axis control.
* GiLogik offers compatible instruction set with the Siemens S7-300 series programmed in Step7 language.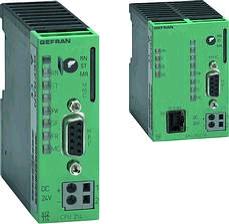 GiLogik CPU modules with bus interfaces
DigiStar industrial PCs
GiLogik communicate to the DigiStar range of industrial panel mount PCs from Gefran via Ethernet TCP/IP. Multiple GiLogik PLCs can be linked via Profibus and interface directly to CanOpen sensors like the magneto-restrictive potentiometers and pressure sensors from Gefran. Direct communications to the Geflex PID-SSRs via Modbus or Profibus ensures a matching system throughout.
Normal SSRs now repairable
Gefran has released a new range of standalone solid-state relays and power controllers in its 2003 product line-up. The GS series SSR has exchangeable elements and a space-saving vertical form factor with the same hole spacing as the conventional black block type. This allows machine upgrading to higher rated SSRs within the same space, it makes the changeover from mechanical contactors to solid state switching possible without panel change. These product changes fall within the goal of Gefran to ensure reduced costs for their clients when modernising existing machines.
Setting new standards
Gefran says that it has finally achieved the goal it set more than three years ago: to offer the machine manufacturer and OEM a complete range - MMI, intelligent control via modular PLCs, intelligent switching devices in the panel and a line-up of sensors, which include load cells, pressure transmitters, potentiometric devices and temperature sensing all working as one high-performance system.
In southern Africa, UniTemp has been supplying and backing the Gefran products for more than seven years. Through a network of distributors the new range will be introduced in 2003 to the manufacturing sector in all geographic areas as well in the neighbouring countries.
Further reading:
Open automation helps optimise cutting machine concept
September 2021, Beckhoff Automation , System Integration & Control Systems Design
Industrial PC technology and EtherCAT elevate Trumpf 3D laser cutting systems.
Read more...
---
Futureproof industrial networks with technology from Pepperl+Fuchs
September 2021, Pepperl+Fuchs , System Integration & Control Systems Design
Preventing unplanned process interruptions, maintaining an overview and ensuring security are key requirements in modern cloud-based applications.
Read more...
---
Siemens, Dow and MxD develop automation test bed
September 2021 , System Integration & Control Systems Design
Siemens is collaborating with Dow to showcase the future of automation with a process industry test bed at MxD, a state-of-the-art advanced manufacturing institute and innovation centre in Chicago. This 
...
Read more...
---
Changeover in pharma production
August 2021, Instrotech , System Integration & Control Systems Design
Instrotech, through its principal, Siko, increases the efficiency and production quality of machines by offering intelligent positioning systems for machine manufacturers and end users in the pharmaceutical industry.
Read more...
---
Robotics and the potential to realise the lights-out factory dream
Technews Industry Guide: Sustainable Manufacturing 2021, Omron Electronics , System Integration & Control Systems Design
The phrase 'lights-out factory' is generally presented as something for manufacturers to aspire to. But is the concept, which essentially means manufacturing without humans, a realistic goal?
Read more...
---
WLS15 Pro series strip light
July 2021, Turck Banner , System Integration & Control Systems Design
Turck Banner's new WLS15 Pro comes in Pro Editor, IO-Link, or Pick-IQ compatible models.
Read more...
---
Water resource sustainability management
July 2021, Yokogawa South Africa , System Integration & Control Systems Design
One way Yokogawa is successfully pursuing its sustainability goals is through its service to the global water industry.
Read more...
---
Packaging for sustainability
August 2021, Beckhoff Automation , System Integration & Control Systems Design
PC-based control and EtherCAT enable flexible and sustainable packaging machines.
Read more...
---
Sustainable mobility
Technews Industry Guide: Sustainable Manufacturing 2021, Beckhoff Automation , System Integration & Control Systems Design
Nel Hydrogen develops fuelling stations and dispensers for cars, buses and trucks. Fast, real-time control and monitoring are crucial to ensure high reliability and low maintenance.
Read more...
---
SCiBOTRON's quality culture the key to success
May 2020 , System Integration & Control Systems Design
The company was founded on lean principles and quickly grew into a QSE (Qualifying Small Enterprise). Ricardo Paddy, managing director and founding member, attributes one of the reasons for the company's 
...
Read more...
---