printer friendly version
High-level process definition solution aids system integration
May 2002
System Integration & Control Systems Design

Futuristix Advanced Control Systems is now offering ProDef, an application that provides a common development environment for the design, programming and documentation of control systems. A great help to systems integrators – the software allows process engineers and programmers to rapidly develop industrial applications that integrate their existing or new control system resources.
ProDef is used to write functional specifications and control code as well as to configure HMIs (eg InTouch) and PLCs. ProDef is also used to integrate with batch controllers (eg InBatch) and to document projects with HTML using XML and XSL style sheets.
"ProDef is a significant leap forward in the generation of control system applications," says Futuristix MD, Mike le Plastrier. "It not only provides for the capturing of the intellectual property of process experts but also reduces coding and coding errors to the minimum while automatically generating project documentation which becomes an integral part of the control application."
Just as the InTouch HMI addresses a horizontal market by being able to work with any PLC, so does ProDef. All coding is done and verified independently of any specific controller. Only once the project is completed is the code compiled for any selected PLC. While ProDef produces output code for the controller, it also produces the necessary HMI files and, because these two files originate from the same source, they are vertically integrated with the result that there is no chance of errors in connecting from the HMI to the PLC.
ProDef continues its contribution towards vertical integration by also generating files for the MES level of the control application including batch files and tracking information, which is then vertically integrated to the HMI or directly to the PLC. Vertical integration continues to the ERP level since the entire infrastructure for communicating with ERP systems is included in ProDef.
ProDef's common development environment includes the following benefits:
* A single project database that provides a single source for information. This reduces errors that can occur when information is manually entered into the PLC, HMI or batch controller.
* Automatic configuration of HMI templates provides PLC code that is automatically structured and configured to communicate with pre-configured templates in the HMI. This provides complete integration between the HMI and PLC.
* Batch interface incorporated into templates. ProDef provides support for the phase logic interface (PLI) in the PLC.
* Integrated hardware configuration. ProDef provides for the I/O configuration of any PLC.
* Automatically generated as-built documentation (online SOPs). ProDef's HTML documentation can be connected on-line so that the operator has all of the design documentation and control code available at run-time.
* Consistent project methodology. Using ProDef, code is structured exactly the same for every project.
* Dynamic linking. Updating one template results in the automatic update of all dependent objects.
* Rapid prototyping. ProDef allows for the rapid creation of devices and sequences, which together with the HMI, can be run in front of end-users for instant feedback and modification if necessary.
* Elimination of integration testing for the controller and HMI. ProDef totally eliminates the need for controller and HMI integration testing because the controller tags and the HMI tags are generated from the same source. Each template is pre-tested with the corresponding equipment faceplate.
* Control code portability across multiple controller platforms. The same control code developed in ProDef can be used on different platforms such as Allen Bradley, Siemens, Schneider, etc.
* Automatic conformance to standards. Typically, standards are documented on paper and they have to be maintained, updated and communicated to the personnel responsible for implementing the project. With ProDef, however, standards are 'live' with the result that updating a template causes changed standards to automatically be applied to all existing and future projects. There is no need for the interpretation of standards as they are encapsulated within the templates and projects are built by instantiating these same templates.
* Code maintainability. ProDef code is highly structured and fully documented making it easily maintainable over the life of the control system.
"In spite of all this, ProDef would have little use it if could not provide hard business benefits," continues le Plastrier. "These include greatly-reduced engineering and testing costs through the re-use of tried and tested control solutions not to mention improved ROI as well as reduced site and training costs."
Site costs are reduced because of reduced commissioning times. This is the result of all the code being pre-tested and often pre-commissioned. Since the code is integrated with the HMI, there is no need for integration testing on site and devices can be pre-tested by manually activating and de-activating equipment that contain diagnostic logic to locate faults. This enables the electrician to rectify all site installation problems before the programmer even gets there.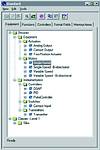 Reduced training costs result through the repeated re-use of the same structure and methodology. The code and templates look the same to the operators while the HTML documentation provides operators with reference material (online help) for the process and control application whenever they need it.
ProDef also contributes to the following profit and strategic issues:
* Reduced project risk because at any stage anyone can view the status of the project and contribute to it. More accurate project definition and prototyping also means that there are no surprises and that there is far more control over the successful and predictable outcome of projects.
* Co-development with complete control and consistency. Because we can develop templates concurrently using the core components of the catalogue, the process engineer can write the sequences while the programmer develops the templates to support those sequences.
* Standards across projects for the entire enterprise can be easily achieved because, independently from which controller is being used, the same code and documentation can be re-used on different projects with different controllers. Coding and tagging standards are built-in to the catalogue.
* No sole dependency on author or programmer as ProDef structures code that is easily maintainable through rigorous documentation procedures.
* Improved process performance: As ProDef provides all project personnel access to all of the project information, anyone with specialised process knowledge can contribute to the design and implementation of the project.
ProDef was designed to provide system integrators and end-users the control, productivity and predictability they've been looking for when designing projects by allowing them to focus on the problem rather than the supportive technologies.
Mike le Plastrier, Futuristix
011 723 9900
Further reading:
SCiBOTRON's quality culture the key to success
May 2020 , System Integration & Control Systems Design
The company was founded on lean principles and quickly grew into a QSE (Qualifying Small Enterprise). Ricardo Paddy, managing director and founding member, attributes one of the reasons for the company's 
...
Read more...
---
PC-based control technology for process automation
May 2020, Beckhoff Automation , System Integration & Control Systems Design
Progress is not based on the innovative creation of buzzwords. Unfortunately, the development of enabling technologies in recent decades did not help to raise process automation to an advanced level. 
...
Read more...
---
Improved production capacity and efficiency
May 2020, Omron Electronics , System Integration & Control Systems Design
Automation with robotics increases production of chocolate by 40%.
Read more...
---
PC-based control for Covid-19 rapid testing production lines
June 2020, Beckhoff Automation , System Integration & Control Systems Design
The rapid testing equipment production lines made by Ginolis in Qulunsalo, Finland, have proven themselves in the market for almost a decade. Because of the coronavirus pandemic, previously delivered 
...
Read more...
---
PCS Global keeps Dairymaid production on track
May 2020, PCS Global , System Integration & Control Systems Design
Commonly known as 'the smile maker', Dairymaid's ice cream has been a favourite in many South African households for the past three decades. Keeping the factory running and ensuring the quality of the 
...
Read more...
---
The efficient and easy to configure DALI-2 lighting solution
May 2020, Beckhoff Automation , System Integration & Control Systems Design
The TwinCAT 3 Lighting Solution, which is easy and convenient to configure via Excel files, simplifies all work steps from engineering to maintenance. All typical lighting controls are integrated in the 
...
Read more...
---
Business unusual
May 2020, Autotronix , System Integration & Control Systems Design
Is it the right time to migrate your legacy servo and control hardware?
Read more...
---
Flexibility of PC-based control minimises development times
May 2020, Beckhoff Automation , System Integration & Control Systems Design
The outbreak of Covid-19 in China created a massive demand for masks and other medical products. Xiamen Booltech recognised the need to produce N95 masks, which provide protection for both medical staff 
...
Read more...
---
Water management from Siemens optimises flood control
April 2020, Siemens Digital Industries , System Integration & Control Systems Design
The Erftverband is an organisation that includes municipalities, counties, industry and utilities, and as a public corporation it is responsible for cleaning private and industrial wastewater along the 
...
Read more...
---
High-end measurement technology drives innovation in machine availability
Technews Industry Guide: Maintenance, Reliability & Asset Optimisation 2020, Beckhoff Automation , System Integration & Control Systems Design
EtherCAT measurement modules now include the cost-effective ELM314x Economy line.
Read more...
---