printer friendly version
Efficient gold production through effective control software
May 2002
System Integration & Control Systems Design
Consistent product quality, improved operational efficiency and reduced nonvalue-contributing activities are all part of the quality control system implemented by system integrator, Welkom Industrial Controls at Free Gold One Plant run-of-mine mill circuit (ROM Mill).
The Free Gold One Plant is located about 3 km from Welkom and has a gold-carrying ore throughput of 390 000 tons per month using six mills. Welkom Industrial Controls was asked to implement a 'rules-based' control system by which the end-user could define the various parameters within rules that determine the operation of the plant's ROM milling circuits. The appropriate rules would have to be enabled or disabled by authorised personnel to cater for the processing of varying raw material characteristics. Initially, it was intended that the rules would be programmed into the existing PLCs but the sophistication required precluded this from happening and Wonderware's InControl was used instead.
"One of the customer requirements was that there was to be no additional control hardware," says Markus van der Merwe, Systems Engineer at Welkom Industrial Controls. "The cost of buying new PLCs that would provide us with the degree of control required would have been prohibitive - both in terms of the PLCs themselves and then in terms of the programming effort that would be needed to implement the necessary level of intelligent control. InControl gave us a low-cost and more flexible alternative that replaced the logic of the existing PLCs while still making use of them as I/O devices thereby reducing expenditure on all fronts."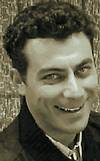 Markus van der Merwe
InControl would form part of an integrated system consisting of an InSQL realtime database and ActiveFactory for automatic information collation and reporting as well as five existing InTouch scada HMIs. This approach would also conform to another end-user requirement, which specified that the system had to be open and nonproprietary in order to cater for easy, user-configurable changes after implementation.
Welkom Industrial Controls chose a combination approach similar to Statistical Process Control (SPC) and Statistical Quality Control (SQC). SPC typically uses realtime data to create visual representation of the plant, whereas SQC more typically relies on historical data as the basis for broader mathematical analyses. Historical can mean data that is milliseconds old or months old. André Vuilleumier developed a custom function block in InControl providing smoothing and averaging for control purposes based on realtime and historical data. By reacting quickly to problems and potential problems in the process, continuous and immediate corrective action in realtime significantly improved process efficiency. Realtime in this case means 'real money'.
"Efficient gold extraction relies heavily on the quality of the milled product," explains Corné Lourens, Plant Manager at Free Gold One Plant. "We have to ensure that, in order to help optimise process efficiency, a constant quality of product (desired fineness of grind) is obtained at optimal throughput rates of more than 95t/hr. Sometimes, additional equipment such as particle size analysers are used on the final milled product as tools to optimise the process. But, at approximately R320 000 capital cost per mill with a monthly maintenance cost of R30 000, this was not an option. Our objective was to optimise the existing basic control loops on each mill by using the operator experience defined in rules. The 'rules' we have defined give us the flexibility to dynamically adapt and ensure optimal performance. We are striving to develop a system that automatically adjusts to process fluctuations but still allows operational personnel to interact and optimise the process according to prevalent conditions."
The mill throughput rate was previously controlled according to mass load. The ability to obtain maximum power suffered as a result. With a mill mass setpoint of 40 tons, for example, the measured mass varied between 32 and 51 tons using the original PID functions in the PLC. A new approach, which continuously searches for maximum power despite a varied feed quality (reef, waste, fines), whilst keeping the mill 'on grind', proved much more fruitful. Various other process considerations such as a more constant feed, mill discharge RD, cyclone feed RD and sump level control in this complex process of gold production are now controlled from within InControl based on 'rules' defined by the customer. Analysis showed that the mill load is now essentially more constant with a positive impact on the mill's power control circuit running at an almost straight control line. The mill's throughput analysis indicated that an increase from 85 tons/hour to 100 tons/hour on average is possible (at current feed quality) while grinding within the specified limits of 75% -75 µm and 4% +150 µm.
"To increase overall efficiency of the mill it is essential for the operator to see the rules being applied," says van der Merwe. "Statistical algorithms are now being developed using this approach that will allow us to adapt to changing circumstances. If metallurgical personnel and operators can see that the control system output is not coping, they will know that the parameters for the selected rules are incorrect. In the case of mechanical or control hardware defects we display visual alarms and multimedia sound is used for auditory notification."
The system has allowed Free Gold One Plant to optimise the ROM Mill using its existing resources while giving the plant the intelligent, advanced process control needed to significantly improve its revenue stream.
Welkom Industrial Controls won a special award at the Futuristix-Wonderware X-CHANGE 2002 user conference for the most innovative use of FactorySuite for this rules-based control system implementation.
Mike le Plastrier, Futuristix
011 723 9900
Welkom Industrial Controls
057 396 5907
Credit(s)
Further reading:
CSS digitises energy consumption at Hulamin for global information accessibility
September 2019, Control Software Solutions , System Integration & Control Systems Design
Energy Cybernetics was contracted by the NCPC-SA as part of the IEE programme to undertake a compressed air system optimisation (CASO) assessment to recommend compressed air system energy efficiency opportunities 
...
Read more...
---
Flexible communication across building and mobility applications
September 2019, Beckhoff Automation , System Integration & Control Systems Design
TwinCAT OPC UA connects research and innovation infrastructure on Empa campus.
Read more...
---
The future of basic control innovation
September 2019 , System Integration & Control Systems Design
Basic process control, what we now call 'level 2' in the Purdue Enterprise Reference Architecture, has been the basis for successful process manufacturing for decades. Industry has witnessed several revolutions 
...
Read more...
---
Productivity Master points the way to digitalisation
September 2019, Festo , System Integration & Control Systems Design
Seamless connectivity of handling and software solutions developed by Festo.
Read more...
---
Practical project management to replace an obsolete control system
September 2019, Industrial Control & Automation , System Integration & Control Systems Design
Successful integration of a Yokogawa Centum V-Net IP NIO DCS at Umfolozi Sugar Mill.
Read more...
---
From product design to adoption in the processing plant
August 2019, Endress+Hauser , System Integration & Control Systems Design
Behind the scenes with the product developers at Endress+Hauser.
Read more...
---
Network management software essential for smart manufacturing
August 2019, RJ Connect , System Integration & Control Systems Design
Visibility of network devices and infrastructure is just as important as production machinery for maintaining reliable and efficient factory operations. For example, an unrecoverable fault in a network 
...
Read more...
---
Scada, IIoT, M2M and more
Technews Industry Guide: Industrial Internet of Things & Industry 4.0, Phoenix Contact , System Integration & Control Systems Design
How many buzzwords do you need to monitor your remote pump station?
Read more...
---
New KUNBUS range includes Raspberry Pi-based solutions for IIoT markets
Technews Industry Guide: Industrial Internet of Things & Industry 4.0, RS Components SA , System Integration & Control Systems Design
The KUNBUS range of products includes 14 new lines, including industrial computers, PLCs and data acquisition and human-machine interface (HMI) devices. A key series from KUNBUS is the Revolution Pi series 
...
Read more...
---
Sensirion's latest humidity and temperature sensor
Technews Industry Guide: Industrial Internet of Things & Industry 4.0, RS Components SA , System Integration & Control Systems Design
The new sensor builds upon Sensirion's SHT3x series, which offers industry-proven CMOSens Technology that for more than 10 years has delivered highly accurate units with long-term stability. Adding to 
...
Read more...
---