printer friendly version
Shopping mall fountain controlled by digital I/O boards
April 2002
System Integration & Control Systems Design
The main objective of the fountain inside the Century City shopping mall, near Cape Town, is to attract people. The control equipment needs to be flexible, reliable and easy to maintain. A computer-based solution was considered the best option. The computer eases the human interface, as PC-based HMI allows people to clearly see what they are doing, and the fountain is also able to function automatically.
Laid out in the form of a clock, the fountain indicates the time in five-minute increments. Time indication is accomplished by 12 water nozzles representing the different positions of an hour hand and another 12 representing those of a minute hand. In the middle is one large nozzle with a high and low mode. This is used to indicate the hour, or that 12 hours have lapsed.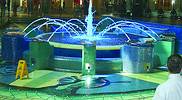 The fountain at Century City shopping mall
Operation of the fountain is simple. It supports two modes: realtime and a sequential mode. In realtime mode, the fountain displays the current time by making use of the different nozzles as different hand positions. The time is updated and displayed in five-minute increments, with the hour and minute nozzles producing water jets running through a sequence of positions corresponding to the hands of a clock. The middle nozzle is used to announce the hour, much like the bird in a cuckoo clock.
In the sequential mode, the fountain displays a water jet sequence. Different preset groups of nozzles are activated at defined interval periods, following a 'choreographed' sequence. This mode generates many interesting water sequences - one, for example, imitates a rotating wagon wheel.
The minute nozzles are fed from one large pump with individual valves to select different nozzles. The hour nozzles on the other hand have individual pumps. The centre nozzle has two pumps (producing low and high flow rates). The fountain set-up also includes filter pumps that are used to filter the water. Another two valves are used to refill the pond or to empty it. The pond is also equipped with water level sensors. The valves are switched directly by solid-state relays. The pumps are buffered through contactors to increase the switching current. The level sensors are monitored through an optically isolated input board.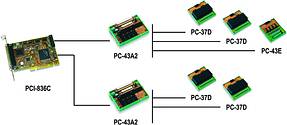 Basic configuration diagram
Water level monitoring has to be effected to ensure water levels suitable for satisfactory operation. (If the water level drops too low, the pumps will run dry and sustain damage - if it is too high the pond will overflow.)
Eagle Technology provides an easy solution for such installations. The application modules are equipped with screw terminals for quick installation. The only wiring that needs to be done is the actual connections from the application module to the switchgear. In this case the connection from the solid-state relay board to the contactor or valve. The modules can also be DIN rail-mounted, which is standard for any industrial application. The single biggest advantage is that the installation is easy to repeat and to do multiple installations. No soldering or extra connector blocks are needed. It is quick and simple to install. Eagle Technology provides all interconnection cables as standard.
The control software was also developed by Eagle Technology and includes modes for the realtime clock, the sequential mode and a manual mode. A full event logger is included which logs all events like application shutdown, start-up, level alarms and power failures. It also has a scheduler to automatically go to sleep at a preset time and to be activated at a preset time. The software loads its sequences from a database, which makes developing new sequences easy. Another feature, which is very important, is that in an event of sudden power loss, the computer will reboot. The software will load on start-up and detect that it was not shutdown properly. It will simply reload the last sequence before the power failure and continue as before. This is very important for process control systems to have some sort of auto recovery feature. The manual mode is mostly used for debugging and faultfinding, either locating faulty hardware or faulty wiring. To secure the control station, the application can also be locked by an operator.
Eagle Technology also supplied the PC-based system, which included a PCI digital I/O board (PCI-836C), a docking board (PC43A2), eight channel solid state relay boards (PC-37D) and an eight channel optically isolated input board, (PC-43E). The diagram shows a typical configuration having the capability to switch 32 channels, each 220 V a.c. via 2 A, solid-state relays and monitor eight analog voltage inputs (0 to 32 V d.c.).
The company stocks a wide range of process control products and accessories. This includes PC based plug-in boards for analog inputs, analog outputs, counters, timers and digital I/O. There are accessories to help ease installation and complement the PC based products. Full data acquisition systems implemented on industrial PC platforms are also on offer.
Henry Hugo, EagleTechnology
021 423 4943
Further reading:
Loop Signatures 12: Digital controllers – Part 4: The I term
Michael Brown Control Engineering Editor's Choice System Integration & Control Systems Design
Generally, as PLCs sometimes do not handle PIDs well, I always do some tests on them to check on the operation of their control loops.
Read more...
---
Risk assessments accelerate Booyco PDS adoption
Editor's Choice System Integration & Control Systems Design
As mines systematically assess the risks related to their trackless mining machinery, they increasingly see the value in proximity detection systems.
Read more...
---
Control loop: Case History 182 - A temperature cascade control loop that didn't work
Michael Brown Control Engineering Editor's Choice System Integration & Control Systems Design
The problems encountered in a heater outlet temperature control in a petrochemical refinery were causing considerable difficulties for the operators. Here is another wonderful example of the power of cascade control, even with a really bad control element.
Read more...
---
The role of 'green' packaging in sustainable manufacturing
Omron Electronics System Integration & Control Systems Design
Sustainability in the packaging industry is one of the key aspects in fighting the plastic waste issue and, ultimately, climate change.
Read more...
---
Working hand in hand to meet automotive OEMs' strict requirements
Turck Banner Sensors & Transducers System Integration & Control Systems Design
The LASE Group, producer of machines and assembly cells for the automotive industry, places trust in its close collaboration with Turck Multiprox.
Read more...
---
PC-based control for seed treatment
Beckhoff Automation System Integration & Control Systems Design
The cost and consumption reports generated by the production control system open up new ways of managing and analysing data.
Read more...
---
Cobot boosts production by 15%
Omron Electronics System Integration & Control Systems Design
Topcustom, an Italian producer of custom-made bathroom sinks, has recently transformed part of its operations by deploying a collaborative robot (cobot) from Omron. The new cobot is being used to automate 
...
Read more...
---
Integrated control and software solutions for operational efficiency and traceability
Schneider Electric South Africa System Integration & Control Systems Design
Actionable insight from integrated operations has the potential to transform business and improve risk management.
Read more...
---
Omron and FlexLink design collaborative palletiser
Omron Electronics System Integration & Control Systems Design
The cobot solution, with its small footprint and active safety equipment, enables the handling of up to 8 boxes per minute without the need for fencing or laser scanners.
Read more...
---
Control loop: Case History 181 - Understand the basics of the components in the loop
Michael Brown Control Engineering Editor's Choice System Integration & Control Systems Design
To my amazement I find that people seem to think that because these days we are using 'smart' transmitters, the basic rules can be ignored.
Read more...
---