printer friendly version
A good combination for the primaries and metals industry
November 2019
System Integration & Control Systems Design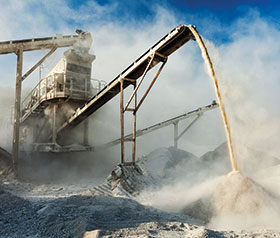 Whether it be in a cement plant, in steel production or in mining, Endress+Hauser helps the primaries and metals industry to bring out the best of its processes ? making a real difference in many areas with a custom-fit portfolio.
Solutions for every purpose
The company has known the primaries and metals industry and its processes for over 65 years. Industry experts from sales centres across the globe have a great deal of expertise when it comes to applications, and provide a broad instrumentation portfolio specifically tailored to the industry's high demands. Custom-made services and solutions complete the offering. Their spectrum ranges from fieldbus engineering to entire automation solutions for core processes and utilities (e.g. full water monitoring or the detection of leaks in pipes). This portfolio helps businesses to increase plant availability, adhere to environmental regulations and operate processes in a more efficient and safer manner.
Safe under any circumstance
Dust, high temperatures, chemicals, abrasion – the often-extreme conditions in the primaries and metals industry are not a problem for Endress+Hauser's measurement devices for flow, level, pressure, temperature and liquid analysis. They continue to work just as precisely and reliably under the highest stress, are suitable for safety instrumented systems up to SIL3 and, most importantly, are easy to use. Pressure transmitters of the Cerabar M series provide a high level of process safety due to their robust ceramic measuring cells and integrated detection of a broken sensor membrane, for example. The high-temperature Omnigrad TAF range was developed for measuring points with extremely high temperatures. Ceramic thermowells shield the sensors from mechanical and chemical influences, thereby increasing the thermometer's life span, compared to stainless steel.
Easy operation
Water and chemicals are common in many mining applications, for example during industrial water treatment, or to extract metals and minerals. To ensure that these processes achieve optimum performance, the pH, dissolved oxygen and turbidity values must constantly be monitored. Sensors with Memosens technology are ideal for tasks such as these: they digitise the measured value in the sensor before transferring it contactlessly to the transmitter, thereby eliminating external influences. The sensors can also be pre-calibrated in the laboratory and exchanged quickly and easily during operation, saving costs while increasing the availability and safety of the plant and staff.
Unobstructed measurements
Continuous measurement in silos and bunkers represents a challenge to level measurement devices: dust, temperature layers and gas blankets can influence the measurement signal. The new non-contact radar level measurement device Micropilot FMR67 is unaffected by factors of this kind: the first 80 GHz instrument developed according to the international functional safety directive IEC 61508 always provides an unobstructed view – even in narrow silos, with a large number of fittings and under adverse circumstances. This is made possible by the small beam angle of just three degrees and the drip-off antenna, which simply repels any dirt. Endress+Hauser offers a total of 13 measuring principles for level measurement and point level detection, providing the right solution for every task.
Maintenance on demand
Measurement devices can provide more than just measuring values, which is why Endress+Hauser has equipped its latest flow, level, temperature and analysis measurement instruments with Heartbeat Technology. It enables the instrument to constantly monitor itself and many process conditions; verification for SIL repeat tests during the running process is also possible at the touch of a button or the click of a mouse. Due to device specific parameters, the instruments detect critical trends early on. Level measurement devices can detect whether any build-up has formed on the sensor antenna, or whether there is a build-up of foam on a liquid surface, for example. Flowmeters, meanwhile, detect corrosion, entrained gas and abrasion within the measurement tube, among other things. Maintenance services can therefore be better planned while processes can be controlled in a more efficient manner. Coriolis flowmeters in flotation processes, for example, can detect chemical changes to the flocking agents and are able to indicate when a new preparation is required.
Going digital
Barely any application in the primaries and metals industry can cope without precise flow measurement. Blast furnace cooling circuits in the steel industry are monitored for leaks through ultrasonic or electromagnetic flowmeters, for instance. In cement manufacturing, Coriolis instruments assist with clinker production and help control the burner by recording the mass flow, density and temperature at the same time as the viscosity of liquid fuels such as heavy fuel oil. The latest addition to the Endress+Hauser flowmeter family is also multitalented: the Picomag, an electromagnetic flowmeter for monitoring smaller pipe sizes used in water distribution around the plant. The smart pocket-sized newcomer simultaneously measures temperature and can be operated easily via Bluetooth in areas that are hard to access. The device is ready for the Industrial Internet of Things through its IO-Link technology, which enables its flexible integration into all fieldbus systems as well as access to many additional device and process data.
Everything well controlled
Water is indispensable to mining operations. Employees require potable water while numerous applications need process water which, once used, is treated before being recycled or returned to the environment. Water and wastewater treatment automation solutions allow the measurement and control of these processes. Field instrumentation packages help to increase filtration cycles in seawater desalination applications. Smart aeration control solutions in wastewater plants result in energy savings of up to 30 percent. Analytical measurements that can be accessed wirelessly and over long distances provide support during water body monitoring and therefore assist with environmental regulation compliance.
An eye on material streams
Saving fuel, natural gas and electricity is one of the main objectives for companies in the primaries and metals industry: energy costs account for up to 40 percent of total costs in steel production and as much as 75 percent in cement manufacturing. Mining operations meanwhile use approximately eight percent of their production costs for lubricants and fuels for trucks, drills, haulers and other vehicles. Endress+Hauser supports efficient operations of these high-cost processes. Energy monitoring solutions help to capture and monitor energy use to take targeted measures to reduce energy consumption. Loading solutions with Coriolis flowmeters provide a decisive advantage during the delivery of fuel to mining operations: they determine how much fuel is being purchased with exact precision. Inventory management solutions also render inventories and expenditure transparent, enabling an efficient logistics chain.
For more information contact Dhiren Naidoo, Endress+Hauser, +27 11 262 8000, dhiren.naidoo@za.endress.com, www.za.endress.com
Credit(s)
Further reading:
SCiBOTRON's quality culture the key to success
May 2020 , System Integration & Control Systems Design
The company was founded on lean principles and quickly grew into a QSE (Qualifying Small Enterprise). Ricardo Paddy, managing director and founding member, attributes one of the reasons for the company's 
...
Read more...
---
Endress+Hauser Switzerland turns 60
June 2020, Endress+Hauser South Africa , News
The Swiss sales centre of Endress+Hauser is celebrating its 60th anniversary. Active in Switzerland since 1960, today the global leader in measurement instrumentation, services and solutions for industrial 
...
Read more...
---
How IIoT solutions can help your plant go digital
July 2020, Endress+Hauser South Africa , IT in Manufacturing
Everyone is talking about the new normal, a shift that is forcing companies to adopt a digital strategy, one way or another, in order to remain relevant and competitive in these unprecedented times. Many 
...
Read more...
---
HMIs improve operations and maintenance collaboration
June 2020, Emerson Automation Solutions , System Integration & Control Systems Design
It is essential that operators and maintenance engineers work together to resolve issues quickly, before they affect plant performance. However, coordinating actions between these departments can be challenging.  
...
Read more...
---
SLE5 series label sensor
June 2020, Turck Banner , System Integration & Control Systems Design
The small infrared light spot of Banner's new SLE5 can quickly detect the gap between opaque labels on clear or opaque backing. The 5 mm slot width and 50 mm slot depth allow precise detection of a wide 
...
Read more...
---
Endress+Hauser sees itself as well positioned
May 2020, Endress+Hauser South Africa , News
Endress+Hauser performed well across all fields of activity, industries and regions in 2019. The Group created hundreds of new jobs, invested record amounts and improved in the area of sustainability. 
...
Read more...
---
PC-based control technology for process automation
May 2020, Beckhoff Automation , System Integration & Control Systems Design
Progress is not based on the innovative creation of buzzwords. Unfortunately, the development of enabling technologies in recent decades did not help to raise process automation to an advanced level. 
...
Read more...
---
Improved production capacity and efficiency
May 2020, Omron Electronics , System Integration & Control Systems Design
Automation with robotics increases production of chocolate by 40%.
Read more...
---
The complexity of water management in mines
June 2020, Endress+Hauser South Africa , Flow Measurement & Control
Water is a critical resource for the mining industry, either in the mining processes, as a feed to the beneficiation of minerals process, or for potable use. With the growing demand and increased scarcity 
...
Read more...
---
Endress+Hauser partner programme is gaining importance through IIoT solutions
June 2020, Endress+Hauser South Africa , IT in Manufacturing
How can field instruments and components be easily integrated into automation systems? The answer is becoming increasingly important as industrial production digitalisation progresses. The Endress+Hauser 
...
Read more...
---