printer friendly version
The future of basic control innovation
September 2019
System Integration & Control Systems Design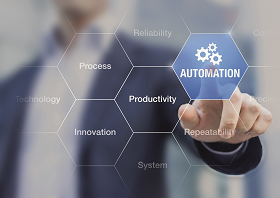 Basic process control, what we now call 'level 2' in the Purdue Enterprise Reference Architecture, has been the basis for successful process manufacturing for decades. Industry has witnessed several revolutions in technology that have produced more accurate, precise, and faster process control leading to better product quality and throughput. Innovations have moved from mechanical to electrical and on to computational. Currently, the innovation in automation has moved further up the architecture, with mostly incremental changes at level 2.
The Open Process Automation Forum (OPAF), a forum of The Open Group, has stressed the need for standardisation at level 2 to help reduce lifecycle costs. What, then, can industry expect in the future from this level in the automation architecture? How should end users prepare?
Ancient roots of basic control innovation
Greeks and Arabs (in the period between about 300 BC and about 1200 AD) had a preoccupation with keeping accurate track of time. In Egypt, about 270 BC, Ctesibius described a float regulator for a water clock, a device similar to the ball and cock assembly in a modern toilet. This has been identified as the earliest feedback-controlled mechanism. The appearance of the mechanical clock in the fourteenth century made the water clock and its feedback control system obsolete.
In their Book of Ingenious Devices (850 AD), the Persian Ban Ms brothers described several automatic controls. The brothers developed two-step level controls for fluids, a form of discontinuous variable structure controls. The book also described a feedback controller.
Many forms of mechanical devices have been used for control. Innovations occurred slowly and methodically. In the late 1940s, however, the transistor was invented, opening new opportunities for innovation via electrically-based automation. In the 1960s, innovative engineers began to leverage computer processing in automation. Suddenly, the controls could be easily changed, repurposed, and made to interact with other controls.
Later, in the 1970s, networking technology was introduced allowing greatly increased data exchange between controllers and operators. Computing power and memory increased, as well. In the 1980s and 1990s, this trend continued. Instrumentation suppliers also extended compute power and networking into field devices and the industry briefly flirted with control within and between field instruments.
In the last decade, industry witnessed a greater focus on securing level 2 control assets and reducing the labour needed to install, commission, and maintain those assets. However, when it comes to the basic process control technology, not much has changed.
Open process automation
This was one of the drivers behind the Open Process Automation Forum (OPAF) initiative. The recent ARC Industry Forum dedicated several sessions to this topic and ARC analysts have written numerous reports and blogposts on the topic. OPAF focuses on standardising systems for ISA95 level 1 and 2 functions. These are basic inputs and outputs from field devices and regulatory control function block execution. ExxonMobil and other end user firms envision automation systems with many more, but much smaller, process controllers. These smaller hardware devices would control as few as one to two loops each, creating what are in effect micro-services for process automation.
Members are not looking for a technical innovation to revolutionise basic process control. All the technical innovation required to achieve their goals has been created. Instead, they want to make automation less costly to engineer, staff, update, and so on. In fact, much of the recent innovation from automation suppliers' centres around reduced project and lifecycle costs rather than improving process control at level 2, where it appears that all the opportunities have already been seized.
Parallels from level 1
This parallels what has already occurred with process field devices. When you consider the valves and pressure/level/flow/temperature transmitters in your plant, they are pretty much commodity items. Each instrument manufacturer might have slightly different features and functionality, but their products will usually accomplish the goal. While configuring these devices used to consume a considerable amount of engineering time, end users now send the supplier the process data and receive the properly configured device. Plant technicians install it and it's done.
The market is now taking a similar approach for level 2 control. The value proposition provided by most field devices centres around ease of configuration, ease of use, cost of support and initial cost. All new value in the space is found in software applications supervising the devices. The approach being pursued by OPAF means there will be little to no intellectual property at the control level to safeguard, just like a transmitter today. Instead, critical information will be maintained at a higher level in the control strategy. An OPAF architecture would certainly enable suppliers to safely embed proprietary (and potentially superior) level 2 control algorithms in products, but it is an open question whether they will focus on this level rather than higher value applications such as model predictive control for multiple loops.
Given the above, ARC expects to see little change in the approach to control at level 2. The PID algorithm has been 'good enough' and will continue to do the job. Software innovations for control development and for advanced applications will likely become the main areas of automation innovation in what could be labelled as 'level 2.5.'
For more information contact Paul Miller, ARC Advisory Group, +1 781 471 1141, pmiller@arcweb.com, www.arcweb.com
Further reading:
The complexity of water management in mines
October 2019, Endress+Hauser , System Integration & Control Systems Design
Industries across the globe are encouraged to reuse water as much as possible, and therefore a 'zero liquid discharge' policy has already been implemented by various companies in different sectors.
Read more...
---
PC-based control platform optimises water treatment product dosing
October 2019, Beckhoff Automation , System Integration & Control Systems Design
Clean water is vital in both consumer and commercial areas, including numerous industrial applications, such as mining, petroleum refining and groundwater remediation, in addition to residential applications
Read more...
---
Rockwell Automation walks the Connected Enterprise talk
October 2019, Rockwell Automation , System Integration & Control Systems Design
The Connected Enterprise is Rockwell Automation's vision for seamless integration across all divisions of the organisation to enable more efficient decision making through access to the power of information based on real-time data.
Read more...
---
Omniflex eases mine water compliance
October 2019, Omniflex Remote Monitoring Specialists , System Integration & Control Systems Design
Water licences carry a 'Burdon of Proof' that the licence holder will not harm the environment or the water system through its activities. This covers the use of water from the system and the responsible 
...
Read more...
---
Smart Press Kit from Bosch Rexroth
October 2019, Tectra Automation , System Integration & Control Systems Design
Bosch Rexroth is setting new standards for fast and efficient pressing and joining applications with its innovative new modular Smart Press Kit. Designed to meet future industrial requirements by providing 
...
Read more...
---
Emerson expands asset management coverage
October 2019, Emerson Automation Solutions , System Integration & Control Systems Design
Emerson has expanded AMS Device Manager with HART-IP support, making it easier to connect with devices and control systems and potentially eliminate hundreds of thousands of dollars in project hardware 
...
Read more...
---
Johnson Controls introduces Verasys
October 2019 , System Integration & Control Systems Design
Johnson Controls recently introduced Verasys, a plug-and-play controls system that integrates heating, ventilation, air-conditioning and refrigeration (HVACR) equipment and controls. Verasys offers customers 
...
Read more...
---
CSS digitises energy consumption at Hulamin for global information accessibility
September 2019, Control Software Solutions , System Integration & Control Systems Design
Energy Cybernetics was contracted by the NCPC-SA as part of the IEE programme to undertake a compressed air system optimisation (CASO) assessment to recommend compressed air system energy efficiency opportunities 
...
Read more...
---
Flexible communication across building and mobility applications
September 2019, Beckhoff Automation , System Integration & Control Systems Design
TwinCAT OPC UA connects research and innovation infrastructure on Empa campus.
Read more...
---
Productivity Master points the way to digitalisation
September 2019, Festo , System Integration & Control Systems Design
Seamless connectivity of handling and software solutions developed by Festo.
Read more...
---