printer friendly version
Scada, IIoT, M2M and more
Technews Industry Guide: Industrial Internet of Things & Industry 4.0
System Integration & Control Systems Design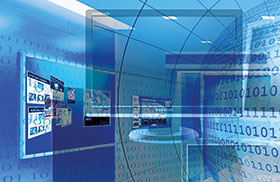 The art and science of treating raw water to drinking level quality, and of treating wastewater to environmentally acceptable levels, have been around for more than 100 years. They have provided the foundation in the United States and the rest of the developed world for our modern economy and lifestyle. Many of the technological marvels that we depend on today, such as cellular tele-phones, the Internet, and simple yet powerful software, would not have been developed without the advancement and adoption of water treatment processes. It's ironic, then, that many think of the water and wastewater industries as being stodgy, and somewhat less than cutting edge.
However, the water industry is not as stagnant as some might believe. In this article, we will review a few buzzwords that are becoming common in the water sector and many other industries, and look at how the technologies behind these buzzwords are impacting water treatment.
Scada: One technology that demonstrates this industry's acceptance of modern control technology is supervisory control and data acquisition. Scada has been around for a while and most in the industry are familiar with it by now. Many water systems have for years employed wireless communications to transmit remote data back to a central control centre.
IIoT: you have probably heard of newer refrigerators connected to the Internet. This is an example of the Internet of Things (IoT). The IoT has moved beyond the commercial world to the industrial world, where it's become known as the Industrial Internet of Things (IIoT). The IIoT makes field devices smart, so they can send information anywhere that also has Internet connection. This is a cost-effective way to improve communications infrastructure. Rather than investing in expensive equipment, water professionals can rely on third-party providers for fast and convenient data.
Industry 4.0
You have probably heard about this, but what does it mean and how is it linked to the IIoT? The core of the Industry 4.0 initiative is the vertical integration of business value chains and the horizontal integration of production, using Internet services. The objective is the ability to produce customised products in low lot sizes. Imagine, in the future every product will have a digital counterpart – a digital twin – which contains all information pertaining to the real product. The information of the digital twin parameterises the settings of the production, enables simulation or support, and assists installation and use of the product.
M2M: machine-to-machine communications refers to using the cellular network and Internet so that devices communicate directly with one another. The implication is that there is no need for proactive human involvement (after the initial configuration of the system).
More than buzzwords: improving efficiency for water professionals
Scenario
A water utility company must monitor chlorine residual levels at the distant end of a vast distribution system, many kilometres from the plant's main control room.
Solution 1 – manual monitoring
A staff person visits the remote site daily to manually check chlorine residual levels. The test takes five minutes. The round trip takes 60 minutes. In this solution, the staff dedicates nearly five and a half hours each week to checking chorine residual levels. Small costs include the testing kit and the ongoing wear and tear on the vehicle. The biggest expense, however, is losing a staff member for five and a half hours each week, when he or she could be performing more valuable work.
Solution 2 – scada monitoring
Today, many water systems rely on traditional scada systems, which typically use wireless communications to report the chlorine residual levels back to the treatment plant's staff in the control room. This eliminates the hassle and cost of sending a staff person to check the levels manually, but usually requires a large capital cost. Installing a remote terminal unit (RTU) can cost nearly $10 000.
It might also involve commissioning an engineering study, and in some cases, building a dedicated radio tower. Other possible costs include purchasing software, hiring a system integrator, and the ongoing costs associated with managing the server and software.
Solution 3 – the EAGLEi approach
Phoenix Contact now offers an option that brings the IIoT and M2M communications to the water industry – EAGLEi remote monitoring.
Most pumps in remote locations do not directly connect to the Internet, but with a properly equipped RTU, they can be connected. EAGLEi makes it possible to buy cellular-enabled RTUs that connect to a cloud-based scada service. This enables users to monitor their remote assets from a computer in the control room, or at home, or from the field using a smartphone or tablet. The modem/router in the EAGLEi RTU accesses a private Verizon access point name (APN) on a nearby tower, and transmits data from the pump station across the Internet, ultimately back to the control room, or via the Internet, to mobile devices.
The big benefit of leveraging the cellular carrier's network is that the end user does not need to build any wireless infrastructure associated with the radio systems, as mentioned above. There is no software to buy or patch, no radio towers to build, and no servers to buy and maintain.
In addition to its affordability, EAGLEi also offers high levels of security. Each EAGLEi RTU contains the Phoenix Contact mGuard, an industrially rugged firewall/VPN device/cellular modem. The mGuard connects to a private Verizon cellular network, which is not accessible over the Internet. A secure data centre, with enterprise-class servers, cyber security, and UPS and generator backed-up power supply, stores the data. Data access is password-protected, with individual rights for each user.
Conclusion
EAGLEi harnesses the IIoT, so that users are not tied to the control room. Data is available wherever there is an Internet connection and a device with a supported web browser. Alarms can be sent via email or text to those who are on call. EAGLEi makes it easy to access data on tablets, smartphones, laptops, and servers. This ultimately enables water professionals to focus on their core mission to enhance water system operations
For more information contact Sheree Britz, Phoenix Contact, +27 11 801 8200, sbritz@phoenixcontact.co.za, www.phoenixcontact.co.za
Credit(s)
Further reading:
TwinCAT for test rig automation
Beckhoff Automation System Integration & Control Systems Design
Flexibility and high performance in control program generation for endurance testing.
Read more...
---
ABB moves toward zero-carbon mines
ABB South Africa System Integration & Control Systems Design
ABB has launched ABB Ability eMine, a portfolio of solutions that will help accelerate the move toward a zero-carbon mine.
Read more...
---
Legacy alarm upgrade for Uganda's power generator
Omniflex Remote Monitoring Specialists System Integration & Control Systems Design
In a digital age, where we rely so heavily on computer-based equipment, do we still need bulky, hard-wired annunciator panels?
Read more...
---
EtherCAT saves space in wind turbines
Beckhoff Automation System Integration & Control Systems Design
At this year's Husum Wind during September, Beckhoff demonstrated its many years of know-how and its broad product range for the wind power industry.
Read more...
---
Smart production line configuration
Iritron System Integration & Control Systems Design
In the discrete manufacturing environment, a tool change or the reconfiguration of a production line is a major cause of production loss.
Read more...
---
Migration from factory automation to process engineering
Pepperl+Fuchs System Integration & Control Systems Design
Pepperl+Fuchs has developed a range of high-tech sensors that have proven themselves in discrete applications. With added explosion protection, they are also suitable for process engineering in zones 1/21 and 2/22.
Read more...
---
Totally Integrated Automation – added value in three dimensions
Siemens South Africa Editor's Choice System Integration & Control Systems Design
Discover everything that's in TIA, the leading automation concept from Siemens, and how it all works together to create a unique product for machine builders and industrial enterprises.
Read more...
---
Smart water system management
Saryx Engineering Group System Integration & Control Systems Design
The Saryx Engineering Group is leveraging digital technologies to manage water storage, flow, usage and treatment more efficiently.
Read more...
---
Type 2 push-in surge protection
Phoenix Contact Electrical Power & Protection
The VAL-MS PT surge protective device from Phoenix Contact is its first type 2 protective device with push-in connection technology.
Read more...
---
The brewery of the future
Siemens South Africa Process Dynamics System Integration & Control Systems Design
Meeting current and future customer requirements quickly and with the highest quality is key to the food and beverage industry.
Read more...
---