printer friendly version
Precise position measurement in packaging
February 2020
Sensors & Transducers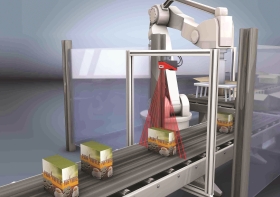 Precision monitoring and accurate measurement of distances is essential for smooth running in both production and intralogistics operations. Optical distance sensors are generally used for this purpose and fulfil several different functions, according to Gerry Bryant, managing director of Countapulse Controls.
This specialist sensing solutions provider offers a comprehensive range of optical distance sensors that can pinpoint measurement, position and facilitate quality assurance of any object over both long and short distances.
"Leuze optical distances sensors are based on various measurement operating principles including triangulation, propagation time and phase measurement," Bryant says, "These enable both the reproducible measurement of distances in the range of tenths of a millimetre, as well as over larger distances in excess of 60 metres."
Significantly, with the accelerated move by most operations to Industry 4.0, the measurement data can be transferred with IO-Link and evaluated by software in the machine. This is important as based on the real-time values obtained, production processes can be constantly adapted and optimised.
In quality assurance applications, particularly during the assembly process, the completeness or alignment of individual components must be ensured. The Leuze ODSL range of optical distance sensors uses extremely high resolution to define and check all reference points. These sensors are capable of reliable functioning even where objects include plastic and metal housings.
Another example is in machining processes where raw material needs to be fed into the machine without any interruption occurring. This means that the stack height on the load carrier must be constantly monitored. Using a combination of Leuze optical distance sensors with different resolutions and ranges makes it possible to measure the height of differently stacked objects.
The operating range of up to 65 metres, together with the focused laser, makes positioning an easy task on production or assembly lines which move large components such as engines or vehicles. The distance of these objects can be measured to a specific reference point allowing optimum accuracy.
For more information contact Gerry Bryant, Countapulse Controls, +27 11 615 7556, bryant@countapulse.co.za, www.countapulse.co.za
Credit(s)
Further reading:
Turbidity sensor with IO-Link
March 2020, Morton Controls , Sensors & Transducers
Digitisation has branched into industry under the keyword Industry 4.0. IO-Link offers significant advantages when it comes to reliably controlling the entire system technology in process control with 
...
Read more...
---
Expert opposed-mode sensor
March 2020, Turck Banner , Sensors & Transducers
The new QS18E offers superior ambient light immunity to prevent unintentional triggering and prevents the sensor from being tricked by ambient light sources, such as a lightbulb, flashlight, or other 
...
Read more...
---
Using infrared to detect the invisible
March 2020, R&C Instrumentation , Sensors & Transducers
Both preventive and predictive maintenance programmes rely on regular inspections of the critical assets that comprise a plant or facility. These inspections range from visual inspections to non-destructive 
...
Read more...
---
Wenglor's light band technology
March 2020, ASSTech Process Electronics + Instrumentation , Sensors & Transducers
Based on a continuous, homogenous light band, Wenglor's new retro-reflex sensors can reliably detect objects with irregular or asymmetrical shapes, for example in the field of intralogistics. With three 
...
Read more...
---
Contour detection for inline quality checks
March 2020, ifm - South Africa , Sensors & Transducers
In assembly and handling applications, the PMD profiler from ifm electronic does not only verify the presence of an object, but it checks whether the correct component has been used and properly installed. 
...
Read more...
---
Washdown protected photoelectric sensors
February 2020, Turck Banner , Sensors & Transducers
Banners new T18-2 photoelectric sensors have an FDA-grade shatterproof plastic housing and are IP69K rated and Ecolab certified to protect against water ingress and chemical washdown.   
IP69K and epoxy 
...
Read more...
---
Increased traceability for tobacco manufacturer
February 2020, SICK Automation Southern Africa , Sensors & Transducers
SICK Automation South Africa recently installed 120 image-based 2D barcode readers across multiple scanning stations in a South African tobacco manufacturing plant. The cigarette manufacturer was looking 
...
Read more...
---
Collision avoidance and navigation support
February 2020, SICK Automation Southern Africa , Sensors & Transducers
From electric lifting trucks and order pickers to tugs and mobile transport platforms, warehouses are benefitting from SICK Automation's 2D LiDAR sensors. These sensors from the TiM series ensure collision-free 
...
Read more...
---
Software platform for vision systems
February 2020, ASSTech Process Electronics + Instrumentation , Sensors & Transducers
With ASSTech's new product offering from Wenglor, two and three dimensional data from smart cameras, vision systems and control units with 2D/3D profile sensors can now be evaluated via a central software 
...
Read more...
---
Direct mounting absolute encoder with Profibus interface
February 2020, Instrotech , Sensors & Transducers
Instrotech has announced Scancon's Model: SCH88BEX, a new ATEX absolute encoder with Profibus Interface. It is a strong, compact (89 mm footprint), cost-effective hollow-bore encoder engineered for rugged 
...
Read more...
---