printer friendly version
Washdown protected photoelectric sensors
February 2020
Sensors & Transducers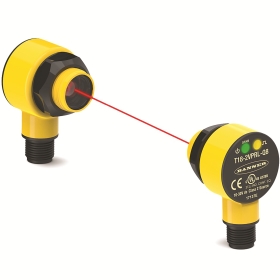 Banners new T18-2 photoelectric sensors have an FDA-grade shatterproof plastic housing and are IP69K rated and Ecolab certified to protect against water ingress and chemical washdown.
IP69K and epoxy encapsulation for wet environments: the T18-2 series sensor is designed to withstand high pressure and temperature washdown. The epoxy fill eliminates internal air cavities in the housing that could lead to condensation inside sensors during temperature cycling.
Ecolab certified FDA grade plastic: the sensors have been tested by Ecolab to certify that they resist damage when exposed to common cleaning chemicals. The plastic used throughout the T18-2 is made of FDA-approved, shatterproof plastic for use on food production lines.
Improved design for easier cleaning: crevices have been minimised to eliminate debris build-up. The knurls have also been removed from the nut and the light pipes have been over-moulded for easy cleaning. All labels have been removed and replaced with permanent laser etching. Installing the nut, optional seal kit, and bracket will cover all exposed threads on the nose.
Durable ultrasonic weld for a superior seal: ultrasonic welding is an advantage of using an all-plastic housing and creates a superior joint. Metal sensors contain plastic windows and other components that are joined mechanically or with adhesives. The joints are then subject to thermal shock because the metal and plastic components expand and contract at different rates, creating small gaps and allowing water inside the sensor. Ultrasonic welding fuses plastic components into one solid piece of durable plastic that is not affected by thermal shock.
Target applications include harsh washdown environments with temperature cycling such as food and beverage processing, packaging and cold storage.
For more information contact Brandon Topham, Turck Banner, +27 11 453 2468, brandon.topham@turckbanner.co.za, www.turckbanner.co.za
Credit(s)
Further reading:
Turbidity sensor with IO-Link
March 2020, Morton Controls , Sensors & Transducers
Digitisation has branched into industry under the keyword Industry 4.0. IO-Link offers significant advantages when it comes to reliably controlling the entire system technology in process control with 
...
Read more...
---
Expert opposed-mode sensor
March 2020, Turck Banner , Sensors & Transducers
The new QS18E offers superior ambient light immunity to prevent unintentional triggering and prevents the sensor from being tricked by ambient light sources, such as a lightbulb, flashlight, or other 
...
Read more...
---
Using infrared to detect the invisible
March 2020, R&C Instrumentation , Sensors & Transducers
Both preventive and predictive maintenance programmes rely on regular inspections of the critical assets that comprise a plant or facility. These inspections range from visual inspections to non-destructive 
...
Read more...
---
Wenglor's light band technology
March 2020, ASSTech Process Electronics + Instrumentation , Sensors & Transducers
Based on a continuous, homogenous light band, Wenglor's new retro-reflex sensors can reliably detect objects with irregular or asymmetrical shapes, for example in the field of intralogistics. With three 
...
Read more...
---
Contour detection for inline quality checks
March 2020, ifm - South Africa , Sensors & Transducers
In assembly and handling applications, the PMD profiler from ifm electronic does not only verify the presence of an object, but it checks whether the correct component has been used and properly installed. 
...
Read more...
---
Simplified safety controller setup
March 2020, Turck Banner , IS & Ex
Turck Banner's new SC-XM3 external drive allows users to write the configuration for their safety systems once and then load it on to any additional devices requiring the same configuration. The configuration, 
...
Read more...
---
Precise position measurement in packaging
February 2020, Countapulse Controls , Sensors & Transducers
Precision monitoring and accurate measurement of distances is essential for smooth running in both production and intralogistics operations. Optical distance sensors are generally used for this purpose 
...
Read more...
---
Increased traceability for tobacco manufacturer
February 2020, SICK Automation Southern Africa , Sensors & Transducers
SICK Automation South Africa recently installed 120 image-based 2D barcode readers across multiple scanning stations in a South African tobacco manufacturing plant. The cigarette manufacturer was looking 
...
Read more...
---
Compact flow sensor with IO-Link
February 2020, Turck Banner , Flow Measurement & Control
Turck has introduced the FS+ flow sensor, another product from its fluid sensor series. The sensor is protected in a robust stainless steel housing, together with a one-piece translucent front cap and 
...
Read more...
---
Collision avoidance and navigation support
February 2020, SICK Automation Southern Africa , Sensors & Transducers
From electric lifting trucks and order pickers to tugs and mobile transport platforms, warehouses are benefitting from SICK Automation's 2D LiDAR sensors. These sensors from the TiM series ensure collision-free 
...
Read more...
---