printer friendly version
CSS digitises energy consumption at Hulamin for global information accessibility
September 2019
System Integration & Control Systems Design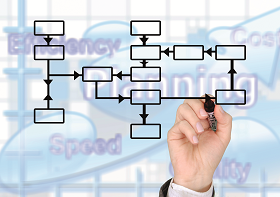 Energy Cybernetics was contracted by the NCPC-SA as part of the IEE programme to undertake a compressed air system optimisation (CASO) assessment to recommend compressed air system energy efficiency opportunities for implementation at Hulamin Edendale in Pietermaritzburg, KZN. Their study indicated that energy reduction and cost-savings opportunities included the ability to reduce end use air flow and system air pressure, and to optimise compressor control strategy. In addition, performance improvement opportunities included the ability to assess functionality of current air dryers.
Having worked very successfully with Hulamin in the past, Control Software Solutions (CSS) was the perfect choice as system integrator on the project to optimise the visualisation and digitisation of the energy consumption processes at the plant.
"The project started with the energy optimisation project at the expanded coil coating line in 2016 and has continued to expand as budget is released and the uptake from other Hulamin users increases," says CSS's Pieter Venter. "In essence, the client wanted to have complete digitisation of the energy processes and to provide visualisation for all departments using energy,"
Efficiency through data visualisation
In this way, all data would be centrally located and accessible to all relevant parties. A more accurate and finite assessment of energy consumption by the various processes would allow the company to optimise its processes and reduce costs by anticipating them in advance. CSS's scope of work therefore entailed historising data and visually displaying it; managing and immediate notification of alarms; making trends available; as well as allowing for remote plant access and change management.
Another element that needed to be addressed was the monitoring of the moisture content in the compressed air to determine where issues were arising. This early warning system would allow Hulamin management to quickly react to any issues, an essential addition since the site is so large.
The selected system included:
• Wonderware System Platform. This is the Hulamin standard and provides redundancy, seamless integration and connectivity to multiple devices.
• Win 911. This is used to notify clients when parameters are out of the acceptable range.
• InTouch Access Anywhere – deployed for the use of managers around the plant.
• InTouch WindowMaker and WindowViewer.
• Historian and Historian Client.
• APC Thin Manager.
Venter says that the project presented a number of challenges that included the fact that Hulamin did not have a proper industrial network architecture. "We were therefore forced to develop standards that would allow the development of the network in such a way that future expansion could be easily expedited. The aim was to in future provide an industrial network topology with wireless remote access and redundant PLCs. Added to this we needed to deliver central services plant air indicators that provide situational awareness and backup data for 10 years.
Another challenge faced by CSS was a purely logistical one. "Since the plant was not able to shut down for extended periods of time during the upgrade project, we had to remain extremely flexible and deploy the various elements in a fragmented manner," explains Venter. "We also provided remote dial-in support for when we were offsite."
Venter believes that the success of the ­project hinged on the collaborative nature of the relationship between all stakeholders. "A project of this scope benefits greatly from the early involvement of personnel from production, maintenance, IT and business systems," he adds. "The requirements and expectations of these departments for the new system have to be established early on and, as the project progresses, it is crucial to maintain lines of communication between these departments. We have managed, as a team, to implement a rather complex system in a highly successful manner that ticks all the client's boxes."
Ephraim Khoza, electrical engineer, Hulamin's Engineering Services, summed up the sentiment of the company: "This is a powerful solution. I can see live trends, with real-time data available, so it is easy for me to react. Notification by sms and email when alarm limits are reached means we can respond immediately."
For more information contact Pieter Venter, Control Software Solutions, +27 31 914 0040, pieterv@cs-solutions.co.za, www.cs-solutions.co.za
Credit(s)
Further reading:
The complexity of water management in mines
October 2019, Endress+Hauser , System Integration & Control Systems Design
Industries across the globe are encouraged to reuse water as much as possible, and therefore a 'zero liquid discharge' policy has already been implemented by various companies in different sectors.
Read more...
---
PC-based control platform optimises water treatment product dosing
October 2019, Beckhoff Automation , System Integration & Control Systems Design
Clean water is vital in both consumer and commercial areas, including numerous industrial applications, such as mining, petroleum refining and groundwater remediation, in addition to residential applications
Read more...
---
Rockwell Automation walks the Connected Enterprise talk
October 2019, Rockwell Automation , System Integration & Control Systems Design
The Connected Enterprise is Rockwell Automation's vision for seamless integration across all divisions of the organisation to enable more efficient decision making through access to the power of information based on real-time data.
Read more...
---
Omniflex eases mine water compliance
October 2019, Omniflex Remote Monitoring Specialists , System Integration & Control Systems Design
Water licences carry a 'Burdon of Proof' that the licence holder will not harm the environment or the water system through its activities. This covers the use of water from the system and the responsible 
...
Read more...
---
Smart Press Kit from Bosch Rexroth
October 2019, Tectra Automation , System Integration & Control Systems Design
Bosch Rexroth is setting new standards for fast and efficient pressing and joining applications with its innovative new modular Smart Press Kit. Designed to meet future industrial requirements by providing 
...
Read more...
---
Emerson expands asset management coverage
October 2019, Emerson Automation Solutions , System Integration & Control Systems Design
Emerson has expanded AMS Device Manager with HART-IP support, making it easier to connect with devices and control systems and potentially eliminate hundreds of thousands of dollars in project hardware 
...
Read more...
---
Johnson Controls introduces Verasys
October 2019 , System Integration & Control Systems Design
Johnson Controls recently introduced Verasys, a plug-and-play controls system that integrates heating, ventilation, air-conditioning and refrigeration (HVACR) equipment and controls. Verasys offers customers 
...
Read more...
---
Flexible communication across building and mobility applications
September 2019, Beckhoff Automation , System Integration & Control Systems Design
TwinCAT OPC UA connects research and innovation infrastructure on Empa campus.
Read more...
---
The future of basic control innovation
September 2019 , System Integration & Control Systems Design
Basic process control, what we now call 'level 2' in the Purdue Enterprise Reference Architecture, has been the basis for successful process manufacturing for decades. Industry has witnessed several revolutions 
...
Read more...
---
Productivity Master points the way to digitalisation
September 2019, Festo , System Integration & Control Systems Design
Seamless connectivity of handling and software solutions developed by Festo.
Read more...
---