printer friendly version
Cobot solves packaging problems
June 2019
System Integration & Control Systems Design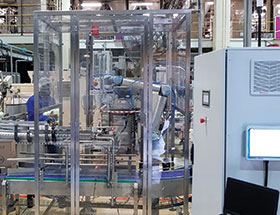 A client of Hybrid Automation produces multiple products that are exported throughout the world. The plant is constantly under pressure to meet customer requirements and relies heavily on automation to keep up with orders.
The legacy production line consisted of a manual system, where products were physically taken off the shrink line, and manually packed into boxes. This resulted in inefficient operations due to shift changes and the maximum speed with which products could be packed by hand. Hybrid Automation, with its acknowledged experience in industrial automation and control, was approached by this blue-chip company to upgrade its production line.
Desired results
To measure the success or failure of the project, Hybrid Automation was tasked with a list of objectives. Included were speed requirements, measurable by shrinks per minute, safety requirements and operator accessibility. The speed requirements were determined by the previous method of manual packing increased by an appropriate factor. This is a crucial aspect, as there was a minimum target requirement to justify the allocation of funds.
In a production environment speed can be both friend and foe. Although case packing at high speed is good for productivity, it may pose a threat to the operators near the machinery. For the solution to be deemed safe to operate, the client provided several safety guidelines that had to be followed.
The last aspect was that of operator accessibility. The solution had to be simple to operate and minimise the risk of human error. It was also required to work with minimum human intervention.
Getting the buy-in and other challenges
A project of this magnitude needs approval by various departments within the client organisation. As discussed earlier, time is a critical factor. Therefore, management had to be persuaded that the solution would pay for itself through an increase in overall productivity. The finance department also had to be convinced that the proposed new production method was more cost-effective than the existing one.
As with any project, there were several challenges. The first was the variety of products that the solution needed to accommodate. This led to the implementation of change parts, which were to be labelled for easy identification by the operators. Initially parts were 3D printed to aid the operators make guide adjustments for the line. However, this was later solved by the implementation of fixed rulers in conjunction with the explanatory documentation.
The next was mechanical design challenges regarding the box closing device. Initial designs had free moving rollers that were not driven, but this led to the problem where the end of line packed box always needed another behind it to keep the flow going. This was solved by adding driven belts on the side to help boxes through the closing device. This meant that even a single packed box from the line could be handled without a manual purge.
In order to get all relevant parties on board, it had to be proved that the solution was faster and more cost-efficient than manual packing, as well as easy to operate with minimal human intervention. This was done by putting the solution through its paces in a factory acceptance test performed by the client to ensure that all requirements had been met.
Solution implementation
In order to determine the most effective solution, the team brainstormed ideas in-house, but with constant critique and input from the end user. After extensive research and deliberation, it was determined that the best solution for this application was Universal Robots' UR10 cobot. The pick-and-place speed as well as precision of this cobot allowed for all standards and regulations to be met with great effect.
Progress was measured daily by the amount of product being bottled, packaged and packed away into boxes. The results were then analysed and compared to previous figures from before the implementation of the cobot. Consultations and technical support were provided as and when required, and installation and commissioning were completed within one month.
The benefits
The primary goal achieved within this project was an increase in packaging volume, which allows a faster production pace and therefore a higher turnover by the end user.
However, the speed and accuracy that comes with this cobot solution requires constants within its environment. In order for continuous precision, the path taken by the product should be tailor-made to ensure consistency. In order to achieve success, consistency is key – from the collating of products to the shape of boxes.
The versatile functionality of the cobot proved an effective way of achieving the desired results, making it a serious contender as a solution in future projects of this nature.
For more information contact Hybrid Automation, +27 31 573 2795, info@hybridautomation.co.za, www.hybridautomation.co.za
Credit(s)
Further reading:
PC-based control decorates plastic lids and containers
December 2019, Beckhoff Automation , System Integration & Control Systems Design
In-mold labelling (IML) is ideally suited to meet today's customer requirements in the plastics industry, especially in the packaging segment.
Read more...
---
Project-based learning challenges the modern engineering student
December 2019, Test Dynamics , System Integration & Control Systems Design
Projects that inherently challenge students to use innovative design thinking often involve interacting with an unknown process or device. Students are encouraged to understand the unknown through theory, 
...
Read more...
---
FieldEcho: the future of integrated IO-Link technology
December 2019, SICK Automation Southern Africa , System Integration & Control Systems Design
Integrated IO-Link technology that enables full data accessibility and transparency across all platforms is here with the FieldEcho from SICK Automation. IO-Link is an increasingly used manufacturer-independent 
...
Read more...
---
AI module improves industrial production
December 2019, Rockwell Automation , System Integration & Control Systems Design
Industrial workers can now use the data from their equipment more easily to predict production issues and improve processes with their existing automation and control skill set. The new FactoryTalk Analytics 
...
Read more...
---
DRH ensures clients remain at the forefront of bulk measurement with Bindicator range
December 2019 , System Integration & Control Systems Design
DRH Components was started in Durban in 2015 when Rob Hare and Kay Goutham retired from CHI Control (now Eaton), after four decades of service. The company has offices in Durban and Pretoria. Venture 
...
Read more...
---
All-rounders EHL handles projects from conceptualisation to completion
December 2019, EHL Consulting Engineers , System Integration & Control Systems Design
EHL is an engineering, procurement and construction management (EPCM), and engineering, procurement and construction services (EPCS) company that began operating in 1980. Manager of automation at EHL, 
...
Read more...
---
Oven control by Hybrid Automation
December 2019, Hybrid Automation , System Integration & Control Systems Design
Hybrid Automation was approached by one of its clients, a leading South African FMCG company, to provide an automated solution for an existing plant in the factory. Being a popular confectionary manufacturer, 
...
Read more...
---
A good combination for the primaries and metals industry
November 2019, Endress+Hauser , System Integration & Control Systems Design
Endress+Hauser?s measurement devices for flow, level, pressure, temperature and liquid analysis.
Read more...
---
Four key factors to consider when choosing devices for the control cabinet
November 2019, RJ Connect , System Integration & Control Systems Design
Drawing from over 30 years of experience in providing reliable products for industrial control cabinets, Moxa has identified the following four key considerations for choosing the best control cabinet 
...
Read more...
---
Saryx helps Transnet achieve ROI through scada modernisation
November 2019, Saryx Engineering Group , System Integration & Control Systems Design
Saryx Engineering has set the bar high in terms of scada modernisation and standardisation. So much so that the company won 'Best Control & Information Implementation' in recognition of a project with 
...
Read more...
---