printer friendly version
End-to-end system integration from Hybrid Automation
November 2018
System Integration & Control Systems Design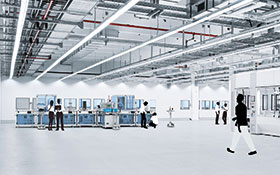 Hybrid Automation, an engineering solutions company, was started in October 2005 by member Sachin Singh in response to the need for a Siemens systems integrator. The company's workshop and office is situated in the hub of Briardene Industrial Park on Queen Nandi Drive, Durban, and employs project management, software engineering, instrumentation, electrical, installation, procurement and the finance teams.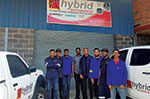 This privately-owned business is personally supervised and managed by Singh, who also oversees the daily operations of the business. The company follows global industry trends and is renowned for its diversity, flexibility and efficient utilisation of cutting-edge technology.
As an approved Siemens systems integrator, Hybrid Automation is authorised to backup all Siemens automation, drives, process instrumentation and motion control equipment in an efficient and professional manner. "Our knowledge of robotics has allowed us to incorporate the use of cobots (collaborative robots) in the production environment," explains Singh. "In addition, we supply and support any Siemens industry automation and process instrumentation products, such as PLCs, motors, drives, switchgear and field equipment. We also offer clients a range of world-class technology products, such as consumer IT electronics, electrical and related equipment, underpinned by our technical expertise."
Hybrid Automation is a Level 1 BEE Contributor with a 100% ownership and is also registered with the Central Supplier Database (CSD) and the CIDB with a 5EP designation.
Singh sums up the company's approach to business, "We focus on five key characteristics: professionalism, reliability, competence, honour and proactivity. We guarantee service excellence in everything we undertake and we will improve our effectiveness and efficiency by making use of the best products and parts available. We are committed to increasing our skills and abilities to ensure peace of mind and to remain reputable in the industry. We will conquer all challenges and opportunities to ensure our competitive edge in the market. Underlining these elements is our assertion that we have the highest integrity and honesty when dealing with our customers and suppliers."
Hybrid Automation believes that training forms a critical part of its success. "We therefore offer our clients Siemens S7 quality training that is effective, flexible and value-based, at our fully-equipped training facility," adds Singh. "Furthermore, since technology is changing the way we conduct our lives and connect with the world around us, we assert that our long-serving staff have to be highly qualified in their respective fields and undergo continuous training on new products and technology."
The company also offers a 24-hour response service for breakdowns to its SLA customers, and currently manages all components of projects, with the exception of mechanical and rigging services.
Singh points out that due to its competent and proactive business approach, it has been able to acquire and maintain a high-end client base, consisting mainly of blue-chip companies in Africa. A number of projects recently completed include the upgrade of an ice cream forming and packing line; end-of-line solutions using a cobot for pick-and-place; case packing using a robot palletiser; oven plant electrical and burner automation; historian of temperature, humidity and running recipe trending; and water handling systems for factory utilisation.
The company's list of services is extensive and includes PLC and HMI software development, scada development and reporting, automation design consultation, integration of shop floor to MES for production control and monitoring, automated scada reporting from WINCC to Excel, Totally Integrated Automation (TIA), and the Industrial Internet of Things (IIoT).
For more information contact Sachin Singh, Hybrid Automation, +27 31 573 2795, sachins@hybridautomation.co.za, www.hybridautomation.co.za
Credit(s)
Further reading:
SCiBOTRON's quality culture the key to success
May 2020 , System Integration & Control Systems Design
The company was founded on lean principles and quickly grew into a QSE (Qualifying Small Enterprise). Ricardo Paddy, managing director and founding member, attributes one of the reasons for the company's 
...
Read more...
---
Omniflex enables mine water quality
October 2020, Omniflex Remote Monitoring Specialists , System Integration & Control Systems Design
Water licences carry a 'Burdon of Proof' that the licence holder will not harm the environment or the water system through its activities. This covers the use of water from the system and the responsible 
...
Read more...
---
Safe and efficient water and wastewater treatment
October 2020, Endress+Hauser South Africa , System Integration & Control Systems Design
Depending on the application and the industry, water needs to have different properties to ensure the quality of finished products and the overall safety of production.
Read more...
---
PC-based control monitors road tunnel with flexible scalability
October 2020, Beckhoff Automation , System Integration & Control Systems Design
With more than 200 industrial PCs in operation, the Kaisermühlen Tunnel in Vienna shows that scalable PC-based control technology from Beckhoff is an optimum automation platform in this environment.
Read more...
---
PC-based control reduces complexity in folio applications
October 2020, Beckhoff Automation , System Integration & Control Systems Design
BW Papersystems relied on PC-based control for the development of the eCon folio-size sheeter, which greatly reduced complexity and costs compared to the legacy system it replaced.
Read more...
---
Improved production capacity and efficiency
September 2020, Omron Electronics , System Integration & Control Systems Design
BOLÇİ Bolu Chocolate (Bolci) was formed in 1992. It now has over 300 employees and produces over 800 different products. The company produces over 200 tons of chocolate items each month in a factory that 
...
Read more...
---
EtherCAT I/O for conveyor control
September 2020, Beckhoff Automation , System Integration & Control Systems Design
Integrated compact motor controller reduces cabling effort and increases diagnostic capabilities for roller conveyor systems.
Read more...
---
Robots could solve the social distancing problem
September 2020 , System Integration & Control Systems Design
While South Africa has seen a significant uptake in robotic technology, there are signs it will grow in the years to come as businesses make provision for these types of advancements.
Read more...
---
Fully automated CIP system upgrade at a food factory
September 2020, Hybrid Automation , System Integration & Control Systems Design
Hybrid automation was recently approached to upgrade the CIP system at a food production plant based on the East Rand of Johannesburg.
Read more...
---
Machine upgrade at Rostberg
August 2020, Ana-Digi Systems , System Integration & Control Systems Design
Ana-Digi Systems designs and delivers a state-of-the-art, reliable machine upgrade to match its client's requirements of easy setup and low maintenance.
Read more...
---