printer friendly version
Right time, right message
May 2017
System Integration & Control Systems Design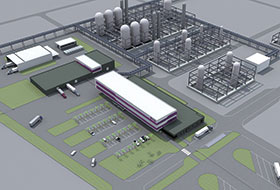 Evonik Industries is one of the world's leading specialty chemical companies. In one of its production plants in Singapore, it produces oil additives and technologies for fuels and lubricants for the fast-growing Asia-Pacific market. As part of its digitalisation strategy and to optimise its production output, the company relies not only on automation using the Simatic PCS7 controller, but also on a tailored alarm management system from Siemens. It helps to support control room operators by prioritising the alarms and sending them to the responsible personnel or departments. This has reduced the incidence of alarms received in the control room by more than half.
Process automation and other control and monitoring systems allow production plants to collect more detailed data during production processes. The challenge is to collate data and create meaningful information that will help operators to make timely as well as informed decisions.
This challenge is especially important for alarm systems in production plants: if the frequency of alarm notification exceeds a certain level, this increases the likelihood of the operator making mistakes, and might also potentially impact the process performance and safety of the production plant. These risks can be mitigated by an alarm management system that filters and prioritises alarms. One company that recently implemented a solution for alarm management is the specialty chemicals manufacturer – Evonik.
To serve the rapidly growing Asia-Pacific market, Evonik opened its oil additives plant in Singapore in 2008, and has significantly expanded the plant in 2015, making it the largest oil additives production site within Evonik's global network. The process control system is based on Simatic PCS 7 and Simatic Batch. The entire plant is operated by a central control room, with two operating stations – one for monomer production and another for polymer production. Products are produced by order in batches to allow frequent process adaptations.
Reducing workload, improving performance
When the plant was expanded some time ago, Evonik also looked into improving its existing alarm management system by discussing the requirements and strategies with Siemens. To ensure the solution meets the international standard, engineering and consulting experts from Siemens followed a structured approach comprising the development of a suitable alarm concept, data collection and system benchmarking, 'Bad Actor' alarm resolution, alarm documentation and rationalisation, real-time alarm management, and lastly, implementation in the DCS.
Working closely with personnel from the plant, the Siemens team tailored the alarm management system by integrating the existing user requirements and best practices from the Evonik site in Darmstadt, Germany. Implementation of the new alarm management into the Simatic PCS 7 system and corresponding application software was performed by the local Singapore Siemens team. One crucial success factor of this project was the involvement of the Evonik plant operators in the concept and design phase, which allowed their years of operational experience to be applied in the design and creation of the solution.
The Singapore Siemens team organised several workshops throughout the project to support the alarm evaluation and prioritisation process, and to identify the causes of 'Bad Actor' alarms. One key feature of the alarm management system is the Advanced Alarm Suppression concept, which filters and aggregates alarms. Tailored alarm prioritisation according to urgency and consequence ensures that operators are always presented with the most important alarms. As part of the new concept, the alarm cockpit in the plant was also redesigned. Alarms are now aggregated into several logging lists, with one for all incoming process alarms and another for PLC process control messages. This concept ensures that process-related alarms are directed straight to the operator, while other alerts are sent to the plant maintenance personnel. As a result, tasks can be dealt with in a timely manner as they are quickly assigned to the right person.
Results
The new solution has exceeded expectations. In terms of the alarm optimisation system, Evonik was able to address the issue of operator stress in its Singapore plant. Following smooth implementation without any system downtime, the number of process alarms displayed in the control room has been reduced by more than half. The plant personnel have easily adapted to the new solution and are already experiencing the benefits in their daily work.
For more information contact Jennifer Naidoo, Siemens Digital Factory and Process Industries and Drives, +27 (0)11 652 2795, jennifer.naidoo@siemens.com, www.siemens.co.za
Credit(s)
Further reading:
New Mindsphere app from Siemens
January 2020, Siemens Digital Industries , IT in Manufacturing
With Predictive Services for Drive Systems, Siemens presents a standardised extension to local service agreements. Based on the new Mindsphere Predictive Service Assistance app, it makes maintenance more 
...
Read more...
---
Tailor-made intralogistics solutions harness scalable control and drive technology
January 2020, Beckhoff Automation , System Integration & Control Systems Design
RO-BER Industrieroboter of Kamen, Germany, develops automation solutions based on area and linear gantry robots for intralogistics. These solutions, including the new Twin-Gantry robot system, are characterised 
...
Read more...
---
Festo's digitalised product world
January 2020, Festo , System Integration & Control Systems Design
HoloLens, mobile phones, 3D printing and smart glasses – the gadgets that captured the public imagination in the blockbuster movie 'Back to the Future' over 30 years ago have now become a reality, all thanks to digitalisation.
Read more...
---
Electromechanical motion products for the machines of today
January 2020, Parker Hannifin Sales Company South , System Integration & Control Systems Design
Engineers from the older generation will remember the days when machine design had to be based around catalogued electromechanical actuators.
Read more...
---
Motion controller with integrated drive control
January 2020, Siemens Digital Industries , Motion Control & Drives
Siemens has expanded its product portfolio of technology CPUs with the Simatic Drive Controller. The new controller combines a Simatic S7-1500 controller with motion control, technology and safety functionality, 
...
Read more...
---
Siemens contributes to Coca-Cola Beverages Africa's digitalisation vision
January 2020 , System Integration & Control Systems Design
The Nairobi Bottler's Embakasi Plant based in Nairobi, Kenya, a fully owned subsidiary of Coca-Cola Beverages Africa (CCBA), received a Totally Integrated Automation (TIA) training rig from Siemens Digital 
...
Read more...
---
5G – the wireless network of the future
December 2019, Siemens Digital Industries , Industrial Wireless
Mobile wireless network standards, starting with 1G, have been shaping our mobile communication for years. While previous developments have focused on improved usability in the public sector, the new 
...
Read more...
---
Digital twin allows process simulations
December 2019, Siemens Digital Industries , IT in Manufacturing
The high-tech company Grenzebach's portfolio includes the simulation of material flow in complex plants in the glass industry, which it achieves using Siemens simulation solutions. Together, the two companies 
...
Read more...
---
PC-based control decorates plastic lids and containers
December 2019, Beckhoff Automation , System Integration & Control Systems Design
In-mold labelling (IML) is ideally suited to meet today's customer requirements in the plastics industry, especially in the packaging segment.
Read more...
---
Project-based learning challenges the modern engineering student
December 2019, Test Dynamics , System Integration & Control Systems Design
Projects that inherently challenge students to use innovative design thinking often involve interacting with an unknown process or device. Students are encouraged to understand the unknown through theory, 
...
Read more...
---