printer friendly version
Determination of wear metals using Prodigy7
January 2014
Analytical Instrumentation & Environmental Monitoring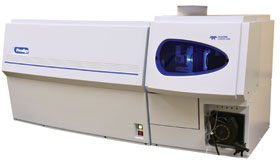 Wear metals analysis, using Inductively Coupled Plasma Spectrometers (ICP-OES), has been an important component of predictive maintenance programmes for many years. Oil-based materials, such as engine oils, transmission oils and engine coolants, are regularly monitored for the presence of particles deposited from the components that they are designed to protect. These particles gradually build up in the oil due to normal wear of the component. For this reason, the analysis of used oils and coolants is often referred to as wear metals analysis or fluids analysis. This technique can be used to identify and predict component failure based on the composition of the metals and the speed at which they accumulate overtime. By analysing the various metals in the fluids and applying trend analysis, expensive breakdowns can be prevented and service life increased.
Fluid analysis can also be used to maximise the usable life of oils by monitoring the health of any additive packages to determine the depletion of particular elements. Among the most widely used additive types are those used for anti-wear, these typically contain high concentrations of calcium, phosphorus, and zinc, and are used to reduce premature wear of vehicle engines. The additives in the oil bond to metal surfaces in the engine and help reduce friction between the moving parts. These additives are particularly important for oil used in racing vehicles as the engines are operated at extremely high temperatures and pressures.
Teledyne Leeman Lab's Prodigy7
The analysis of wear metals in lubricating fluids is a challenging but common application in ICP spectrometry. Generally, laboratories analysing samples of this type require accurate, high throughput analysis, to provide quick turn-around time for their customers. The Teledyne Leeman Lab's Prodigy7 provides a high rate of sample throughput with optimum accuracy and precision under standard operating conditions.
The Prodigy7 is able to provide this level of performance by paying proper attention to the needs of wear metals analysis labs and then reflecting those needs into the ultimate workhorse instrument. The design features that make this possible include:
* A high energy optical system and detectors ideal for making precise measurements with short integration times.
* High sensitivity sample introduction system designed for rapid ­equilibration and washout.
* Easy-to-use software that simplifies operation and training.
* A robust RF power supply able to handle the demands of organic samples.
Prodigy7 is designed to be successful in the most demanding wear metals analysis applications.
For more information contact Chantelle Conradie, Elemental ­Analytics, +27 (0)11 918 6994, info@e-analytics.co.za, www.e-analytics.co.za
Credit(s)
Further reading:
Avoiding South Africa's water crisis
Analytical Instrumentation & Environmental Monitoring
Collaboration and technology can make South Africa a water-secure nation.
Read more...
---
Electrical measurement and process analytics for hydrogen production
Mecosa Analytical Instrumentation & Environmental Monitoring
Knick products optimise the hydrogen production process and electrolyser operation.
Read more...
---
Non-Nuclear online slurry density measurement
Allpronix Analytical Instrumentation & Environmental Monitoring
When a local metal smelting operation had a requirement to remove manual sampling from its slurry line, Allpronix was approached to advise on a solution.
Read more...
---
Portable combustion gas analyser
Elemental Analytics Analytical Instrumentation & Environmental Monitoring
The E8500 Plus is a powerful and advanced portable emissions analyser, a complete, portable tool for EPA compliance and level emissions monitoring of boilers, engines and other combustion equipment.
Read more...
---
Continuous emissions monitoring in power plants
Elemental Analytics Analytical Instrumentation & Environmental Monitoring
The MCA 10 multi-component analysis system combines precise measurement technology with excellent long-term stability.
Read more...
---
Two-gas detection monitor
Comtest Analytical Instrumentation & Environmental Monitoring
New lightweight two-gas monitor offers more accurate alarms and minimises maintenance with a two-year runtime.
Read more...
---
Protect your pump and keep it longer
Elemental Analytics Valves, Actuators & Pump Control
Unexpectedly losing a pump is often an expensive or even a dangerous problem in a chemical plant.
Read more...
---
MAP – making the right choice for gas analysis
Elemental Analytics Analytical Instrumentation & Environmental Monitoring
Modified atmosphere packaging (MAP) is used within the food and pharmaceutical sectors to extend the shelf life of many products that would otherwise deteriorate quickly in the presence of oxygen.
Read more...
---
Accurate particle matter measurement
GHM Messtechnik SA Analytical Instrumentation & Environmental Monitoring
The PMsense datalogger has particular applications in smart city applications and the monitoring of particle matter pollutants found at industrial sites.
Read more...
---
24/7 boiler monitoring with the SWAS Compact
Endress+Hauser South Africa Analytical Instrumentation & Environmental Monitoring
Endress+Hauser has developed a compact new steam analysis device for continuous boiler water monitoring.
Read more...
---