printer friendly version
Flare stack gas analysis
April 2013
Analytical Instrumentation & Environmental Monitoring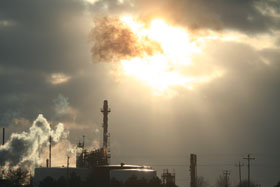 A flare stack or gas flare is an elevated vertical stack or chimney found on oil wells and oil rigs and in refineries, chemical plants and landfills used for burning unwanted gas and liquids. It is primarily a safety device through which a sudden excess of gas can be removed and burnt in an environmentally friendly manner.
During processing, hydrocarbons are often put under pressure into storage vessels, when this pressure becomes too high it has to find an outlet through a safety valve. These valves are connected to a flare stack by large piping runs, known as flare or vent headers. Inside the flare stack combustible gases mix with oxygen and ignite by contact with a pilot flame at the top of the stack. In order to keep the flare stack functional a small amount of waste gas is continuously burned, so it is ready for its primary function as an over pressure safety system.
Some flares are used to burn off waste flammable gases or by-products. This practice is being reduced around the world in favour of gas recovery systems that reduce the waste and emissions, though flare stacks still fulfil an important role in many plants.
The correct mix of stream and hydrocarbons guarantees clean combustion, a clear flame and no harmful emissions to the atmosphere. The analysis of flare stack gases generally falls into two categories:
1. The measurement of oxygen to prevent the build up of a potentially explosive mixture of flammable gas and oxygen building up. Such a mixture could ignite at the burner causing a flash-back of burning gases into the plant. Typically, alarms are generated by the analysis equipment when the oxygen level exceeds about 1%.
2. The measurement of hydrocarbon components. The variance of gases to be destroyed in the flare may generate instability within the flame and only be partially burnt. In certain types of chemical plants, it is necessary to know the composition of the bulk gas mixture being fed to the burner.
Servomex paramagnetic, laser and infrared analysers allow these measurements to be performed close to the flare stack. The ServoToughE SpectraExact 2500 is used to measure hydrocarbons or total hydrocarbons in the header to the flare stack to optimise and guarantee combustion, ie, control of the steam. Excess steam is wasting money. Not enough steam means incomplete combustion. The SpectraExact can be used to help prevent both of these conditions.
The Servomex 2500 series of infrared analysers can be configured to analyse many of the components present in gas feeds to flare stack, as well as solvents which may also be vaporised and flared. Typical gasses measured are ethylene, whilst solvents include acetone and isoproponal. The infrared analyser can also be incorporated into the sampling system used with the oxygen analyser, further reducing installation and overhead costs.
The analyser employs a single beam, dual wavelength measurement technique, which gives increased measurement sensitivity and a high degree of stability. This technique is virtually unaffected by contamination on the sample cell windows. Maintenance requirements are low and the cells can easily be changed or cleaned. The analyser utilises a rugged construction and is certified for use in hazardous areas.
For more information contact Chantelle Conradie, Elemental Analytics, +27 (0)11 918 6994, info@e-analytics.co.za, www.e-analytics.co.za
Credit(s)
Further reading:
Avoiding South Africa's water crisis
Analytical Instrumentation & Environmental Monitoring
Collaboration and technology can make South Africa a water-secure nation.
Read more...
---
Electrical measurement and process analytics for hydrogen production
Mecosa Analytical Instrumentation & Environmental Monitoring
Knick products optimise the hydrogen production process and electrolyser operation.
Read more...
---
Non-Nuclear online slurry density measurement
Allpronix Analytical Instrumentation & Environmental Monitoring
When a local metal smelting operation had a requirement to remove manual sampling from its slurry line, Allpronix was approached to advise on a solution.
Read more...
---
Portable combustion gas analyser
Elemental Analytics Analytical Instrumentation & Environmental Monitoring
The E8500 Plus is a powerful and advanced portable emissions analyser, a complete, portable tool for EPA compliance and level emissions monitoring of boilers, engines and other combustion equipment.
Read more...
---
Continuous emissions monitoring in power plants
Elemental Analytics Analytical Instrumentation & Environmental Monitoring
The MCA 10 multi-component analysis system combines precise measurement technology with excellent long-term stability.
Read more...
---
Two-gas detection monitor
Comtest Analytical Instrumentation & Environmental Monitoring
New lightweight two-gas monitor offers more accurate alarms and minimises maintenance with a two-year runtime.
Read more...
---
Protect your pump and keep it longer
Elemental Analytics Valves, Actuators & Pump Control
Unexpectedly losing a pump is often an expensive or even a dangerous problem in a chemical plant.
Read more...
---
MAP – making the right choice for gas analysis
Elemental Analytics Analytical Instrumentation & Environmental Monitoring
Modified atmosphere packaging (MAP) is used within the food and pharmaceutical sectors to extend the shelf life of many products that would otherwise deteriorate quickly in the presence of oxygen.
Read more...
---
Accurate particle matter measurement
GHM Messtechnik SA Analytical Instrumentation & Environmental Monitoring
The PMsense datalogger has particular applications in smart city applications and the monitoring of particle matter pollutants found at industrial sites.
Read more...
---
24/7 boiler monitoring with the SWAS Compact
Endress+Hauser South Africa Analytical Instrumentation & Environmental Monitoring
Endress+Hauser has developed a compact new steam analysis device for continuous boiler water monitoring.
Read more...
---