printer friendly version
Changing negative attitudes towards alarms
June 2021
System Integration & Control Systems Design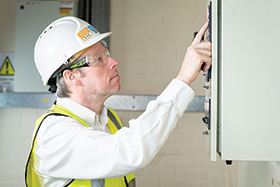 The easiest way to avoid disasters at an industrial facility is if personnel quickly identify and act upon, imminent danger. Unfortunately, as simple as it sounds, many facilities have struggled to implement this approach over the years. Unsurprisingly, slow operator response has been cited as being responsible for several high-profile incidents, including the fire at the Buncefield oil storage depot in Milford Haven and the Texaco oil refinery plant explosion in Pembroke.
Typically, the simplest solution is the most effective and that is why alarm annunciators remain key pieces of mission-critical safety systems to this day. Alarm annunciators are panel-based alarms that are hard-wired directly into relevant safety-critical processes. If an abnormal event occurs, the relevant window on the panel lights up and the alarm emits a sound, immediately giving operators the necessary information to act quickly.
Put checks in place
It is common sense that operator response time is hugely important in a crisis and can be the deciding factor in avoiding serious consequences. With an alarm annunciator having a fixed matrix display format, operators know the nature and scale of the problem at a glance due to pattern recognition, compared to the complexity of a PC-based system screen.
Worryingly though, there have been recent reports of operators adopting a culture of ignoring local alarms and not taking appropriate action quickly, if at all. To combat this, many companies are turning to remote monitoring technology to monitor the status of their hardwired alarm annunciators. This has several benefits for site managers looking to increase the likelihood of on-site operators responding to alarms quickly and efficiently.
Firstly, it offers peace of mind for facility managers worried about on-site safety because they can access all live and historical alarm data whenever necessary. Next, the increased accountability and traceability that comes with remote monitoring technology improves the chances of operators responding to local alarms. And finally, alarm annunciators equipped with remote monitoring capabilities can be configured to send direct push notifications to relevant personnel using SMS and email whenever there is an abnormal event. This means asset managers and engineers are all aware of the problem and can ensure action is taken.
All Omniflex's alarm annunciators exceed the latest safety requirements and include an Ethernet interface, as well as built-in alarm logging. Furthermore, they are supplied with individual hardwired repeat relay outputs that facilitate further connection possibilities.
Credit(s)
Further reading:
SCiBOTRON's quality culture the key to success
May 2020 , System Integration & Control Systems Design
The company was founded on lean principles and quickly grew into a QSE (Qualifying Small Enterprise). Ricardo Paddy, managing director and founding member, attributes one of the reasons for the company's 
...
Read more...
---
Visualisation using vision-specific controls
June 2021, Beckhoff Automation , System Integration & Control Systems Design
TwinCAT Vision combined with TwinCAT HMI.
Read more...
---
Modularity boosts performance
June 2021, SEW-Eurodrive , System Integration & Control Systems Design
Integrated technologies automate, upgrade and streamline existing production processes, while still allowing for future technology to be incorporated.
Read more...
---
Smart traffic management for Syntell
April 2021 , System Integration & Control Systems Design
Syntell is a leading South African technology company. One of its key projects is the running and management of one third of Johannesburg's traffic lights. Syntell's system is a full traffic management 
...
Read more...
---
PCS Global implements 5-phase control system upgrade at Kiara Health
May 2021, PCS Global , System Integration & Control Systems Design
Kiara Health is the first African company equipped with a fully-scaled server deployment in the AWS Cloud, as well as the first South African company to implement the AVEVA Flex Model.
Read more...
---
Temperature and humidity monitoring for vaccine rollouts
May 2021, Omniflex Remote Monitoring Specialists , Temperature Measurement
How remotely monitoring facilities maintains the vaccine cold chain.
Read more...
---
Remote monitoring of temperature in cryopreservation facilities
March 2021, Omniflex Remote Monitoring Specialists , Industrial Wireless
When the Medical Research Council needed to upgrade sixteen of its facilities to monitor temperature and humidity levels in its -80°C sample storage area, it engaged Omniflex to find a solution.
Read more...
---
Managing thermal functions with heat exchangers
February 2021, Danfoss , System Integration & Control Systems Design
The various heat exchanger options typically have different operating requirements, as well as preferable refrigerants per application.
Read more...
---
A tailored way to stay up to date
April 2021, Omniflex Remote Monitoring Specialists , News, Electrical Power & Protection
Remote monitoring specialist relaunches its highly anticipated newsletter.
Read more...
---
Protecting hazardous areas from corrosion
April 2021, Omniflex Remote Monitoring Specialists , IS & Ex
Omniflex has gained IECEx certification to manufacture intrinsically safe electrical equipment for the global market, supplementing its existing hazardous area equipment approvals.
Read more...
---