printer friendly version
Moisture sensors for all applications
February 2021
Sensors & Transducers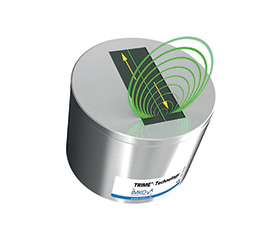 All aggregates and bulk solids contain an amount of water. In addition to the quality of the final product, moisture also determines the weight and the price. The IMKO probe portfolio from Endress+Hauser presents a new generation of moisture sensors, suitable for use in a variety of industries.
The guided radar wave (in green in the image) propagates at approximately the speed of light. The sensor measures the material layer by layer discoidally and transverse to the sensor surface, as is familiar from a computer tomograph, for example.
This method results in a sensor with an exactly defined measurement field, which can measure without errors even in the event of fluctuating fine grains or varying grain size. By measuring transverse to the sensor surface, the mechanical condition of the sensor surface does not represent a disturbance variable, i.e., the recurring and unavoidable wear of the sensor surface does not falsify the measured value.
The defined measurement field also enables accurate measurement for applications in which the material coverage is too low or fluctuates. This results in a high degree of flexibility in terms of mechanical integration in the application.
Drying bulk solids in belt dryers
When drying bulk solids with belt dryers, an air-permeable belt is filled with the product to be dried. The height of the bulk solids on the belt and the dwell time in the dryer are defined based on the product type and properties, and the water volume to be removed. By adjusting the dwell time to the mean value, it is possible to compensate for varying moisture content. This is necessary in the production of wood pellets, for example, because the quality is no longer guaranteed if the material is excessively dry, and operating times are put at risk if the material is too moist.
Drying of bulk solids in vertical dryers
When grain is harvested, it usually contains excess water. If the grain is stored in a silo, this excess water would cause mould to form immediately, resulting in the total loss of the product. Therefore, all common grain types are dried before being stored in a silo, usually using a vertical dryer with product passing through it once (continuous dryer). The input moisture is measured to determine the water quantity to be removed, and the dwell time or throughput rate is controlled based on the known dryer performance. This not only ensures that the product does not go mouldy later in the silo, but also that energy is not wasted by over-drying the product.
The IMKO portfolio allows users to choose a suitable moisture sensor design for any application, always taking into account the framework conditions, such as moisture range, electrical conductivity, wear and mechanical installation.
Credit(s)
Further reading:
Engineers help British wine growers achieve success
Instrotech Sensors & Transducers
English growers realise that like all developing industries, as production grows so the need for efficiency increases.
Read more...
---
Steierl-Pharma uses smart cameras to modernise its labelling processes
Omron Electronics Sensors & Transducers
Steierl-Pharma of Herrsching, Germany, relies on the support of Omron automation experts for state-of-the-art labelling technology. By using a new labelling system with smart camera technology, the company 
...
Read more...
---
Brewery benefits from IO-Link devices
ifm - South Africa Sensors & Transducers
Marston's recently undertook a review of the fine ale room tank level indication system, to address certain issues.
Read more...
---
What does digitalisation mean for food product safety?
Endress+Hauser South Africa IT in Manufacturing
Product safety remains a vital topic for achieving food security across the globe. To date, many manufacturers still question whether digitalisation can help reduce the effort involved in process optimisation, production monitoring and system installation.
Read more...
---
Inductive sensors with IO-Link
Turck Banner Sensors & Transducers
Turck's Banner's new non-flush sensors set new standards with maximum accuracy and smart additional information for condition monitoring.
Read more...
---
New compact capacitive sensor
Instrotech Sensors & Transducers
Instrotech has introduced a new series of capacitive sensors with more compact dimensions than older sensors on the market.
Read more...
---
Hot and cold rolling mills
Morton Controls Sensors & Transducers
One of the major consumables in steel production is the oil in water emulsion used to spray on the mill rollers to cool, lubricate and improve the finish of the final product, as well as assist with corrosion prevention and control friction.
Read more...
---
Controlling moisture content is crucial in food processing
SECO Process Instrumentation Sensors & Transducers
When it comes to food processing, excess moisture can ruin products and create unnecessary waste, economic losses and decreased productivity.
Read more...
---
High-performance photoelectric sensors
ASSTech Process Electronics + Instrumentation Sensors & Transducers
Wenglor's Type 2K photoelectric sensors within the PNG/smart product range have robust stainless steel 316L housings with IP69K protection.
Read more...
---
Omron launches new laser sensor
Omron Electronics Sensors & Transducers
New sensing technology detects difficult targets and reduces the need for complex installation design.
Read more...
---