printer friendly version
Safe and reliable steel production
January 2021
System Integration & Control Systems Design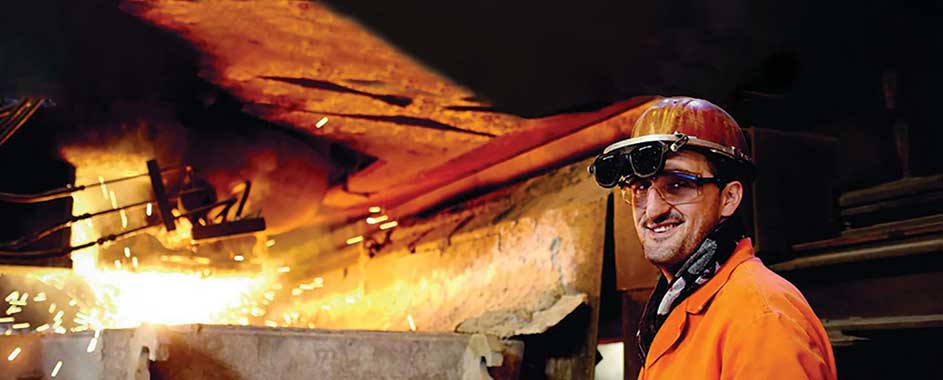 High temperatures, molten metals and heavy loads are some of the challenges faced during steel production. These extreme conditions place much stress on both man and machines, making safety and availability the top priorities for steel plant managers. Over the years, the importance of safety has grown substantially. Laws and regulations governing the smelter and metals sector have become stricter. Now, the questions arise: "Are all aspects of safety being looked at? What about critical cooling water circuits?"
The impact of small leaks or expanding cracks in cooling systems is a definite safety hazard and, depending on the application, may result in production downtime, damage to the plant, or even loss of life. The detection of leaks in cooling systems is not only an essential part of a safety system, but an integral part of a safety policy.
Endress+Hauser's highly accurate leakage detection solution is designed to IEC 61511 and EN ISO 13849-1 standards. It is a ready-to-use and verified solution package that detects the smallest signs of a leak, allowing for action to be taken before the situation becomes critical or a catastrophe occurs.
What the system offers
• Process experts who guide you every step of the way in selecting the best-fit, industry-optimised instrumentation, service and solution package from the complete portfolio.
• Safe monitoring of critical cooling water circuits.
• Wireless solutions providing more information about the process.
• Comprehensive tools and solutions for plant asset management.
• Compliance with functional safety standards IEC/EN 61508 (process hazard categorisation known as SIL – Safety Integrity Level) and IEC/EN 61511 (process safety using instrumentation known as Safety Instrumented Systems) in accordance with EN 13849.
Safe, robust and precise cooling water leakage monitoring
Malfunctions in water circuits can be dangerous to both equipment and personnel. Regardless of the cooling circuit type, principles for leakage detection are as follows:
• The inlet and outlet flow rates of a cooling circuit are measured by means of suitable meters (electromagnetic or ultrasonic flowmeters).
• The inlet and outlet temperatures are also acquired from sensors mounted in close proximity to the flowmeters. (The system uses separate temperature sensors to achieve maximum accuracy).
In a furnace leakage detection application, there is added value in using the temperature measurements to support the control velocity and compensate density changes. This can serve as an additional temperature in the line to confirm if the independent temperatures are correct because temperature is such a critical measurement in this application.
In addition, hardness and silica are water quality measurements that can be related to concentration and possible scaling in the line. If lines become restricted because of blockage or calcification, the cooling system will not work optimally and can cause serious plant shutdowns and production loss.
Should there be any incidents inline, Heartbeat Technology helps with verification. This technology is designed to help increase plant availability and reduce costs. Heartbeat Technology guarantees permanent diagnostics and verification without process interruptions. It ensures a cost-efficient and safe plant operation during the entire life cycle. A broad range of Endress+Hauser devices with Heartbeat Technology is available, which combine diagnostic, verification and monitoring functions for process optimisation.
Conclusion
Safety and plant availability are sensitive topics that demand a trustworthy partner. Look no further. Endress+Hauser has been a reliable partner to steel companies in over 100 countries for more than 60 years. All instruments and solutions are designed to meet industry-specific requirements, and relied upon all over the world.
Credit(s)
Further reading:
SCiBOTRON's quality culture the key to success
May 2020 , System Integration & Control Systems Design
The company was founded on lean principles and quickly grew into a QSE (Qualifying Small Enterprise). Ricardo Paddy, managing director and founding member, attributes one of the reasons for the company's 
...
Read more...
---
Endress+Hauser invites you to its virtual trade fair booth
January 2021, Endress+Hauser South Africa , News
Endress+Hauser is breaking new ground by bringing customers closer to its products, solutions and services in a flexible and informative way through a virtual exhibition booth.
Read more...
---
Sustainability in practice at Omron
January 2021, Omron Electronics , System Integration & Control Systems Design
Today, sustainability is no longer a niche topic, but something that companies are integrating into their business strategies on a daily basis. Not only are sustainability practices necessary to answer 
...
Read more...
---
Portion cutter for fish and poultry
November 2020, Beckhoff Automation , System Integration & Control Systems Design
Extremely fast and highly precise meat portion cutter leverages PC control.
Read more...
---
Five factors influencing the choice of industrial control hardware
January 2021, RJ Connect , System Integration & Control Systems Design
Since industrial control systems are a major investment, system integrators are well advised to consider the following five factors during the equipment selection phase of a project.
Read more...
---
Pepperl+Fuchs: entering the digital age
January 2021, Pepperl+Fuchs , System Integration & Control Systems Design
In today's digital world, data should be as readily available as electricity from the socket.
Read more...
---
The challenges of online trace measurement
November 2020, Endress+Hauser South Africa , Analytical Instrumentation & Environmental Monitoring
The power industry has extremely high expectations in terms of measuring sensitivity, particularly with regard to the key parameter silica.
Read more...
---
Omniflex enables mine water quality
October 2020, Omniflex Remote Monitoring Specialists , System Integration & Control Systems Design
Water licences carry a 'Burden of Proof' that the licence holder will not harm the environment or the water system through its activities. This covers the use of water from the system and the responsible 
...
Read more...
---
Safe and efficient water and wastewater treatment
October 2020, Endress+Hauser South Africa , System Integration & Control Systems Design
Depending on the application and the industry, water needs to have different properties to ensure the quality of finished products and the overall safety of production.
Read more...
---
PC-based control monitors road tunnel with flexible scalability
October 2020, Beckhoff Automation , System Integration & Control Systems Design
With more than 200 industrial PCs in operation, the Kaisermühlen Tunnel in Vienna shows that scalable PC-based control technology from Beckhoff is an optimum automation platform in this environment.
Read more...
---