printer friendly version
Safe and efficient water and wastewater treatment
October 2020
System Integration & Control Systems Design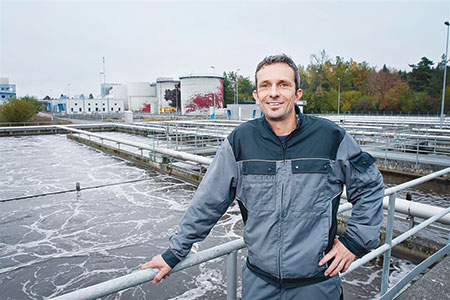 Industrial production accounts for 20% of global water consumption. Every industry needs water in one way or another. For safe and efficient processes this water must be treated and monitored. Thanks to decades of experience in the water and wastewater industry, and a dedicated portfolio of solutions, Endress+Hauser can help make industrial water treatment safe and efficient.
Water is one of our most precious resources and the base of all life. Using it in a responsible way is the precondition for public health and environmental protection, but it also serves different purposes during industrial production: cooling, cleaning, rinsing and steam production, to name a few. Depending on the application and the industry, the water needs to have different qualities to ensure the quality of finished products and the overall safety of production. And afterwards, the water must be safely discharged. No matter where the water ends up, in a natural body of water or in the sewers, in most cases some form of wastewater treatment is necessary.
"Generally speaking, water treatment in an industrial plant has the same goals as in a municipal treatment plant," explains Hennie Pretorius, industry manager for water and wastewater at Endress+Hauser South Africa. "The main challenge is to balance out the water quality and the treatment costs. Most of the established applications that are used in municipal plants can also be found in industrial treatment plants."
Practical applications
One example is membrane filtration. Depending on the pore size, membrane filtration can be applied to achieve different treatment targets: from mechanical separation of bacteria or viruses up to single ions for desalination during the preparation of process water. It can also be used for water reuse by filtering already used water. The main parameters for optimising the membrane filtration are inlet quality and pressure; measuring these can help to prevent damage to the membranes. Endress+Hauser has a portfolio of pressure and quality sensors that are ideal for this application.
Another challenge that both municipal and industrial wastewater operators face is sludge handling. Disposing of sludge is expensive, so it is common practice to reduce the amount, either by dewatering it through adding conditioners like polymers or lime milk, or by anaerobic digestion. Particularly for wastewater with a high biological load, which is typical for the pulp and paper or food industries, anaerobic digestion is a very efficient pre-treatment process. Plus, it generates biogas which can be used as an energy source for other treatment processes. A basic process control, e.g. measurement of the inlet load, level, temperature, pH/ORP and biogas production, is needed to monitor the process accurately and optimise it. One of the toughest measurement challenges is the biogas flow because of the high water-saturation of the gas and very low pressures. Endress+Hauser's unique ultrasonic flow devices offer a solution to this challenge.
"Working with Endress+Hauser has two main advantages for industrial water operators," concludes Pretorius. "One, we have a wide portfolio of measurement instrumentation, automation solutions and services dedicated to the water and wastewater industry, which can be used to optimise industrial water treatment processes. Two, we have decades of experience in both the water industry and the other industries that need water treatment. By combining this experience, we have a deep understanding of the applications of our customers, which enables us to find the ideal solutions for all of their challenges."
Credit(s)
Further reading:
SCiBOTRON's quality culture the key to success
May 2020 , System Integration & Control Systems Design
The company was founded on lean principles and quickly grew into a QSE (Qualifying Small Enterprise). Ricardo Paddy, managing director and founding member, attributes one of the reasons for the company's 
...
Read more...
---
Portion cutter for fish and poultry
November 2020, Beckhoff Automation , System Integration & Control Systems Design
Extremely fast and highly precise meat portion cutter leverages PC control.
Read more...
---
The challenges of online trace measurement
November 2020, Endress+Hauser South Africa , Analytical Instrumentation & Environmental Monitoring
The power industry has extremely high expectations in terms of measuring sensitivity, particularly with regard to the key parameter silica.
Read more...
---
Omniflex enables mine water quality
October 2020, Omniflex Remote Monitoring Specialists , System Integration & Control Systems Design
Water licences carry a 'Burden of Proof' that the licence holder will not harm the environment or the water system through its activities. This covers the use of water from the system and the responsible 
...
Read more...
---
PC-based control monitors road tunnel with flexible scalability
October 2020, Beckhoff Automation , System Integration & Control Systems Design
With more than 200 industrial PCs in operation, the Kaisermühlen Tunnel in Vienna shows that scalable PC-based control technology from Beckhoff is an optimum automation platform in this environment.
Read more...
---
Endress+Hauser strengthens presence in the Middle East
October 2020, Endress+Hauser South Africa , News
Endress+Hauser is strengthening the Group's presence on the Arabian Peninsula with the establishment of Endress+Hauser Middle East.
Read more...
---
PC-based control reduces complexity in folio applications
October 2020, Beckhoff Automation , System Integration & Control Systems Design
BW Papersystems relied on PC-based control for the development of the eCon folio-size sheeter, which greatly reduced complexity and costs compared to the legacy system it replaced.
Read more...
---
Improved production capacity and efficiency
September 2020, Omron Electronics , System Integration & Control Systems Design
BOLÇİ Bolu Chocolate (Bolci) was formed in 1992. It now has over 300 employees and produces over 800 different products. The company produces over 200 tons of chocolate items each month in a factory that 
...
Read more...
---
EtherCAT I/O for conveyor control
September 2020, Beckhoff Automation , System Integration & Control Systems Design
Integrated compact motor controller reduces cabling effort and increases diagnostic capabilities for roller conveyor systems.
Read more...
---
Robots could solve the social distancing problem
September 2020 , System Integration & Control Systems Design
While South Africa has seen a significant uptake in robotic technology, there are signs it will grow in the years to come as businesses make provision for these types of advancements.
Read more...
---