printer friendly version
Machine upgrade at Rostberg
August 2020
System Integration & Control Systems Design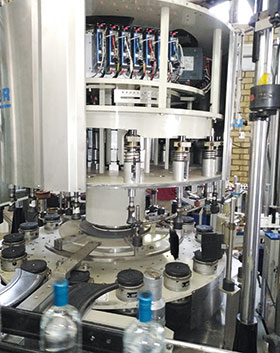 Rostberg Bottling Company is a leader in contract bottling, situated between Stellenbosch and Somerset West in the winelands of the Western Cape. As a contract bottler, Rostberg is exposed to a wide variety of products, ranging from spirits to wine and liqueurs. As such, the variation in bottle shapes and label types is extensive. Reliable and flexible solutions are thus vital, demanding machinery which is quick and easy to set up to suit the product requirements.
Upgrade urgently required
A labelling machine, catering for 16 heads on four label stations, was thus vital to Rostberg's processes, so that it could cope with the variation in product requirements. This machine, of Italian origin, had lost the functionality of several stations, to the point where it was no longer a viable production aid.
After contacting the machine supplier, it became clear that service parts were no longer available and it was recommended that the machine should be replaced with the latest model. At this point Rostberg approached Ana-Digi Systems to engineer a suitable replacement control system, as the machine was still mechanically sound.
Rostberg's production urgently needed the flexibility of the multi-head labeller, as it currently had to run products several times through its single head machines to cater for the multi-label requirements. Ana-Digi Systems came up with a new and modern, servo controlled multi-head control system, employing a LS XMC automation controller utilising real-time Ethercat communications to 16 new LS servo drives. The servo drives enabled easy bottle orientation, which would allow easy placement of the various bottle labels.
When the original machine manufacturer heard of the proposed solution, it told its customer that the machine would never work in the proposed format and it should be replaced. After further discussions and product demonstrations, Rostberg took a leap of faith in the capabilities of Ana-Digi Systems and placed an order for the proposed new design.
Implementation
During the process of the machine upgrade, two large German rack PLCs were removed, along with numerous dedicated electronic control boards and hundreds of metres of wiring. To simplify the new machine wiring, a small LS XEC modular PLC was utilised on the machine base frame, while an LS XMC servo controller, which addressed the 16 servo drives and remote I/O modules via EtherCAT, was addressed using existing sliprings.
This new system concept presented the opportunity of gaining real-time control of the entire machine with a minimum of cabling required. The bottles are accurately rotated from the first label to allow accurate positioning of up to two front and two rear labels according to product requirements. Operator interfaces were provided through a high resolution LS eXP colour HMI, which enabled the choice of the required prewritten production recipes.
The machine was commissioned during mid-2019 and has functioned exactly as envisaged. As the client is extremely happy with the machine's performance, the next phase will be to register from notches in the bottles. For Ana-Digi, this system has been extremely satisfying, as leading edge technologies were utilised during the upgrade of this complex machine, with outstanding results.
Results and conclusions
Ana-Digi Systems strived to design and implement a state-of-the-art, reliable machine to match the client's requirements of being easy to set up and low maintenance. This was achieved, and in addition, production throughput was increased with the required reliability.
Delighted with the results, Rostberg is enjoying the benefits of this new level in machine performance. The technology employed knows no limits and can be redeployed for a wide variety of production machines.
Ana-Digi Systems initially built a reputation in the food industry and now has many clients in the sector, with plans to increase its footprint even further.
Credit(s)
Further reading:
SCiBOTRON's quality culture the key to success
May 2020 , System Integration & Control Systems Design
The company was founded on lean principles and quickly grew into a QSE (Qualifying Small Enterprise). Ricardo Paddy, managing director and founding member, attributes one of the reasons for the company's 
...
Read more...
---
Omniflex enables mine water quality
October 2020, Omniflex Remote Monitoring Specialists , System Integration & Control Systems Design
Water licences carry a 'Burdon of Proof' that the licence holder will not harm the environment or the water system through its activities. This covers the use of water from the system and the responsible 
...
Read more...
---
Safe and efficient water and wastewater treatment
October 2020, Endress+Hauser South Africa , System Integration & Control Systems Design
Depending on the application and the industry, water needs to have different properties to ensure the quality of finished products and the overall safety of production.
Read more...
---
PC-based control monitors road tunnel with flexible scalability
October 2020, Beckhoff Automation , System Integration & Control Systems Design
With more than 200 industrial PCs in operation, the Kaisermühlen Tunnel in Vienna shows that scalable PC-based control technology from Beckhoff is an optimum automation platform in this environment.
Read more...
---
PC-based control reduces complexity in folio applications
October 2020, Beckhoff Automation , System Integration & Control Systems Design
BW Papersystems relied on PC-based control for the development of the eCon folio-size sheeter, which greatly reduced complexity and costs compared to the legacy system it replaced.
Read more...
---
Improved production capacity and efficiency
September 2020, Omron Electronics , System Integration & Control Systems Design
BOLÇİ Bolu Chocolate (Bolci) was formed in 1992. It now has over 300 employees and produces over 800 different products. The company produces over 200 tons of chocolate items each month in a factory that 
...
Read more...
---
EtherCAT I/O for conveyor control
September 2020, Beckhoff Automation , System Integration & Control Systems Design
Integrated compact motor controller reduces cabling effort and increases diagnostic capabilities for roller conveyor systems.
Read more...
---
Robots could solve the social distancing problem
September 2020 , System Integration & Control Systems Design
While South Africa has seen a significant uptake in robotic technology, there are signs it will grow in the years to come as businesses make provision for these types of advancements.
Read more...
---
Fully automated CIP system upgrade at a food factory
September 2020, Hybrid Automation , System Integration & Control Systems Design
Hybrid automation was recently approached to upgrade the CIP system at a food production plant based on the East Rand of Johannesburg.
Read more...
---
HMIs improve operations and maintenance collaboration
June 2020, Emerson Automation Solutions , System Integration & Control Systems Design
It is essential that operators and maintenance engineers work together to resolve issues quickly, before they affect plant performance. However, coordinating actions between these departments can be challenging.  
...
Read more...
---