printer friendly version
HMIs improve operations and maintenance collaboration
June 2020
System Integration & Control Systems Design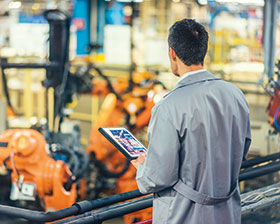 Traditional manufacturing plants have control rooms staffed by operators, who monitor the status of systems and equipment, issue commands and address alerts. Most sites also have maintenance personnel to respond to issues on the plant floor, take appropriate actions and report results to operations personnel.
It is essential that operators and maintenance engineers work together to resolve issues quickly, before they affect plant performance. However, coordinating actions between these departments can be challenging.
A modern approach is needed, with personnel performing dual roles (maintenance and operator) with some overlapping of responsibilities. Supporting this are the latest mobile and handheld human machine interface (HMI) technologies that empower collaboration between operations and maintenance personnel, thereby improving operating efficiency.
Static HMIs
Control room operators usually work at fixed PC-based HMIs, although there may often be other HMI devices on the plant floor. These are typically installed on or near a specific machine or piece of equipment and offer limited functionality. When operators receive an alert or identify an issue, they often need to contact a member of the maintenance department, who will go into the field to resolve the problem. The operator will remain at their workstation, perhaps communicating with maintenance personnel via radio. This is a tried and trusted approach but introduces delays and can lead to errors.
IT/OT convergence
The convergence of information technologies (IT) with plant floor operational technologies (OT) increases as IT-based hardware, software, networking and protocols become integrated and more compatible with OT hardware, such as PLCs and HMIs. Convergence is also taking place within the production area, in relation to the roles of operators and maintenance personnel, and is made possible by greater IT/OT convergence.
This convergence has brought a wide range of advanced mobile HMIs to the market, and two key requirements of these devices are durability and performance. Standard mobile phones can be used for some HMI functions, often permitting employees to access read-only data. Other applications require site-specific or industrially hardened tablets, which can be configured to permit both monitoring and control activities. The result is that operators are no longer tied to the control room, and more information is available to maintenance personnel on the plant floor or in the field. An employee with a converged operations/maintenance role can now identify a problem, go to the device or equipment, troubleshoot and resolve the issue.
Extended HMI capabilities
For some applications a fixed HMI may still be required, but many will benefit from the introduction of mobile HMIs. An example would be adjusting a set-point and observing its effect. If the operator requires support from maintenance personnel, they can be contacted via the mobile HMI and collaboration can take place to troubleshoot the problem. Fixed and mobile HMIs can also enable maintenance personnel to perform some operator tasks, such as reacting to alarms.
Other technologies, resulting from IT/OT convergence, have helped to improve mobile HMIs. An example is the latest OT controllers, which not only include traditional programmable logic controller (PLC) control, but now feature PC-like computing abilities. Advanced processing, such as real-time analytics, can now be provided by the PLC, without any disruption to the basic automation functions. The latest PLCs can even serve graphics directly to mobile devices.
Food and beverage applications
Food and beverage production facilities have a distributed mix of equipment that can benefit from the implementation of mobile HMIs. The different sections of the plant – such as storage, processing, blending, filling and bottling – use equipment and systems that are predominantly standalone. However, the disparate systems may connect to an HMI application in a central control room. Should an issue arise, such as a bottling line backlog, it can be difficult to determine the root cause from the control room. An operator or maintenance person will likely inspect the production line or machine to discover what is wrong.
Using mobile HMIs, operators and maintenance personnel can correlate the HMI-supplied information with the actual situation they see in front of them. Operators can determine if a production stoppage is due to a simple blockage of bottles that they can correct, or if the problem is more serious and requires maintenance support. Maintenance personnel can use the information delivered by their mobile HMIs to work more efficiently, with the time between recognising and resolving problems being minimised.
For more information contact Devesh Roopnarain, Emerson Automation Solutions, +27 11 451 3700, devesh.roopnarain@emerson.com, www.emerson.com
Credit(s)
Further reading:
SCiBOTRON's quality culture the key to success
May 2020 , System Integration & Control Systems Design
The company was founded on lean principles and quickly grew into a QSE (Qualifying Small Enterprise). Ricardo Paddy, managing director and founding member, attributes one of the reasons for the company's 
...
Read more...
---
Emerson publishes 2019 Social Responsibility Report
July 2020, Emerson Automation Solutions , News
Emerson combines industry-leading technology and innovation to make a positive impact on employees, customers and communities around the world.
Read more...
---
Vibration sensor for prescriptive analytics
June 2020, Emerson Automation Solutions , Industrial Wireless
Emerson has introduced the AMS Wireless Vibration Monitor, a low-cost, easy to deploy vibration sensor that performs prescriptive analytics on vibration data using native software to automatically identify 
...
Read more...
---
Wireless detection of erosion corrosion
June 2020, Emerson Automation Solutions , Maintenance, Test & Measurement, Calibration
While many forms of corrosion can be anticipated depending on the presence of corrosion causing factors such as H
2
S, water injection and oxygen in dry pipelines, erosion caused as a result of sand or 
...
Read more...
---
SLE5 series label sensor
June 2020, Turck Banner , System Integration & Control Systems Design
The small infrared light spot of Banner's new SLE5 can quickly detect the gap between opaque labels on clear or opaque backing. The 5 mm slot width and 50 mm slot depth allow precise detection of a wide 
...
Read more...
---
Emerson introduces software for flow measurement
July 2020, Emerson Automation Solutions , Flow Measurement & Control
Emerson has released Micro Motion ProcessViz, a standalone, cost-effective software solution for flowmeter process data visualisation. Having an instant visualisation of raw process data translates into 
...
Read more...
---
PC-based control technology for process automation
May 2020, Beckhoff Automation , System Integration & Control Systems Design
Progress is not based on the innovative creation of buzzwords. Unfortunately, the development of enabling technologies in recent decades did not help to raise process automation to an advanced level. 
...
Read more...
---
Improved production capacity and efficiency
May 2020, Omron Electronics , System Integration & Control Systems Design
Automation with robotics increases production of chocolate by 40%.
Read more...
---
Emerson's new thermowell design tool
June 2020, Emerson Automation Solutions , Temperature Measurement
Emerson has introduced the Rosemount Thermowell Design Accelerator, a free online thermowell design tool that eliminates manual thermowell iterations facing process design engineers when sizing thermowells. 
...
Read more...
---
PC-based control for Covid-19 rapid testing production lines
June 2020, Beckhoff Automation , System Integration & Control Systems Design
The rapid testing equipment production lines made by Ginolis in Qulunsalo, Finland, have proven themselves in the market for almost a decade. Because of the coronavirus pandemic, previously delivered 
...
Read more...
---