printer friendly version
HMIs improve operations and maintenance collaboration
June 2020
System Integration & Control Systems Design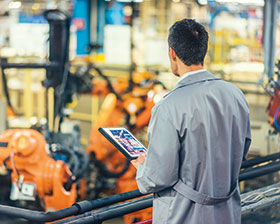 Traditional manufacturing plants have control rooms staffed by operators, who monitor the status of systems and equipment, issue commands and address alerts. Most sites also have maintenance personnel to respond to issues on the plant floor, take appropriate actions and report results to operations personnel.
It is essential that operators and maintenance engineers work together to resolve issues quickly, before they affect plant performance. However, coordinating actions between these departments can be challenging.
A modern approach is needed, with personnel performing dual roles (maintenance and operator) with some overlapping of responsibilities. Supporting this are the latest mobile and handheld human machine interface (HMI) technologies that empower collaboration between operations and maintenance personnel, thereby improving operating efficiency.
Static HMIs
Control room operators usually work at fixed PC-based HMIs, although there may often be other HMI devices on the plant floor. These are typically installed on or near a specific machine or piece of equipment and offer limited functionality. When operators receive an alert or identify an issue, they often need to contact a member of the maintenance department, who will go into the field to resolve the problem. The operator will remain at their workstation, perhaps communicating with maintenance personnel via radio. This is a tried and trusted approach but introduces delays and can lead to errors.
IT/OT convergence
The convergence of information technologies (IT) with plant floor operational technologies (OT) increases as IT-based hardware, software, networking and protocols become integrated and more compatible with OT hardware, such as PLCs and HMIs. Convergence is also taking place within the production area, in relation to the roles of operators and maintenance personnel, and is made possible by greater IT/OT convergence.
This convergence has brought a wide range of advanced mobile HMIs to the market, and two key requirements of these devices are durability and performance. Standard mobile phones can be used for some HMI functions, often permitting employees to access read-only data. Other applications require site-specific or industrially hardened tablets, which can be configured to permit both monitoring and control activities. The result is that operators are no longer tied to the control room, and more information is available to maintenance personnel on the plant floor or in the field. An employee with a converged operations/maintenance role can now identify a problem, go to the device or equipment, troubleshoot and resolve the issue.
Extended HMI capabilities
For some applications a fixed HMI may still be required, but many will benefit from the introduction of mobile HMIs. An example would be adjusting a set-point and observing its effect. If the operator requires support from maintenance personnel, they can be contacted via the mobile HMI and collaboration can take place to troubleshoot the problem. Fixed and mobile HMIs can also enable maintenance personnel to perform some operator tasks, such as reacting to alarms.
Other technologies, resulting from IT/OT convergence, have helped to improve mobile HMIs. An example is the latest OT controllers, which not only include traditional programmable logic controller (PLC) control, but now feature PC-like computing abilities. Advanced processing, such as real-time analytics, can now be provided by the PLC, without any disruption to the basic automation functions. The latest PLCs can even serve graphics directly to mobile devices.
Food and beverage applications
Food and beverage production facilities have a distributed mix of equipment that can benefit from the implementation of mobile HMIs. The different sections of the plant – such as storage, processing, blending, filling and bottling – use equipment and systems that are predominantly standalone. However, the disparate systems may connect to an HMI application in a central control room. Should an issue arise, such as a bottling line backlog, it can be difficult to determine the root cause from the control room. An operator or maintenance person will likely inspect the production line or machine to discover what is wrong.
Using mobile HMIs, operators and maintenance personnel can correlate the HMI-supplied information with the actual situation they see in front of them. Operators can determine if a production stoppage is due to a simple blockage of bottles that they can correct, or if the problem is more serious and requires maintenance support. Maintenance personnel can use the information delivered by their mobile HMIs to work more efficiently, with the time between recognising and resolving problems being minimised.
For more information contact Devesh Roopnarain, Emerson Automation Solutions, +27 11 451 3700, devesh.roopnarain@emerson.com, www.emerson.com
Credit(s)
Further reading:
SCiBOTRON's quality culture the key to success
May 2020 , System Integration & Control Systems Design
The company was founded on lean principles and quickly grew into a QSE (Qualifying Small Enterprise). Ricardo Paddy, managing director and founding member, attributes one of the reasons for the company's 
...
Read more...
---
Smart traffic management for Syntell
April 2021 , System Integration & Control Systems Design
Syntell is a leading South African technology company. One of its key projects is the running and management of one third of Johannesburg's traffic lights. Syntell's system is a full traffic management 
...
Read more...
---
Emerson introduces Digital Maturity Quick Index
April 2021, Emerson Automation Solutions , IT in Manufacturing
Resource helps companies self-assess operations and identify opportunities for the highest potential return on investment.
Read more...
---
Delivering modern SIS for wellhead applications
April 2021, Emerson Automation Solutions , IS & Ex
Keeping the safety and non-safety functions separate while achieving seamless integration.
Read more...
---
Managing thermal functions with heat exchangers
February 2021, Danfoss , System Integration & Control Systems Design
The various heat exchanger options typically have different operating requirements, as well as preferable refrigerants per application.
Read more...
---
Emerson user conference to focus on smarter, safer, more sustainable operations
March 2021, Emerson Automation Solutions , News
Emerson Users Exchange Live 2021 EMEA online conference offers new insights and innovations that are driving performance improvements for manufacturers.
Read more...
---
Compressed air savings in egg carton production
February 2021, Beckhoff Automation , System Integration & Control Systems Design
Using open PC and EtherCAT-based automation technology, iZ Systems developed a compact standard controller that enables remote monitoring and optimisation of compressed air systems.
Read more...
---
Update for uniVision software
February 2021, ASSTech Process Electronics + Instrumentation , System Integration & Control Systems Design
Wengor has added another version update for the uniVision configurable standard software for two- and three-dimensional image processing.
Read more...
---
Emerson launches new education centre for measurement instrumentation
February 2021, Emerson Automation Solutions , News
The centre provides face-to-face and virtual training for customers in the Middle East and Africa to upskill process automation engineering and maintenance workforces.
Read more...
---
Industrial edge controller for pipeline operations
February 2021, Emerson Automation Solutions , PLCs, DCSs & Controllers
Denka Wangdi, of Emerson's machine automation solutions business, explains how the gathering, storage and analysis of detailed operational and diagnostic data by modern edge controllers provides significant benefits for pipeline operators.
Read more...
---