printer friendly version
Keep distance easily
July 2020
Sensors & Transducers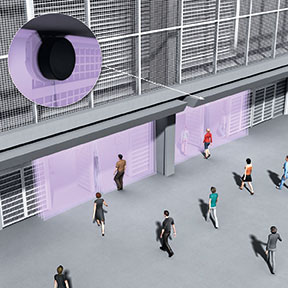 SICK Automation has reacted to slow the spread of the Covid-19 virus with its new PeopleCounter and DistanceGuard SensorApps. Combined with 2D and 3D LiDAR sensors, people can easily maintain the recommended minimum distance in public and predefined spaces. Since the sensor solution does not process personal information, companies can ensure that not only hygiene restrictions, but also data privacy standards and regulations. are observed. Operators of institutions of public life as well as those that deal in tourism, gastronomy, retail and various other industries can profit from a simple solution for easily keeping the maximum utilisation of space and the minimum distance between people in view.
PeopleCounter
The PeopleCounter (PeCo) is a SensorApp developed by SICK which enables anonymous data processing and differentiation of people from objects over large detection areas. Based on the hardware of the MRS1000 3D LiDAR sensor, measurement data is generated as a point cloud. The integrated PeopleCounter app reliably identifies people using their contours. This means only people are counted, while objects are blanked out. This process runs anonymously and without recording personal information.
Thanks to the four layers of the sensor, the direction of movement of a person is clearly established and the current utilisation of a defined zone can be monitored. The recorded data is output via telegrams and digital outputs to keep track of the maximum number of people. The combination of several sensors makes it possible to cover even large areas with different entry and exit points, such as shopping centres, airports or trade fairs.
DistanceGuard
The DistanceGuard SensorApp, in combination with the TiMxxx 2D LiDAR sensor, can detect the distance between two people. This is especially useful in environments in which the currently recommended minimum distances between people must be upheld, for example when waiting in line at a store. As soon as the distance between two people falls short of the configured minimum distance, a signal is generated. Depending on the customer's wishes, this could be a light, a tone or a visual signal.
For more information contact Grant Joyce, SICK Automation Southern Africa, +27 10 060 0550, grant.joyce@sickautomation.co.za, www.sickautomation.co.za
Credit(s)
Further reading:
Prevent backward driving accidents
September 2020, SICK Automation Southern Africa , Sensors & Transducers
To prevent collisions and improve worker safety, Cologne-based sugar producer Pfeifer & Langen selected SICK Automation's Visionary-B CV 3D driver assistance system for use at its reloading point.
Read more...
---
Conductivity sensor for CIP monitoring
September 2020, ifm - South Africa , Sensors & Transducers
The LDL200 from ifm electronic is designed to be used in cleaning processes (CIP) in the food industry.
Read more...
---
Conductivity sensor for interface detection
September 2020, ifm - South Africa , Sensors & Transducers
The conductivity sensor LDL100 for interface detection from ifm electronic ensures that product validation is possible at all times.
Read more...
---
Image processing software with Profinet interface
August 2020, ASSTech Process Electronics + Instrumentation , Sensors & Transducers
ASSTech now offers Wenglor's image processing software – uniVision – with new features. The latest release, Version 2.2, enables smart cameras and control units to be integrated into controls quickly 
...
Read more...
---
Safe operation of CNG stations
August 2020, SICK Automation Southern Africa , Flow Measurement & Control
SICK's Flowsic500 gas meter, used in State Oil Company of Azerbaijan Republic's (SOCAR) transfer and measurement stations, has shown to meet stringent compressed natural gas (CNG) production protocols. 
...
Read more...
---
Flexible sensors for individual beer
August 2020, ifm - South Africa , Sensors & Transducers
A variety of individual beers characterise the regional brewery Skanderborg Bryghus in the Danish town of Skanderborg. Unlike large commercial breweries, this brewery is largely promoted and operated 
...
Read more...
---
Monitoring of chemical distribution
August 2020, Instrotech , Sensors & Transducers
The IoT offers smart solutions that help make life easier and more convenient, improve and streamline processes, and receive information in good time that were previously unavailable or difficult to acquire. 
...
Read more...
---
Programmable LED strip with19 colours
August 2020, Turck Banner , Sensors & Transducers
his work light can be programmed to provide bright white light for safety or efficiency during normal operation and then change colour to indicate other machine statuses, such as red for a stop condition.
Read more...
---
Sensors support crisp bread production in Sweden
August 2020, ifm - South Africa , Sensors & Transducers
Production is automated according to the latest state-of-the-art technology with sensors from ifm electronic monitoring the processes from the supply of ingredients to the dispatch area.
Read more...
---
Ecolab certified photoelectric sensors
August 2020, Turck Banner , Sensors & Transducers
Banner's new T18-2 photoelectric sensors have an FDA-grade shatterproof plastic housing and are IP69K rated and Ecolab certified to protect against water ingress and chemical washdown. IP69K and epoxy 
...
Read more...
---