printer friendly version
Trouble-free plant operation
March 2011
Fieldbus & Industrial Networking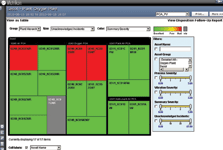 Control loops and advanced control applications across all layers of a plant often depend on the proper functioning of each other for successful process operation. Unavoidably, the performance of these control assets deteriorates over time, and identifying the cause among the vast army of possibilities is key for trouble free plant functionality.
When things go wrong, the first problem is to identify faulty instrumentation and poorly performing loops. This can become overwhelming on large plants, since the more control loops there are, the less the capacity to monitor them individually and the less time there is available to investigate and solve the problems. Without the proper tools, this can be like trying to find a needle in a haystack.
To help, Matrikon offers an effective monitoring tool that readily diagnoses control problems and can provide detailed on-line reports for every loop tested. It can also be used to affect loop tuning. This technology is the result of extensive industrial experience combined with focused university research.
The cause of poor loop performance is often due to cycling, response speeds, valves sticking, inappropriate proportional band, over/under tuned loop, controller design, interaction with other loops, defective instrumentation and hysteresis. The problem is identifying which one, and this requires investigation. The Matrikon tool pinpoints the cause using its one- screen-all-loops reporting system called Tree-Map coupled with a detailed tabular drill down report.
Tree-Map shows on one screen all the bad loops using a colour code and a proportional box sizing system in order to attract operator attention. The detailed reports display control loop performance analysis for easy interpretation, while also providing remedial action guidelines. Once the causes of poorly performing loops have been identified, users can then optimise and tune multiple loops simultaneously for best possible plant operation.
For more information contact Emmanuel Nsenda, Moore Process Controls, +27 (0)11 466 1673, emmanueln@moore.co.za, www.moore.co.za
Credit(s)
Further reading:
Case History 190: Measurement problem ruins level control.
Michael Brown Control Engineering Editor's Choice Fieldbus & Industrial Networking
The widely held belief in many plants that tuning will solve all base layer control problems is completely fallacious. Bad tuning is generally not the main reason for loops to perform badly. It is important when performing optimisation that all elements in a loop are considered, in addition to the control strategy, before even thinking of tuning.
Read more...
---
Precise part machining
Beckhoff Automation Editor's Choice Fieldbus & Industrial Networking
toolcraft manufactures on behalf of its customers using its 60 CNC machines, and designs, plans and builds turnkey production systems for companies in various industries, having added injection moulding, mould making and additive manufacturing technologies along the way. Robotics is the company's newest technology division. This is why toolcraft relies on PC-based control, including in the production cells, which have seven-axis milling robots for machining components at CNC level.
Read more...
---
Fully digital vertical roller mills
Loesche South Africa Fieldbus & Industrial Networking
Vertical roller mills are found in mining and cement milling operations worldwide. They require complex technology for their operation. As a leader in this field, LOESCHE has proven software solutions for digitalisation that can optimise each piece of milling equipment for energy efficiency, and increase its availability and output, making the plant easy to operate.
Read more...
---
CNC cycle package for triple-axis milling and drilling
Beckhoff Automation Fieldbus & Industrial Networking
Beckhoff provides a comprehensive package of different cycles for triple-axis milling and drilling machines with the TwinCAT 3 CNC milling base.
Read more...
---
Precise machining of small parts
Beckhoff Automation Fieldbus & Industrial Networking
Producing large parts with precision is not easy. But how do you produce the smallest components, such as gears and screws for the watch industry or contact pins for connectors, with micron-level accuracy and in large quantities? Swiss companies Esco and Affolter achieve this feat in their CNC machines with TwinCAT CNC and servo drive technology from Beckhoff.
Read more...
---
Making network connection easy
Conical Technologies Fieldbus & Industrial Networking
PLANET ICG-2510W-LTE is a reliable, secure and high-bandwidth industrial-grade cellular gateway for demanding mobile communications applications, machine-to-machine (M2M), and IoT deployments.
Read more...
---
Metsä Fibre's new bioproduct mill
Valmet Automation Fieldbus & Industrial Networking
Metsä Fibre's bioproduct mill in Finland was recently successfully commissioned. The material, environmental and energy efficient mill will not use any fossil fuels, and it will produce two terawatt hours of renewable electricity per year. Valmet's technology and automation contributed to the sustainable operation and high-quality end product.
Read more...
---
Keeping track of the flow of goods
ifm - South Africa Fieldbus & Industrial Networking
Digitalisation and the resulting requirements for industrial identification solutions are increasing steadily. This is why ifm offers the compact high-performance RFID UHF devices, not only with the classic fieldbus interfaces and IoT, but now also with IO-Link.
Read more...
---
Products talk to products, systems talk to people
Turck Banner Southern Africa Fieldbus & Industrial Networking
Behind every product request there is, or should be, a business objective. If we lose sight of the business objective, we often end up just papering over the cracks. This case study discusses an application of Turck Banner's systems approach to working in unison with customers to achieve their business objectives, and it illustrates how the company's Systems Division operates.
Read more...
---
Selecting the best remote access solution for your application
Fieldbus & Industrial Networking
In today's Internet of Things world, remote mobile access is a necessity for many industrial applications. There are several ways of implementing this connectivity with routers and virtual private networks.
Read more...
---