printer friendly version
Trouble-free plant operation
March 2011
Fieldbus & Industrial Networking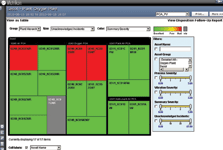 Control loops and advanced control applications across all layers of a plant often depend on the proper functioning of each other for successful process operation. Unavoidably, the performance of these control assets deteriorates over time, and identifying the cause among the vast army of possibilities is key for trouble free plant functionality.
When things go wrong, the first problem is to identify faulty instrumentation and poorly performing loops. This can become overwhelming on large plants, since the more control loops there are, the less the capacity to monitor them individually and the less time there is available to investigate and solve the problems. Without the proper tools, this can be like trying to find a needle in a haystack.
To help, Matrikon offers an effective monitoring tool that readily diagnoses control problems and can provide detailed on-line reports for every loop tested. It can also be used to affect loop tuning. This technology is the result of extensive industrial experience combined with focused university research.
The cause of poor loop performance is often due to cycling, response speeds, valves sticking, inappropriate proportional band, over/under tuned loop, controller design, interaction with other loops, defective instrumentation and hysteresis. The problem is identifying which one, and this requires investigation. The Matrikon tool pinpoints the cause using its one- screen-all-loops reporting system called Tree-Map coupled with a detailed tabular drill down report.
Tree-Map shows on one screen all the bad loops using a colour code and a proportional box sizing system in order to attract operator attention. The detailed reports display control loop performance analysis for easy interpretation, while also providing remedial action guidelines. Once the causes of poorly performing loops have been identified, users can then optimise and tune multiple loops simultaneously for best possible plant operation.
For more information contact Emmanuel Nsenda, Moore Process Controls, +27 (0)11 466 1673, emmanueln@moore.co.za, www.moore.co.za
Credit(s)
Further reading:
Adding mobile network visibility
January 2020, RJ Connect , Fieldbus & Industrial Networking
A high-speed railway operator built a fibre Ethernet backbone for data transmission between its operational management centre and railway stations to ensure high network availability. The customer used 
...
Read more...
---
ETG officially supports EtherCAT G
December 2019 , Fieldbus & Industrial Networking
The Technical Committee of the EtherCAT Technology Group (ETG) has accepted EtherCAT G as an addition to the EtherCAT standard. Moving forward, EtherCAT G, which extends EtherCAT technology to 1 and 10 
...
Read more...
---
Interference-free Ethernet media converter
October 2019, Phoenix Contact , Fieldbus & Industrial Networking
The new FL MC EF 660 SCRJ media converter from Phoenix Contact enables the connection of cost-effective polymer and HCS/PCF fibre technology. The optical transmission of data via fibre optics is free 
...
Read more...
---
I/O solutions with Profinet redundancy
October 2019, Turck Banner , Fieldbus & Industrial Networking
Turck's Simple IO-Link Device Integration, SIDI for short, simplifies the handling of IO-Link. As its first fieldbus module with Profinet S2 system redundancy, the company has introduced the TBEN-L5-8IOL. 
...
Read more...
---
Tektronix simplifies automotive Ethernet testing with new software
October 2019, Comtest , Fieldbus & Industrial Networking
Tektronix has released two new software packages that greatly simplify Automotive Ethernet testing, debug and protocol decode, for use with its 5 and 6 series mixed-signal oscilloscopes (MSO). Using the 
...
Read more...
---
How fieldbus systems are really selected
September 2019 , Fieldbus & Industrial Networking
The majority of users do not actively select their fieldbus at all – they select the control system vendor and whatever bus system this vendor provides will 'do the job.
Read more...
---
Fibre optic distributor for network expansion on demand
September 2019, Jasco Trading t/a Webb Industries , Fieldbus & Industrial Networking
Jasco's Webb Industries has introduced Telegärtner's new, modular rail-mount fibre optic distributor, which can be extended according to actual needs. The stackable modules allow quick and easy additions 
...
Read more...
---
Integrate IO-Link devices in Profinet
September 2019, Turck Banner , Fieldbus & Industrial Networking
Turck's simple IO-Link device integration (SIDI) simplifies the handling of IO-Link devices in Profinet engineering systems. As the devices are already integrated in the GSDML file of the master, users 
...
Read more...
---
AS-i signal transmission via fibre optic
August 2019, ifm - South Africa , Fieldbus & Industrial Networking
The new AS-i fibre optic repeater from ifm electronic enables AS-interface signal transmission via an optical medium and vice versa. This allows for considerable cable length extension in the AS-i network. 
...
Read more...
---
Next-generation IIoT gateway solutions are transforming manufacturing
Technews Industry Guide: Industrial Internet of Things & Industry 4.0, RJ Connect , Fieldbus & Industrial Networking
Smart manufacturing and digital transformation, coupled with edge intelligence, are enabling manufacturers to increase productivity, reduce downtime, and increase product quality.
Read more...
---