printer friendly version
Edge controller provides high availability
January 2021
Fieldbus & Industrial Networking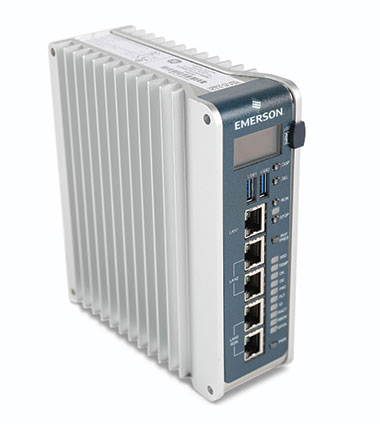 A consulting company specialising in emergency standby power control systems, load management control systems and monitoring solutions offers a host of technical services to other original equipment manufacturers (OEMs), engineering firms, and end users that require quick, responsive engineering services of critical power systems. The company's target market includes data centres, hospitals and municipalities that need to upgrade ageing emergency power systems or need to expand existing systems to facilitate growth. Today, these end-user customers face increasing critical power demand within the same space, which requires additional generators, switchgear and control systems. Oftentimes, the existing systems contain obsolete controls, or controls that do not afford expansion capabilities.
One of the consulting firm's customers was a large government agency that sought to improve its system reliability in its data centre by installing redundancy in the master control system. The agency had disparate standalone systems with multiple points of failure, which did not provide the level of reliability or security needed. The agency turned to the consulting firm's industry and technical expertise to help implement a new solution with the latest technologies.
The consulting company selected Emerson and installed a new redundancy solution for the agency using PACSystemsTM RX3i redundant edge controllers. These industrial edge controllers offer connectivity to various I/O on a proven industrial network that provides deterministic data and automatic switchover for continuous operations.
The new redundancy solution operates as a single system to the overall operations, eliminating the complex preparations usually needed to synchronise data between other applications and external systems. It also features remote I/O to support redundant Ethernet LANs and a wide variety of network modules.
Having removed the multiple points of failure that were present before, the agency has now increased system integrity, reliability and security with the new solution. In addition, the PACSystems RX3i edge controller's open and flexible architecture enabled the consulting firm to leverage the agency's existing technology equipment, saving significant time and money.
Credit(s)
Further reading:
IO-Link portfolio for decentralised automation
Turck Banner Fieldbus & Industrial Networking
Turck Banner is expanding its extensive IO-Link portfolio with a robust IO-Link master with an M12 power supply, a compact IO-Link master in IP20, and an I/O-Hub with an additional power supply. This enables power hungry equipment such as grippers to be fed with up to 4 A of power.
Read more...
---
Intrinsically safe EtherCAT I/O modules
Beckhoff Automation Fieldbus & Industrial Networking
As a robust alternative to IP20 solutions with their elaborate housing protections, EPX modules with IP67 protection rating enable reliable data collection.
Read more...
---
Modbus probes gain support for parity options
RF Design Fieldbus & Industrial Networking
The marquee feature of firmware version 1.06 facilitates the use of odd, even, mark or space parity modes when communicating with bus probes.
Read more...
---
Compact and powerful energy monitoring unit
Opto Africa Holdings Electrical Power & Protection Fieldbus & Industrial Networking
The RIO EMU's slim form factor is ideal for 'just one more thing' retrofit jobs thanks to DIN-rail and panel-mount options.
Read more...
---
Condition monitoring software gets asset health boost
Emerson Automation Solutions IT in Manufacturing
The newest version of Emerson's AMS Machine Works adds support for embedded, automatic analytics at the edge using patented PeakVue technology.
Read more...
---
Is your manufacturing plant ready for IoT?
Editor's Choice Fieldbus & Industrial Networking IT in Manufacturing
Pockets of IoT exist in manufacturing plants today; the challenge is to fully digitalise the entire plant.
Read more...
---
Extend the life of your legacy devices
RJ Connect Fieldbus & Industrial Networking
If your serial-based machines or devices have been running for decades and helped your business grow, you might worry about how long you can still hold on to these assets. In this article, we highlight three major challenges you will face when enabling serial connectivity between your legacy devices and modern systems. We also provide expert tips to make your upgrade easy.
Read more...
---
AS-i and IO-Link power distributor for hygienic areas
Fieldbus & Industrial Networking
The special housing material and high ingress protection allow operation in areas with frequent intensive cleaning processes, for example in the food industry.
Read more...
---
Upgraded IIoT functionality for excom Ethernet I/O
Turck Banner Fieldbus & Industrial Networking
Firmware update adds functions to excom Ethernet gateways, such as webserver, HCiR and parallel access to HART devices.
Read more...
---
Emerson's new edge solutions simplify IIoT projects
Emerson Automation Solutions IT in Manufacturing
PACSystems Edge Solutions are fit-for-purpose packages that reduce the time spent integrating, developing and validating IIoT projects.
Read more...
---