printer friendly version
Profiling Motion Tronic
May 2007
News
Motion Tronic was established by Bradley Douglas in June 2003 under the name of Getback Electronics. With Bradley's extensive experience in the management of industrial electronic repair services it is not surprising that the company initially focused on providing these services to clients. The relationships built in supporting clients in the packaging, plastics and textiles industries combined with expertise in variable speed drives and the automation of high-speed machines led the company to developed sales opportunities in these niches.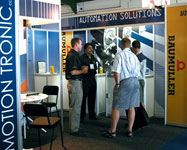 Bradley Douglas and visitors on Motion Tronic's stand at Propak 2007
The company is wholly South African owned and Bradley Douglas's hands-on approach is appreciated by its loyal customer base. A team of competent and dedicated service technicians provide maintenance and repair support for these customers.
During 2006 Baumuller was on the lookout for a South African company to provide a local repair and maintenance service to its considerable installed base in South Africa. Baumuller considered several companies but finally selected Motion Tronic as its authorised service partner. This selection was based on company competency and the pervasive ethos of customer satisfaction. Shortly thereafter, in November 2006, Baumuller broadened this relationship by awarding Motion Tronic sole agency status for South Africa. The consequent growth in the company has warranted a shift in focus and the name change.
Bradley comments: "After exhibiting at Propak 2007 we have been approached by many companies who have Baumuller equipment incorporated as parts of imported OEM machines. These companies are delighted to discover that they now have access to local sales and support. Instead of waiting several weeks for a spare part through the OEM they can now obtain these either ex-stock in KZN or in a few working days if not immediately available in our stores."
Motion Tronic's high-tech repair centre has been accredited as an official repair centre for all Baumuller products. These include VSDs, motors, servos, HMIs and PLCs. In December 2006 the company was also awarded sole agency for Phasecon products in KwaZulu-Natal.
The repair department provides support and repairs on a wide range of products, down to component level. Some of the more popular brands that are supported, repaired and maintained include:
* Omron.
* Yaskawa.
* Siemens.
* Vectron.
* Lust.
* Lenze.
The company offers 24-hour service and support for breakdowns, priority repair during normal working hours and a promise and commitment of the job being returned promptly and cost-effectively.
Some of the interesting motion control projects that Motion Tronic has recently completed include machine automation for register placement in the printing industry, stamping press and feeder automation for an automotive supplier, and printing machine synchronisation for an aluminium foil converter.
Motion Tronic's satisfied customers include Aluminum Foil Converters, Shave & Gibson, Brace Able, Inno Textiles, Brits Automotive Systems, Custom Bulk Bags, Feltex Non Woven, Frametex and Smiths Manufacturing.
In order to improve national coverage Motion Tronic is looking to partner with other successful companies throughout South Africa. As these relationships are established they will be published on the company's website.
For more information contact Bradley Douglas, Motion Tronic, +27 (0)31 701 1620, brad@motiontronic.co.za, www.motiontronic.co.za
Further reading:
The IIoT edge is evolving
January 2020, Technews Publishing (SA Instrumentation & Control) , News
In its IIoT context, the edge is traditionally understood to be a kind of half-way point between the plant and the cloud. Physically hard to define, the edge acts as a repository for data collected from 
...
Read more...
---
University of London opens electronics laboratory based on Tektronix solutions
January 2020 , News
Royal Holloway, University of London, has officially opened its new Beatrice Shilling Building which includes state-of-the-art teaching laboratories in partnership with Tektronix, a leading worldwide 
...
Read more...
---
Rockwell Automation named a leader in Manufacturing Execution Systems
January 2020 , News
Rockwell Automation has announced its recognition as a leader in the Gartner Magic Quadrant for Manufacturing Execution Systems for the second consecutive year. Since the 2018 report, Rockwell Automation 
...
Read more...
---
SKF acquires industrial AI company
January 2020 , News
SKF has signed an agreement to acquire Presenso, a company that develops and deploys artificial intelligence (AI)-based predictive maintenance software. Presenso's capability enables production plants 
...
Read more...
---
Bosch Ulwazi hosts 2019 Engineer in Training function
January 2020 , News
Bosch Ulwazi's 2019 Engineer-in-Training (EIT) Conference was recently held in Mt Edgecombe. At this annual event, graduates are given an interactive platform to showcase the knowledge and skills they 
...
Read more...
---
Smart cities embrace 4IR
January 2020, Schneider Electric South Africa , News
Smart cities rely on smart grid technology that includes traditional and renewable energy sources in its mix of power supply. Driven by the advanced technology of the fourth industrial revolution (4IR), 
...
Read more...
---
North American EtherCAT Plug Fest offers opportunities
January 2020 , News
The 2019 North American EtherCAT Plug Fest recently took place in Denver, USA. Numerous well-known manufacturers of EtherCAT devices came together over two days to test the interoperability of their products 
...
Read more...
---
EM Bloemfontein offers accredited training courses
January 2020, ElectroMechanica , News
The Bloemfontein branch of supplier ElectroMechanica (EM) plans to make significant inroads in the Free State region thanks to its fully-equipped training facility, focusing mainly on automation products 
...
Read more...
---
Cummins boosts production at two glass manufacturers
January 2020 , News
Standby power systems from Cummins are providing extra protection at two glass-manufacturing facilities in Lahore, Pakistan, allowing production lines to always be on, and operations to continue seamlessly 
...
Read more...
---
Schneider Electric announces local manufacturing and reduced lead times
January 2020, Schneider Electric South Africa , News
Schneider Electric South Africa has announced that its PIX Easy Air Insulated Switchgear, previously 100% internationally manufactured, will now have a 68% local finishing process, reducing the customer 
...
Read more...
---