printer friendly version
Honeywell - knowledge, innovation and results when it comes to automation and control solutions
February 2003
News
Honeywell is a $24 billion diversified technology business that employs some 115 000 people in 95 countries. It is traded on the NYSE as well as the London, Chicago and Pacific stock exchanges and is one of 30 stocks that make up the Dow Jones Industrial Average. The company, through Honeywell Southern Africa, has had a presence in this country since 1969. Honeywell Southern Africa (Honeywell SA) follows the corporate ethos of excellence and was the first local business to be awarded the prestigious South African Excellence Award in 2000 (the equivalent of the Baldrige Award in the United States).
Honeywell was restructured globally during early 2002 into four almost equally sized groups, one of these being Automation and Control Solutions (contributing 30% of company turnover). Within this broad based group is the Industry Solutions Division (turnover $1,5 billion), which is the focus of this article. The country co-ordinator, Industry Solutions, for Honeywell SA, is the well-known Roy Botha, whose career at the company extends over 22 years.
Roy Botha
During its reorganisation, Honeywell moved away from its traditional product focus to a vertical market organisation and the Industry Solutions Division focuses on three industrial (customer-based) areas, these being defined as energy; pulp, paper and printing; and chemical. Energy encompasses refining, petrochemicals, oil, gas and the power generation industries. The focus for pulp, paper and printing is well defined, Honeywell is the global leader in providing pulp, paper and printing producers solutions that improve performance. From breakthroughs in QCS technology in the late 1960s to today's enterprise-level production management applications, Honeywell is the leader in delivering revolutionary process automation and business optimisation solutions for this industry. Chemical is a very broad industrial segment that includes specialty chemical, pharmaceuticals, consumer goods, mining, metals and minerals. This new industry-focused approach was deemed necessary to allow more focus in addressing the specific needs of customers within these three distinct areas.
In addition to providing solutions to industry in general, Honeywell has established strategic alliances with a number of global corporations, which include household names such as Du Pont, Proctor & Gamble, Philips, and even our own Sasol. While the latter is an extremely important customer, particularly for Honeywell SA, Sasol's high profile as a user of Honeywell solutions has led to the misconception that Honeywell is only involved in petrochemicals, rather than the diverse industrial coverage represented by the fields of operation provided in the previous paragraph.
While Honeywell was at the forefront in the introduction of the first DCS in the mid 1970s, today it offers total solutions that cover the entire gamut from sensors and field instrumentation right up through the hierarchy to ERP and integration with SAP. All of these existing areas of activity have now been totally integrated by Honeywell into its Process Knowledge System (PKS) suite. The recently launched Experion PKS is in fact a quantum leap away from traditional DCS, scada or Windows-based systems and, for Honeywell, PKS represents the culmination (and summing up) of 30 years experience at the forefront of digital control. It represents a paradigm shift in control technology, bringing together as it does all of the elements of today's control environment with the addition of experiential knowledge.
Describing all of the novel and pertinent features of PKS is far beyond the scope of this brief overview, but of specific interest to me was its ability to deal with abnormal situations, and to be able to capture and integrate the infinite years of knowledge of the skilled operators.
Honeywell is a founder member and leader of the US-based Abnormal Situation Management Consortium. This group of experts looks into all aspects of plant malfunction but specifically the focus is on the operator. Here particularly, ways are investigated to provide operators with advance knowledge of unexpected changes through the use of appropriate sensors, etc. Another major focus is to reduce 'alarm overload' on the operator. This situation often results in critical alarm functions being temporarily disabled with operator oversight resulting in non-reactivation, a situation that can lead to disaster.
All technological industries suffer from the fact that older experienced people are retiring and are taking years of experience with them. While much of this experience will have been methodically recorded, it is not readily available to new staff - who might not even be aware of its existence. The Honeywell approach is to integrate all of this knowledge into an easily accessible electronic historian database. This can in turn be used to prompt specific responses from less experienced operators when a certain abnormal situation occurs. Obviously, this is system specific and here Honeywell work closely with end users to integrate their 'intelligence' into the control system.
Other features of Experion KPS are the use of an open architecture (supporting Profibus, Fieldbus, HART and other major protocols) and the use of the best-in-class sensors and instrumentation. In regard to the latter, Honeywell - with its focus on being able to offer a seamless total package - have been investing heavily in the development of new devices. The company also realises that despite its size it does not have all the answers in-house. This has led to the establishment of strategic partnerships with other leading device companies (in the area of valves, for example), using Honeywell's strength to provide the integrated solution, including installation (the company has more than 2000 people in this area alone). The customer of course is the ultimate beneficiary through the provision of a single turnkey solution with optimal life cycle costs and lifetime support.
PKS also makes use of a truly fault tolerant Ethernet with totally transparent cable switching. Making use of a browser type interface (web pages) this means that system information can be accessed from any PC using the Internet (or intranet). This feature has major benefits for multinational companies as the Internet can be used to see what is happening at a plant anywhere in the world. In what is referred to as the 'hub and spoke' concept, technical experts can now be located on a single site with problems brought to them over the Internet for provision of remote advice to operators. This is a major cash saver for any global organisation, as experts previously had to go to the site of the problem at great cost in terms of both money and time.
Although the new overall focus of Honeywell is to provide integrated solutions, optimal plant utilisation depends critically on the sensors and instrumentation that provide the core information. In regard to automation and control products Honeywell has identified two key areas, namely sensing and control (S&C) together with industrial measurement and control (IM&C). Within Honeywell SA these two areas are combined into one division under Mike Littlejohn.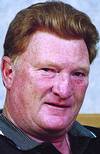 Mike Littlejohn
S&C covers sensors and switches with a major current focus on machine safety systems (laser curtains, etc.). While sensors are high on the corporate's agenda for future acquisitions, Honeywell SA has extended its in-house capability through representation of a number of other leading manufacturers, including Milltronics, Seres and Fine Automation.
IM&C addresses three product groups, namely process, field and analytical instrumentation. Although Honeywell has always believed that it provided its customers with best-of-breed products, it decided to put its own perceptions to the test last year with a survey of all its North American clients. The objective was to find out what was good or bad about the products of the company. The results of this extensive survey can be summarised in a single word, namely 'easy': easy to purchase, easy to configure, easy to install, easy to maintain. A compliment for Honeywell if ever there was one!
As for the future, Honeywell SA views it as very rosy indeed. The global expansion of Sasol will consolidate the local company's position in the field of petrochemicals. Within sub-Saharan Africa itself massive opportunities are foreseen in such areas as mining, metals and minerals. The key to the growth of any economy is power generation. Here on the African continent Eskom dwarfs all other generators but its major capacity was installed during the '70s and '80s and many of the control systems are becoming obsolete and will need replacement. Rather that just replacing the control system itself this industry could benefit hugely through Honeywell's integrated solutions which would lead to improvements in output, productivity and, as Roy Botha succinctly puts it, 'measurable results'!
For more information contact Honeywell SA, 011 695 8000, hsa@honeywell.com, www.honeywell.com
Further reading:
Emerson publishes 2019 Social Responsibility Report
July 2020, Emerson Automation Solutions , News
Emerson combines industry-leading technology and innovation to make a positive impact on employees, customers and communities around the world.
Read more...
---
FIRST Lego League goes from strength to strength
July 2020 , News
FIRST (for inspiration and recognition of science and technology) is an international organisation that aims to generate an interest in mathematics, science and technology through the use of robotics 
...
Read more...
---
Aguru announces successful Safe-Trace Contact Tracing trial at Adcock Ingram Critical Care
July 2020 , News
Aguru Business Solutions (Aguru), a company specialising in automation and digital transformation advisory and project management services, has successfully completed a Proof of Concept (PoC) trial of 
...
Read more...
---
From the editor's desk: Coronavirus pulls the trigger on digital transformation
July 2020, Technews Publishing (SA Instrumentation & Control) , News
The general consensus among economists is that the disruption to global markets caused by the coronavirus pandemic is going to result in economic upheaval of proportions not seen since the disastrous 
...
Read more...
---
Siemens South Africa joins forces with the National Ventilator project community in response to the COVID-19 pandemic
June 2020, Siemens Digital Industries , News
Siemens has been a long-standing partner of the Council for Scientific and Industrial Research (CSIR) in South Africa and have cooperated in various field of research, including manufacturing and mining. 
...
Read more...
---
Endress+Hauser Switzerland turns 60
June 2020, Endress+Hauser South Africa , News
The Swiss sales centre of Endress+Hauser is celebrating its 60th anniversary. Active in Switzerland since 1960, today the global leader in measurement instrumentation, services and solutions for industrial 
...
Read more...
---
How investing in a niche market placed Yokogawa aboard the International Space Station
June 2020, Yokogawa South Africa , News
While the world was abuzz with excitement over the revival of U.S. manned spaceflight, another equally promising space endeavour flew under the radar. On 20 May, the H-II Transfer Vehicle (HTV-9), affectionately 
...
Read more...
---
Siemens and Bentley Systems build digital twin for Indonesian petrochemical complex
June 2020, Siemens Digital Industries , News
Siemens and Bentley Systems will develop the first petrochemical digital twin in Indonesia for Chandra Asri, the country's largest integrated petrochemical complex. With over 27 year footprint, the latter 
...
Read more...
---
Hitachi ABB Power Grids commences operations
June 2020, ABB South Africa , News
In accordance with the agreement signed on 17 December 2018, Hitachi and ABB have announced the completion of all required procedures as planned and the formation of Hitachi ABB Power Grids Ltd. on 1 
...
Read more...
---
Zest grows Africa base with local partners
June 2020, Zest WEG Group , News
"The key to sustainable growth in Africa is partnering with locally owned companies which have proven track records, are technically sound, have strong market knowledge and a business culture aligned 
...
Read more...
---