printer friendly version
Profit driven asset management
July 2011
IT in Manufacturing

DesSoft and Radiant's powerful software-based Drive approach balances returns.
No business will survive without making a profit, and fundamental to the financial performance of any business is the performance of its assets. The challenge facing the business then is to ensure that all its assets perform at their peak level consistently over time. With this in mind, DesSoft and Radiant have developed a powerful software-based approach named Drive.
The two companies have combined their diverse backgrounds and skill sets to provide a unique and effective solution to develop an asset management strategy for plant and machinery. DesSoft is a software house with a range of products in the process, instrumentation and electrical documentation field, while Radiant on the other hand, has its experience base in the maintenance and management of assets in the production environment.
The Drive program is based on an approach termed 'impact driven asset management'. The essence is that the machines on the plant are ranked in order of the consequence of failure measured in terms of loss of throughput as well as the cost to repair. This is termed the 'impact' ranking of the machine and its significance is the indication of where the process of developing an asset management program should begin – highest impact machines first and then move down the scale. The actual asset management program is developed by subjecting each machine to a set of questions known as the 'Stages on the drive to peak'. The answers to these questions provide a comprehensive, effective and technically accurate maintenance program which is very close to the ideal.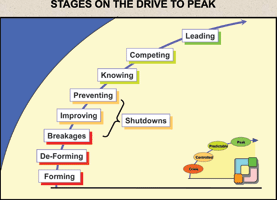 The Drive program is based on an SQL database, which provides an ideal platform for the development of the asset management program. Its flexibility means that while the user is busy defining the maintenance strategy for an operation, the equipment or plant components are immediately available in other DesSoft products like the P&ID instrumentation and electrical software. This overcomes the issue of duplication of information, and thus 'out of sync' asset lists, and allows the components to be used for detailed engineering design from a central database.
Experience has shown that the use of the program results in significant benefits in a very short space of time due to the machine prioritisation as well as the holistic nature of the questions. In addition, the program leads to the systematic development of a comprehensive asset management strategy which ensures peak performance of all businesses assets. This is the platform essential for sustained peak performance of the entire business and its operations.
For more information contact Roald Rodseth, Radiant, 082 650 1910, radiantops@mweb.co.za or Johan Hamman, DesSoft, +27 (0)12 644 2974, info@dessoft.co.za, www.dessoft.co.za
Credit(s)
Further reading:
The digital twin explained
July 2020, Yokogawa South Africa , IT in Manufacturing
Among numerous emerging technologies in the process industries today, the digital twin is one of the most powerful and disruptive because it constitutes a rich look at the past, present and future of 
...
Read more...
---
The Fourth Industrial Revolution
July 2020 , IT in Manufacturing
Read more...
---
Smart engineering directly in the cloud
June 2020, Beckhoff Automation , IT in Manufacturing
PC-based control is an open, central control platform that integrates a full range of machine functionality and optimally supports the implementation of highly efficient IoT-based automation strategies. 
...
Read more...
---
Creating specific SensorApps
June 2020, SICK Automation Southern Africa , IT in Manufacturing
Create individual SensorApps without programming skills and solve new automation tasks easily. Starting at the end of the year, this will all be possible in the SICK AppStudio, part of the SICK AppSpace 
...
Read more...
---
Mobile robots speed production at new smart factory
July 2020, Omron Electronics , IT in Manufacturing
A dozen industrial robots, each in individual workstations or cells, perform different steps in the manufacturing process. However, to attain the high efficiency, safety, and convenience of a modern 
...
Read more...
---
The administration of digital twins
July 2020, SICK Automation Southern Africa , IT in Manufacturing
In order to access the virtual representation of the sensor and its data, SICK Automation uses LiveConnect to deliver a standardised connection from an edge gateway to SICK Asset Hub. This visualises 
...
Read more...
---
How IIoT solutions can help your plant go digital
July 2020, Endress+Hauser South Africa , IT in Manufacturing
Everyone is talking about the new normal, a shift that is forcing companies to adopt a digital strategy, one way or another, in order to remain relevant and competitive in these unprecedented times. Many 
...
Read more...
---
Fast IT rack launched in South Africa
July 2020, Rittal , IT in Manufacturing
Introducing a new generation of IT racks
Conceived as a universal modular system, the VX IT has been designed for all common applications and its versatility makes it suitable for use as a network and 
...
Read more...
---
Engineering 4.0: Automatic dashboard generation
July 2020, Beckhoff Automation , IT in Manufacturing
Many machine builders and systems integrators looking to transform their business models have identified machine and plant process data as being a core fundamental. When it comes to tailoring new data-driven 
...
Read more...
---
Completing the remote maintenance circle
July 2020, Throughput Technologies , IT in Manufacturing
What do the world's machine builders want from a next generation remote maintenance solution? Secomea has been listening to thousands of them and has spotted a pattern. In this collective vision the 
...
Read more...
---