printer friendly version
Trouble-free plant operation
March 2011
Fieldbus & Industrial Networking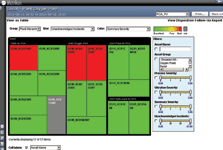 Control loops and advanced control applications across all layers of a plant often depend on the proper functioning of each other for successful process operation. Unavoidably, the performance of these control assets deteriorates over time, and identifying the cause among the vast army of possibilities is key for trouble free plant functionality.
When things go wrong, the first problem is to identify faulty instrumentation and poorly performing loops. This can become overwhelming on large plants, since the more control loops there are, the less the capacity to monitor them individually and the less time there is available to investigate and solve the problems. Without the proper tools, this can be like trying to find a needle in a haystack.
To help, Matrikon offers an effective monitoring tool that readily diagnoses control problems and can provide detailed on-line reports for every loop tested. It can also be used to affect loop tuning. This technology is the result of extensive industrial experience combined with focused university research.
The cause of poor loop performance is often due to cycling, response speeds, valves sticking, inappropriate proportional band, over/under tuned loop, controller design, interaction with other loops, defective instrumentation and hysteresis. The problem is identifying which one, and this requires investigation. The Matrikon tool pinpoints the cause using its one- screen-all-loops reporting system called Tree-Map coupled with a detailed tabular drill down report.
Tree-Map shows on one screen all the bad loops using a colour code and a proportional box sizing system in order to attract operator attention. The detailed reports display control loop performance analysis for easy interpretation, while also providing remedial action guidelines. Once the causes of poorly performing loops have been identified, users can then optimise and tune multiple loops simultaneously for best possible plant operation.
For more information contact Emmanuel Nsenda, Moore Process Controls, +27 (0)11 466 1673, emmanueln@moore.co.za, www.moore.co.za
Credit(s)
Further reading:
Cleaning machine 4.0
Technews Industry Guide: Sustainable Manufacturing 2021, ifm - South Africa , Fieldbus & Industrial Networking
For the digitalisation of its industrial cleaning machines, the French company Mecanolav counts on IO-Link sensors from ifm electronic.
Read more...
---
RS Components supplies Siemens intelligent IIoT gateways
March 2021, RS Components SA , Fieldbus & Industrial Networking
Maximising operational efficiency, these UL-approved units have been designed to deal with the capture and pre-processing of data, before subsequently forwarding it on.
Read more...
---
Secure gateways for power communications
April 2021 , Fieldbus & Industrial Networking
Moxa has introduced a new series of secure hardened Modbus-to-BACnet protocol gateways.
Read more...
---
Upgraded IoT communications module
May 2021, Instrotech , Fieldbus & Industrial Networking
ARC1 with the latest NB-IoT and LTE-M mobile communications technology.
Read more...
---
Modbus to IO-Link converters
May 2021, Turck Banner , Fieldbus & Industrial Networking
Are you using IO-Link to enable OEE analytics yet still have remote pockets where critical equipment should be continuously monitored during operations?
Read more...
---
New Siemens gateway provides access to lifecycle data
February 2021, Siemens Digital Industries , Fieldbus & Industrial Networking
A second data channel, independent of the control system, is used to transmit data from any HART-based field devices to the IT world.
Read more...
---
IO-Link range with repeaters
February 2021, ifm - South Africa , Fieldbus & Industrial Networking
Using the IO-Link repeater E30444 from ifm electronic, transmission distance can be increased and costs reduced.
Read more...
---
Using existing cabling to create a new industrial LAN
November 2020, Omniflex Remote Monitoring Specialists , Fieldbus & Industrial Networking
Omniflex's Conet technology allows businesses to repurpose existing cabling to create a new industrial local area network.
Read more...
---
Gateway for industrial automation
November 2020, SICK Automation Southern Africa , Fieldbus & Industrial Networking
Sensor specialist company SICK recently announced its new SIG200 Profinet Sensor Integration Gateway. The product is the first of a new line of gateways created to work as both IO-Link masters and small 
...
Read more...
---
Edge controller provides high availability
January 2021, Emerson Automation Solutions , Fieldbus & Industrial Networking
Emerson's industrial edge controllers offer connectivity to various I/O on a proven industrial network that provides deterministic data and automatic switchover for continuous operations.
Read more...
---