printer friendly version
Fibre-optic for EtherCAT
September 2009
Enclosures, Cabling & Connectors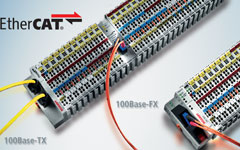 The EtherCAT I/O system from Beckhoff is being expanded with new fibre-optic-compatible hardware. Using the EK1501 EtherCAT coupler and the EK1521 junction terminal, more flexible topologies are now possible with glass fibre technology.
Besides its high performance and low system costs, EtherCAT also stands out due to its flexible topological characteristics. The EtherCAT Terminal system from Beckhoff supports all topology variants: line, ring, tree and star. This flexibility is continued in the wiring and the selection of different cables. The maximum distance between two stations is 100 m using a standard Ethernet cable (100BASE-TX). With the new fibre-optic modules, greatly extended networking up to 2 km is possible (100BASE-FX).
The EK1501 fibre-optic coupler connects EtherCAT to an arbitrary number of EtherCAT Terminals. Connection is made via SC duplex sockets. A further fibre-optic module can be optionally connected via a second port; an additional switch is not required.
The EK1501 EtherCAT Terminal with fibre-optic interface enables conversion to multimode glass fibre technology within a terminal line. The combination of line and branches or stubs is particularly useful for system wiring. Applications for the fibre-optic module will primarily be in widely distributed systems, such as wind farms or high tension systems. Even cable redundant systems with fibre-optic can be realised using the EtherCAT branch.
Interested readers can view the Beckhoff video at http://instrumentation.co.za/news.aspx?pklNewsid=31412&pklCategoryID=67
Credit(s)
Further reading:
Tailor-made intralogistics solutions harness scalable control and drive technology
January 2020, Beckhoff Automation , System Integration & Control Systems Design
RO-BER Industrieroboter of Kamen, Germany, develops automation solutions based on area and linear gantry robots for intralogistics. These solutions, including the new Twin-Gantry robot system, are characterised 
...
Read more...
---
Dome protects communication sticks
December 2019, Beckhoff Automation , Industrial Wireless
With the new CU8210-M001 cabinet dome, the USB port of an industrial PC can be fed out of the control cabinet and still be well protected. In this way, reliable and powerful wireless connections to the 
...
Read more...
---
PC-based control decorates plastic lids and containers
December 2019, Beckhoff Automation , System Integration & Control Systems Design
In-mold labelling (IML) is ideally suited to meet today's customer requirements in the plastics industry, especially in the packaging segment.
Read more...
---
How cable categories relate to data transmission speeds
December 2019, Helukabel , Enclosures, Cabling & Connectors
Customers often ask about data cable categories and what they mean. For many end-users, engineers and purchasing agents, who do not work with these types of cables on a daily basis, the different categories can seem complicated and overwhelming.
Read more...
---
New XTS functionality enables novel solutions in machine building
November 2019, Beckhoff Automation , Motion Control & Drives
XTS is a smart transport system of magnetically driven movers that travel along tracks consisting of motor modules and guide rails. A Beckhoff Industrial PC is able to control the movers independently 
...
Read more...
---
Process 4.0 breakfast seminar series
November 2019, Beckhoff Automation, VEGA Controls SA , News
Beckhoff Automation recently partnered with VEGA to present another highly successful series of breakfast seminars at venues across the country, with the theme Process 4.0. Beckhoff managing director, 
...
Read more...
---
Rittal's new innovative adaptor
November 2019, Rittal , Enclosures, Cabling & Connectors
Answering to the call by Industry 4.0, Rittal's Blue e cooling units can now integrate into existing condition monitoring and IIoT systems thanks to a special adaptor that retrofits comprehensive communications 
...
Read more...
---
PC-based control platform optimises water treatment product dosing
October 2019, Beckhoff Automation , System Integration & Control Systems Design
Clean water is vital in both consumer and commercial areas, including numerous industrial applications, such as mining, petroleum refining and groundwater remediation, in addition to residential applications
Read more...
---
Crimp and cleave solution for fibre optic terminations
October 2019, KVMTech , Enclosures, Cabling & Connectors
This product was launched by KVMTech at Africa Automation Fair 2019.
Read more...
---
No weak links
October 2019 , Enclosures, Cabling & Connectors
EKD Kolibri energy chain from Powermite.
Read more...
---