printer friendly version
New control concept for metalworking
January 2009
PLCs, DCSs & Controllers
Beckhoff has introduced a new generation of more powerful and price-optimised CNC systems with PC- and EtherCAT-based control technology.
CNC solutions are used in lathes, sheet metal processing, grinding, sawing and cutting machines. The EtherCAT realtime Ethernet system enables high-speed communication between PC controller and the digital drives. Additional process optimisation is offered by the XFC (extreme fast control) technology, which allows extremely fast, deterministic reactions. XFC is based on an architecture comprising an advanced industrial PC, ultra-fast I/O terminals, the EtherCAT high-speed Ethernet system, and the TwinCAT automation software. It enables extremely fast deterministic reactions creating new possibilities to improve machine quality and shorten reaction times.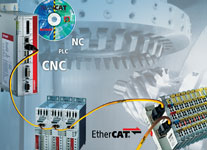 Extreme fast CNC control from Beckhoff
In principle, the Beckhoff solution comprises:
* A modern Industrial PC as an open control platform.
* Software NC/CNC for motion control and interpolating path movements.
* EtherCAT as a fast communication medium for I/Os and drives,
* EtherCAT I/Os for high precision control of actuators and fast sensor signal recording that integrates measurement technology and monitoring.
* EtherCAT Servo Drives from the AX5000 series with a corresponding range of motors.
A new generation of industrial PCs is available for the EtherCAT-based control concept, these IPCs contain two Ethernet interfaces for automation and IT applications. While the 100 MBit Ethernet ports offer optimum performance for all EtherCAT control tasks, a gigabit port is available for connecting higher-level networks.
On the software side, Beckhoff offered two solutions for interpolating path movements in the TwinCAT NC I and TwinCAT CNC: TwinCAT NC I is the modular CNC solution for up to 31 channels, each with up to three main and five auxiliary axes. TwinCAT CNC is the classic, powerful CNC application for up to 64 axes. The basis of both CNC systems is the fast TwinCAT PLC system.
Credit(s)
Further reading:
BMW to source industrial PCs and control panels from Beckhoff Automation
February 2020, Beckhoff Automation , News
Beckhoff Automation will supply the BMW Group with technology for use in car manufacturing through 2030. According to the terms of the recently signed agreement, Beckhoff will supply the production facilities 
...
Read more...
---
Husky Injection Molding Systems honours Beckhoff Automation with supplier award
February 2020, Beckhoff Automation , News
A fruitful development partnership as well as a trusting and reliable relationship such as the one that has existed between Canadian machine manufacturer Husky Injection Molding Systems and control system 
...
Read more...
---
At the forefront of packaging with XTS
February 2020, Beckhoff Automation , Motion Control & Drives
Linear transport system provides the basis for compact and flexible packaging system with minimised conversion times.
Read more...
---
Power measurement from sensor to cloud
February 2020, Beckhoff Automation , Electrical Power & Protection
With the new SCT current converters, Beckhoff completes the power measurement chain that now ranges from measuring the physical value to transmitting the captured data to the cloud. The portfolio of current 
...
Read more...
---
Dome protects communication sticks
December 2019, Beckhoff Automation , Industrial Wireless
With the new CU8210-M001 cabinet dome, the USB port of an industrial PC can be fed out of the control cabinet and still be well protected. In this way, reliable and powerful wireless connections to the 
...
Read more...
---
PC-based control decorates plastic lids and containers
December 2019, Beckhoff Automation , System Integration & Control Systems Design
In-mold labelling (IML) is ideally suited to meet today's customer requirements in the plastics industry, especially in the packaging segment.
Read more...
---
Tailor-made intralogistics solutions harness scalable control and drive technology
January 2020, Beckhoff Automation , System Integration & Control Systems Design
RO-BER Industrieroboter of Kamen, Germany, develops automation solutions based on area and linear gantry robots for intralogistics. These solutions, including the new Twin-Gantry robot system, are characterised 
...
Read more...
---
Fishery relies on Siemens process management
December 2019 , PLCs, DCSs & Controllers
The fishery in Steinach, Switzerland, breeds fish species which are under threat so that they can be released into domestic waterways in the canton of St. Gallen. The quality and temperature of the water, 
...
Read more...
---
New XTS functionality enables novel solutions in machine building
November 2019, Beckhoff Automation , Motion Control & Drives
XTS is a smart transport system of magnetically driven movers that travel along tracks consisting of motor modules and guide rails. A Beckhoff Industrial PC is able to control the movers independently 
...
Read more...
---
Process 4.0 breakfast seminar series
November 2019, Beckhoff Automation, VEGA Controls SA , News
Beckhoff Automation recently partnered with VEGA to present another highly successful series of breakfast seminars at venues across the country, with the theme Process 4.0. Beckhoff managing director, 
...
Read more...
---