printer friendly version
Operating safely
September 2009
Fieldbus & Industrial Networking

Fibre-optic fieldbus systems in oil production.
Hirschmann networks recently developed oilfields in the United Arab Emirates with highly available fibre-optic fieldbuses.
Production has recently started at two new oilfields 50 km southwest of Abu Dhabi city, Rumaitha in the countries interior and Al Dabb'iya on the coast. The daily production capacity of the fields is about 100 000 barrels. The facilities for producing, storing and metering the crude oil have been in operation since late 2005. Operating safety is paramount here, so the process control system has been designed with full redundancy, and data is transmitted between the controllers and the remote I/O stations via fail-safe, redundant optical fibres. The danger of explosion that is inherent in such facilities presents a particular challenge. This challenge must be met with ATEX approved devices that are also capable of withstanding high ambient temperatures.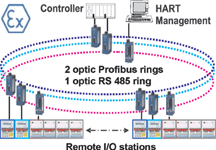 Project details
The process control is designed as a redundant system to specifically meet the customer's demand for high process data availability. The process control units constructed by Honeywell provide a primary and a secondary Profibus DP interface with the remote I/O stations. HART information is recorded via an independent service bus using an RS485 interface. Optical cables and redundant optical rings ensure an exceptionally high level of operating safety. The cabinets, installed in explosion protection zone 2, include devices for properly isolating the intrinsically safe signals that are primarily used here for transmitting to zone 1 and zone 0. The power supplies for the remote I/O stations are designed redundantly. The cabinets have been engineered to prevent heat accumulation and they are also equipped with solar protection means. Otherwise, it would not be possible to keep the electronic components in the cabinet sufficiently cool in desert conditions.

Project parameters
* Profibus DP and HART communication.
* 15 km transmission length.
* 2600 process signals.
* 72 remote I/O stations.
* 176 OZD Profi 12M G12.
* 26 OZD Profi 12M G12-1300.
* 88 OZD 485 G12.
* 13 OZD 485 G12-1300.
Requirements
* High availability of the process control system.
* 85°C solar temperature.
* 52°C air temperature.
* 95% maximum air humidity.
* Explosion protection zones 2 and 1.
Solution
* Redundant control stations with two Profibus interfaces.
* Redundant communication via optical Profibus DP rings.
* Communication with HART management system.
* Switch cabinet designed for high operating temperature.
* Devices ATEX-approved.
Why Hirschmann
* Fibre-optic converter for Profibus DP.
* Fibre-optic converter for HART via RS485.
* Designs for long and medium segments.
* Redundancy with optical rings.
* ATEX approvals received.
For more information contact Profitek, +27 (0)12 664 4998, sales@profiteksa.com, www.profiteksa.com
Credit(s)
Further reading:
Adding mobile network visibility
January 2020, RJ Connect , Fieldbus & Industrial Networking
A high-speed railway operator built a fibre Ethernet backbone for data transmission between its operational management centre and railway stations to ensure high network availability. The customer used 
...
Read more...
---
ETG officially supports EtherCAT G
December 2019 , Fieldbus & Industrial Networking
The Technical Committee of the EtherCAT Technology Group (ETG) has accepted EtherCAT G as an addition to the EtherCAT standard. Moving forward, EtherCAT G, which extends EtherCAT technology to 1 and 10 
...
Read more...
---
Interference-free Ethernet media converter
October 2019, Phoenix Contact , Fieldbus & Industrial Networking
The new FL MC EF 660 SCRJ media converter from Phoenix Contact enables the connection of cost-effective polymer and HCS/PCF fibre technology. The optical transmission of data via fibre optics is free 
...
Read more...
---
I/O solutions with Profinet redundancy
October 2019, Turck Banner , Fieldbus & Industrial Networking
Turck's Simple IO-Link Device Integration, SIDI for short, simplifies the handling of IO-Link. As its first fieldbus module with Profinet S2 system redundancy, the company has introduced the TBEN-L5-8IOL. 
...
Read more...
---
Tektronix simplifies automotive Ethernet testing with new software
October 2019, Comtest , Fieldbus & Industrial Networking
Tektronix has released two new software packages that greatly simplify Automotive Ethernet testing, debug and protocol decode, for use with its 5 and 6 series mixed-signal oscilloscopes (MSO). Using the 
...
Read more...
---
How fieldbus systems are really selected
September 2019 , Fieldbus & Industrial Networking
The majority of users do not actively select their fieldbus at all – they select the control system vendor and whatever bus system this vendor provides will 'do the job.
Read more...
---
Fibre optic distributor for network expansion on demand
September 2019, Jasco Trading t/a Webb Industries , Fieldbus & Industrial Networking
Jasco's Webb Industries has introduced Telegärtner's new, modular rail-mount fibre optic distributor, which can be extended according to actual needs. The stackable modules allow quick and easy additions 
...
Read more...
---
Integrate IO-Link devices in Profinet
September 2019, Turck Banner , Fieldbus & Industrial Networking
Turck's simple IO-Link device integration (SIDI) simplifies the handling of IO-Link devices in Profinet engineering systems. As the devices are already integrated in the GSDML file of the master, users 
...
Read more...
---
AS-i signal transmission via fibre optic
August 2019, ifm - South Africa , Fieldbus & Industrial Networking
The new AS-i fibre optic repeater from ifm electronic enables AS-interface signal transmission via an optical medium and vice versa. This allows for considerable cable length extension in the AS-i network. 
...
Read more...
---
Next-generation IIoT gateway solutions are transforming manufacturing
Technews Industry Guide: Industrial Internet of Things & Industry 4.0, RJ Connect , Fieldbus & Industrial Networking
Smart manufacturing and digital transformation, coupled with edge intelligence, are enabling manufacturers to increase productivity, reduce downtime, and increase product quality.
Read more...
---