printer friendly version
2005 southern African scada and MES conference
July 2005
News
On 11 and 12 May, IDC Technologies hosted the Southern African scada and MES Conference at the Eskom Convention Centre.
Sixteen speakers from around the world were invited to share their expertise. Andrew West, an Australian, was the opening speaker - a scada expert who chairs one of the premier, international scada committees. Other speakers included Alexander Ebert, from Germany, who presented a case study entitled 'Saar Energy - From Mining to Energy Trading in Germany'. Wimpie van der Merwe, the scada system administrator at Eskom, looked at GPRS and the scada system and Dave Macdonald, an instrumentation engineer from the United Kingdom, closed the conference with a presentation on scada and safety.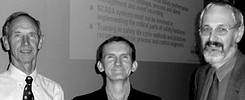 Dave Macdonald, a speaker from the UK, Andrew West, a speaker from Australia and Steve Mackay
Delegates from all over southern Africa attended. The many companies they represented included, among others; Eskom, Siemens, Citect, Yokogawa, Nissan, Assmang and ABB - Botswana.

Mike Barker, from Mike Barker and Associates, Ziggy Govender, Tony Holme, from Citect and IDC Technologies' CEO, Steve Mackay
As in the past, a number of final year engineering students were also provided places at the conference. This is part of IDC Technologies' continued commitment to assist in the education of budding South African technicians and engineers.
Feedback has indicated that delegates found the two days worthwhile and useful: Barend Esterhuizen of Eskom - Lethabo Power Station - commented that it was an 'Excellent event!' whereas Christo Slabber from Eskom Distribution wrote: "High quality throughout - well done." Marius Malan of Assmang seemed surprised: "For people far from JHB it was an eye opener to see what is happening in other places." And a colleague of his - Jorge Goncalves called it "Very professional." Sponsors have much to do with the success of a conference. Technews, Yokogawa, Siemens, Citect and Crown Publications certainly contributed to the favourable outcome of this conference.
Further reading:
Emerson named IIoT company of the year for third time
February 2020, Emerson Automation Solutions , News
Emerson has been named 'Industrial IoT Company of the Year' by IoT Breakthrough for a third consecutive year. The honour recognises Emerson's commitment to helping customers in industries such as chemical, 
...
Read more...
---
BMW to source industrial PCs and control panels from Beckhoff Automation
February 2020, Beckhoff Automation , News
Beckhoff Automation will supply the BMW Group with technology for use in car manufacturing through 2030. According to the terms of the recently signed agreement, Beckhoff will supply the production facilities 
...
Read more...
---
Rockwell Automation joins digital transformation alliance
February 2020, Rockwell Automation , News
Businesses that are digitally transforming their operations need an ecosystem of partners that can help them simplify technology deployments and quickly achieve goals like higher productivity. The new 
...
Read more...
---
What to expect from the electronics industry in 2020 and beyond
February 2020 , News
The last few years have been tough within the electronic industry, from Brexit to the China tariffs, to economic struggles. This year, an expected rise in electronic component sales is anticipated, along 
...
Read more...
---
Husky Injection Molding Systems honours Beckhoff Automation with supplier award
February 2020, Beckhoff Automation , News
A fruitful development partnership as well as a trusting and reliable relationship such as the one that has existed between Canadian machine manufacturer Husky Injection Molding Systems and control system 
...
Read more...
---
Aecom offers water resilience expertise
February 2020 , News
South Africa is classified as a water-scarce country, with some projections estimating that, at present, it exploits roughly 98% of its available water-supply resources. In many areas, the water challenge 
...
Read more...
---
Skyriders keeps the lights on at a major warehouse
February 2020 , News
Rope-access specialist Skyriders has helped keep the lights on for a major retailer at its 75 000 square metre warehouse in Midrand. "We were called on to provide a maintenance service for the lighting, 
...
Read more...
---
rain launches intelligent 5G transport network
February 2020 , News
Mobile data network operator, rain, has launched its intelligent 5G transport network in partnership with Huawei. CTO Gustav Schoeman elaborates: "With Huawei's E2E solutions and new products, our first 
...
Read more...
---
Cummins supplies power solution to Zain Jordan
February 2020 , News
Cummins authorised distributor, SETI Jordan, has provided a complete power solution, from project design to installation of the genset and switchgear, for Zain's headquarters in Amman. This included special 
...
Read more...
---
From the editor's desk: Technology trends for 2020
February 2020, Technews Publishing (SA Instrumentation & Control) , News
Since no objective rules exist for determining the next big thing, prophesy-style articles are simply the opinion of their authors, and contradictory views abound. The market for commodities is a good 
...
Read more...
---