printer friendly version
Hierarchical architectures
September 2009
Fieldbus & Industrial Networking
Pepperl and Fuchs' heritage of innovation has enabled it to establish and maintain a world-leading position as a supplier of fieldbus technology in process automation.
The company says its digital process control is based on a three tier hierarchy:
At administrational and factory level Ethernet has established itself as the communications backbone, allowing direct data exchange between the PCS and the ERP systems.
At field level, the process industry has adopted Foundation Fieldbus H1 and Profibus PA as the dominant fieldbus systems. They comply with the international standard IEC61158 (fieldbus for use in industrial control systems). IEC61158-2, defines the physical layer of the fieldbus.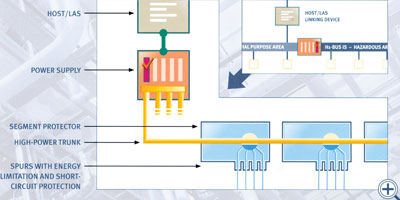 Design Considerations
Designing a fieldbus system starts with typical control and monitoring loops. At this stage it is vital to carefully consider the number of devices, cable resistance, and distances in order to meet all design criteria of the fieldbus standard.
Segment Checker is a widely accepted planning tool that will speed up the design process considerably. It has become the standard software package for planning and documenting fieldbus networks and offers valuable functions to verify the design based on the selected explosion protection such as calculation of voltage drop on the cable and validation of cable length and number of devices. Segment Checker as well as standard libraries for field instruments are available for download at www.segmentchecker.com
The high-power trunk concept
The High-Power Trunk concept overcomes limitations in regards to cable length and number of devices per segment while enabling explosion protection with simple validation procedures. Power supplies feed up to 500 mA/31 V to the trunk cable, which is installed with increased protection. This gets the energy close to many devices that all connect to one segment.
One device is connected per output of smart wiring blocks such as segment protectors or field barriers. The wiring blocks limit the energy at each spur to intrinsically safe values. They also protect the trunk from short circuits at the spur. Work on the field devices is allowed without requiring a hot work permit and without disturbing plant operation.
FISCO and the high-power trunk
All FISCO and Entity compliant instrumentation can be connected to the High-Power Trunk, which simplifies validation even further. Each spur is validated separately with the segment protector or field barrier as the only power supply and the device as the only power drain. FISCO and Entity devices can be installed and operated on the same segment. Work on field devices is permitted without gas clearance during plant operation.
Fieldbus physical layer
Fieldbus diagnostics for the physical layer assists users in getting better quality communication with significantly reduced effort during commissioning. New working procedures save more time during testing and wiring checkout.
A wizard automatically checks the segment, produces documentation and sets the system up for online monitoring. Signal degradation or other unintended changes in the fieldbus infrastructure can be handled proactively as part of the plant asset management.
Typical physical layer measurements
* Signal level: the voltage level of the data signal. (Measured per device.)
* Noise: unwanted disturbance. (Measured per device or per segment.)
<i.* Unbalance:</i> difference in isolation levels between each of the two leads and the shield. (Ground fault.)
* Jitter: deviation of the actual from the zero point crossing. (Measured per device and per segment.)
* CRC error: cyclic redundancy check. (A telegram where the check sum is invalid. i.e one or more bits were detected as invalid.)
* Framing error: part of the telegram is lost.
Benefits of the high-power trunk
* Simple engineering and planning.
* Same topology regardless of application.
* Mix and match instruments (Entity, FISCO) on the same trunk.
* Up to 31 field devices per segment even in hazardous areas.
* Maximum cable lengths.
* Efficient commissioning and plant start-up.
* Maximum plant performance and reduced, predictive maintenance.
* Highly reliable fieldbus power with redundancy.
* Integrated advanced diagnostic module.
Credit(s)
Further reading:
Adding mobile network visibility
January 2020, RJ Connect , Fieldbus & Industrial Networking
A high-speed railway operator built a fibre Ethernet backbone for data transmission between its operational management centre and railway stations to ensure high network availability. The customer used 
...
Read more...
---
ETG officially supports EtherCAT G
December 2019 , Fieldbus & Industrial Networking
The Technical Committee of the EtherCAT Technology Group (ETG) has accepted EtherCAT G as an addition to the EtherCAT standard. Moving forward, EtherCAT G, which extends EtherCAT technology to 1 and 10 
...
Read more...
---
Interference-free Ethernet media converter
October 2019, Phoenix Contact , Fieldbus & Industrial Networking
The new FL MC EF 660 SCRJ media converter from Phoenix Contact enables the connection of cost-effective polymer and HCS/PCF fibre technology. The optical transmission of data via fibre optics is free 
...
Read more...
---
I/O solutions with Profinet redundancy
October 2019, Turck Banner , Fieldbus & Industrial Networking
Turck's Simple IO-Link Device Integration, SIDI for short, simplifies the handling of IO-Link. As its first fieldbus module with Profinet S2 system redundancy, the company has introduced the TBEN-L5-8IOL. 
...
Read more...
---
Universal enclosure system for electrical explosion protection
October 2019, Pepperl+Fuchs , Enclosures, Cabling & Connectors
For many years, users have been waiting for a new, universal enclosure system in the field of electrical explosion protection. Having invested in this area, Pepperl+Fuchs has developed the GRP enclosure 
...
Read more...
---
Tektronix simplifies automotive Ethernet testing with new software
October 2019, Comtest , Fieldbus & Industrial Networking
Tektronix has released two new software packages that greatly simplify Automotive Ethernet testing, debug and protocol decode, for use with its 5 and 6 series mixed-signal oscilloscopes (MSO). Using the 
...
Read more...
---
How fieldbus systems are really selected
September 2019 , Fieldbus & Industrial Networking
The majority of users do not actively select their fieldbus at all – they select the control system vendor and whatever bus system this vendor provides will 'do the job.
Read more...
---
Fibre optic distributor for network expansion on demand
September 2019, Jasco Trading t/a Webb Industries , Fieldbus & Industrial Networking
Jasco's Webb Industries has introduced Telegärtner's new, modular rail-mount fibre optic distributor, which can be extended according to actual needs. The stackable modules allow quick and easy additions 
...
Read more...
---
Smart devices for Ex areas
September 2019, Pepperl+Fuchs , IS & Ex
The Pepperl+Fuchs brand ecom has launched its next generation ATEX Zone 1/21 and Div. 1 certified, intrinsically safe 4G/LTE-Android smartphone – Smart-Ex. The Smart-Ex 02 is a complete new development 
...
Read more...
---
Integrate IO-Link devices in Profinet
September 2019, Turck Banner , Fieldbus & Industrial Networking
Turck's simple IO-Link device integration (SIDI) simplifies the handling of IO-Link devices in Profinet engineering systems. As the devices are already integrated in the GSDML file of the master, users 
...
Read more...
---