printer friendly version
Network integrity
September 2009
Fieldbus & Industrial Networking

Despite advances in computer technology, power outages continue to be a major cause of PC and server downtime. Protecting computer systems with uninterruptible power supply (UPS) hardware is often part of a total solution, but power management software is also necessary to prevent data corruption.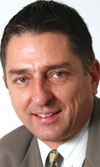 Rodney Callaghan
An extended power outage can prevent computers from initiating their required shutdown procedure. PC and server operating systems are not designed to support abrupt losses of power known as 'hard' shutdowns, but rather rely on a set of built-in processes that prepare a computer for a 'graceful' shutdown which includes saving memory and stopping applications and services.
UPS software configuration
A UPS can protect the system and improve server availability by allowing users to continue working without interruption during a short power outage. During an extended outage, if the system is equipped with UPS shutdown software, it can perform a graceful, unattended system shutdown before the UPS battery is exhausted.
Steps must be taken to protect computer systems and the data they store from the corrupting effects of a hard shutdown. The abnormal termination of applications or the operating system while manipulating data can affect documents, critical file system structures or dynamic application data and in many cases can lead to increased time-to-recovery when power returns.
Another cause of concern is with a computer's hard drive. To achieve high levels of performance, hard disk controllers are designed to take advantage of caching techniques, which involve temporarily writing information to memory and then writing the data out to the actual disk later. In the event of a power loss, information in the cache is lost, leading to potential data file or data corruption.
There are several ways to configure UPS software. The simplest configuration, used in both server and workstation deployments, involve protecting a single computer with a single UPS, which communicates with the computer over a serial or USB cable. UPS software is installed on the computer and in this case the UPS is managed locally by the connected computer.
Multiple devices
Protecting two to three computers with a single UPS, where several computers are plugged into a larger UPS (typically one rated at 1500 VA or higher) entails one computer to be connected directly to the serial port on the UPS, while the other two are connected to an expansion card installed in the UPS that provides two additional serial ports. In this situation, all three computers will have graceful shutdown capability, but management of the UPS is handled via the computer connected directly to the UPS. Although this scheme can be extended to handle up to 24 computers, APC does not recommend such an approach due to the additional cabling required.
When protecting three or more computers with a single UPS managed directly over an Ethernet network, a network management card installed in the UPS eliminates the requirement for server-based management. One example of such a configuration is the InfraStruXure architecture from APC. Software installed on these computers need only encompass shutdown functionality since management capabilities are embedded in the UPS itself.
Interaction with the operating system
Modern operating systems such as Microsoft Windows are increasingly including more advanced approaches to power management such as new methods of shutting down. Although these advances have largely been driven by laptop user requirements, selecting the right one for use with UPS software can decrease time-to-recovery after an extended power outage.
For example, a 'hibernation' process as shutdown method has a major advantage over other methods of preserving work in progress and the state of the machine before a shutdown occurs. For this reason, APC strongly recommends that customers consider selecting this method of shutdown for their UPS software.
When a computer goes into 'standby' mode, it is not turned off completely, but is placed into a low power state. In this case, it is important to make sure that the selected UPS can 'wake' the system in the event of an extended power outage so a graceful shutdown can be initiated, otherwise the power to the system will be dropped once the UPS is completely drained, resulting in a hard shutdown.
Other considerations
Purchasing a UPS with extended runtime capability merits serious consideration when extended outages are common and the cost of downtime is high. In cases where hours of runtime are required a generator is recommended in addition to a UPS as a few minutes of runtime is still required to maintain the load until the generator comes online.
Applications are only as available as the network that they are accessed through. Power protection for hubs, routers, and switches is an essential but sometimes overlooked ingredient in ensuring availability applications. Additionally, if three or more computers are protected by a single UPS, the shutdown software requires the network to be up during the power outage in order to communicate properly. If the network is unprotected, graceful shutdown of the computer will not be accomplished.
The time required to properly shut down the operating system varies from system to system. Therefore, users must ensure that their UPS software's settings take into account each computer's specific requirements and are set properly.
Without shutdown software installed on the protected computer, the net effect of the UPS is simply to delay the inevitable. Regardless of which configuration, which best practices, and which particular UPS software is utilised, APC highly recommends customers not overlook this requirement – the small effort involved in installing and configuring such software can well be worth it in the event of an extended power outage that exceeds the runtime of the UPS.
For more information contact Jacqui Gradwell, APC, +27 (0)11 465 5414, <a href="mailto:jacqui.gradwell@apc.com:> jacqui.gradwell@apc.com</a>, www.apc.com
Further reading:
Adding mobile network visibility
January 2020, RJ Connect , Fieldbus & Industrial Networking
A high-speed railway operator built a fibre Ethernet backbone for data transmission between its operational management centre and railway stations to ensure high network availability. The customer used 
...
Read more...
---
ETG officially supports EtherCAT G
December 2019 , Fieldbus & Industrial Networking
The Technical Committee of the EtherCAT Technology Group (ETG) has accepted EtherCAT G as an addition to the EtherCAT standard. Moving forward, EtherCAT G, which extends EtherCAT technology to 1 and 10 
...
Read more...
---
Interference-free Ethernet media converter
October 2019, Phoenix Contact , Fieldbus & Industrial Networking
The new FL MC EF 660 SCRJ media converter from Phoenix Contact enables the connection of cost-effective polymer and HCS/PCF fibre technology. The optical transmission of data via fibre optics is free 
...
Read more...
---
I/O solutions with Profinet redundancy
October 2019, Turck Banner , Fieldbus & Industrial Networking
Turck's Simple IO-Link Device Integration, SIDI for short, simplifies the handling of IO-Link. As its first fieldbus module with Profinet S2 system redundancy, the company has introduced the TBEN-L5-8IOL. 
...
Read more...
---
Tektronix simplifies automotive Ethernet testing with new software
October 2019, Comtest , Fieldbus & Industrial Networking
Tektronix has released two new software packages that greatly simplify Automotive Ethernet testing, debug and protocol decode, for use with its 5 and 6 series mixed-signal oscilloscopes (MSO). Using the 
...
Read more...
---
How fieldbus systems are really selected
September 2019 , Fieldbus & Industrial Networking
The majority of users do not actively select their fieldbus at all – they select the control system vendor and whatever bus system this vendor provides will 'do the job.
Read more...
---
Fibre optic distributor for network expansion on demand
September 2019, Jasco Trading t/a Webb Industries , Fieldbus & Industrial Networking
Jasco's Webb Industries has introduced Telegärtner's new, modular rail-mount fibre optic distributor, which can be extended according to actual needs. The stackable modules allow quick and easy additions 
...
Read more...
---
Integrate IO-Link devices in Profinet
September 2019, Turck Banner , Fieldbus & Industrial Networking
Turck's simple IO-Link device integration (SIDI) simplifies the handling of IO-Link devices in Profinet engineering systems. As the devices are already integrated in the GSDML file of the master, users 
...
Read more...
---
AS-i signal transmission via fibre optic
August 2019, ifm - South Africa , Fieldbus & Industrial Networking
The new AS-i fibre optic repeater from ifm electronic enables AS-interface signal transmission via an optical medium and vice versa. This allows for considerable cable length extension in the AS-i network. 
...
Read more...
---
Next-generation IIoT gateway solutions are transforming manufacturing
Technews Industry Guide: Industrial Internet of Things & Industry 4.0, RJ Connect , Fieldbus & Industrial Networking
Smart manufacturing and digital transformation, coupled with edge intelligence, are enabling manufacturers to increase productivity, reduce downtime, and increase product quality.
Read more...
---