printer friendly version
Industrial Ethernet routing switch
September 2009
Fieldbus & Industrial Networking

Westermo Data Communications has released a range of high-performance industrial Ethernet switches with enhanced routing functionality. The RedFox series is designed to build cost effective, secure and reliable networks that would previously have required several discrete units.
Initially developed for special mission-critical applications in the defence, rail, aerospace and sub-sea markets, this new off-the-shelf version of RedFox is based on a design that exceeds normal industrial requirements. This robust DIN rail mountable unit has a heavy duty aluminium enclosure for maximum strength, heat dissipation and resilience to extreme levels of electromagnetic interference (300 A/m).
Manufactured from industrial grade components and able to operate in temperatures from -40 to +70°C with no internal fans, RedFox has an MTBF (mean time between failure) of 600 000 hours. The new switch provides the highest levels of standard compliance for EMC, railway applications, vibration, humidity, shock and altitude, allowing it to be used in just about any operating environment.
The range offers a number of Ethernet interface combinations, ranging from 10 to 18 10/100/BaseTX ports, plus the option of four SPF Gigabit and four 1000BaseTX ports. To ensure the network resilience RedFox supports STP (spanning tree protocol) and RSTP (rapid STP), and also features Westermo's unique fast recovery of network topology (FRNT) redundant ring functionality. FRNT is able to reconfigure a redundant ring network consisting of up to 200 switches within 20 ms, regardless of network load. This functionality enables RedFox switches to be used in safety critical applications.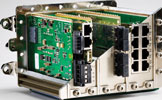 RedFox also supports IGMP (Internet group management protocol) snooping, which provides filtering techniques to manage the flow of data around the ring in such a way as to optimise the bandwidth. IGMP snooping has also been integrated into FRNT to ensure optimum performance even during a network failure.
Routing is becoming an essential function for the merging infrastructure and factory automation networks. The RedFox's static routing and firewall functions can provide simple segregation to ensure dataflow is controlled between networks. Comprehensive VLAN (virtual LAN) support allows the physical switched network to be subdivided increasing security and network bandwidth and improving manageability. VLANs can also be allocated to particular switch ports and centrally configured.
Several layers of security are available, vital to prevent both malicious and accidental network failures including an inbuilt firewall and 256 bit AES encryption on IPSEC VPN tunnels. When using NAT (network address translation) the IP address of protected devices can be hidden in a local secure network. RedFox can also act as a VPN server allowing IPsec tunnels to be set up between remote users and a local secure network. Web configuration pages and SNMP (simple network management protocol) can be disabled and the command line interface (CLI) is secured using SSH (secure shell protocol).
Redfox is extremely easy to use, needing no configuration out of the box. An auto-discovery IP-Configuration tool allows the IP address, subnet mask and gateway address to be set up. A web interface allows configurations such as FRNT ring, VLANs or a basic firewall to be set up. Advanced configuration and monitoring can be achieved using SNMP. Fine tuning for rigorous applications using the intuitive CLI enables running changes to be made without the need for a reboot.
The units' isolated power supply has an operating voltage range from 16 to 60 VDC and can be fed from two separate supplies of differing voltages.
Credit(s)
Further reading:
Adding mobile network visibility
January 2020, RJ Connect , Fieldbus & Industrial Networking
A high-speed railway operator built a fibre Ethernet backbone for data transmission between its operational management centre and railway stations to ensure high network availability. The customer used 
...
Read more...
---
ETG officially supports EtherCAT G
December 2019 , Fieldbus & Industrial Networking
The Technical Committee of the EtherCAT Technology Group (ETG) has accepted EtherCAT G as an addition to the EtherCAT standard. Moving forward, EtherCAT G, which extends EtherCAT technology to 1 and 10 
...
Read more...
---
The power of data
October 2019, Throughput Technologies , IT in Manufacturing
Gain access to important information with ProSoft's new OPC UA-based gateway and data logger.
Read more...
---
Interference-free Ethernet media converter
October 2019, Phoenix Contact , Fieldbus & Industrial Networking
The new FL MC EF 660 SCRJ media converter from Phoenix Contact enables the connection of cost-effective polymer and HCS/PCF fibre technology. The optical transmission of data via fibre optics is free 
...
Read more...
---
I/O solutions with Profinet redundancy
October 2019, Turck Banner , Fieldbus & Industrial Networking
Turck's Simple IO-Link Device Integration, SIDI for short, simplifies the handling of IO-Link. As its first fieldbus module with Profinet S2 system redundancy, the company has introduced the TBEN-L5-8IOL. 
...
Read more...
---
Tektronix simplifies automotive Ethernet testing with new software
October 2019, Comtest , Fieldbus & Industrial Networking
Tektronix has released two new software packages that greatly simplify Automotive Ethernet testing, debug and protocol decode, for use with its 5 and 6 series mixed-signal oscilloscopes (MSO). Using the 
...
Read more...
---
How fieldbus systems are really selected
September 2019 , Fieldbus & Industrial Networking
The majority of users do not actively select their fieldbus at all – they select the control system vendor and whatever bus system this vendor provides will 'do the job.
Read more...
---
Fibre optic distributor for network expansion on demand
September 2019, Jasco Trading t/a Webb Industries , Fieldbus & Industrial Networking
Jasco's Webb Industries has introduced Telegärtner's new, modular rail-mount fibre optic distributor, which can be extended according to actual needs. The stackable modules allow quick and easy additions 
...
Read more...
---
Integrate IO-Link devices in Profinet
September 2019, Turck Banner , Fieldbus & Industrial Networking
Turck's simple IO-Link device integration (SIDI) simplifies the handling of IO-Link devices in Profinet engineering systems. As the devices are already integrated in the GSDML file of the master, users 
...
Read more...
---
AS-i signal transmission via fibre optic
August 2019, ifm - South Africa , Fieldbus & Industrial Networking
The new AS-i fibre optic repeater from ifm electronic enables AS-interface signal transmission via an optical medium and vice versa. This allows for considerable cable length extension in the AS-i network. 
...
Read more...
---