printer friendly version
Standards benefit batch
April 2008
IT in Manufacturing

The batch control standards incorporated in the ANSI/ISA-88 series (ISA-88), along with the manufacturing automation standards of ANSI/ISA-95 form the basis for sound engineering practice in the design and implementation of flexible batch manufacturing automation and the integration of such systems into plant MES. Companies are also finding that many of the ISA-88 principles can be applied in the continuous process field and in packaging automation.
The ISA-88 standard (aka IEC 61512), which was first introduced in 1995, has gained wide acceptance in the chemical, food, pharmaceutical and life sciences industries as well as in semiconductor manufacture. Its aim is to separate recipes from the equipment, allowing recipes to be created and changed easily, without requiring control system software changes.
In a 2007 report, ARC Advisory Group estimated that the world batch control market would grow at a compound annual growth rate of 8,6% from US$3,2bn in 2006 to US$4,9bn in 2011. This growth is expected to come from increases in software and services revenue streams; expansion in food, pharmaceutical and beverage manufacturing; the application of batch control strategies to continuous and discrete processes, packaging lines and material storage facilities; and economic growth.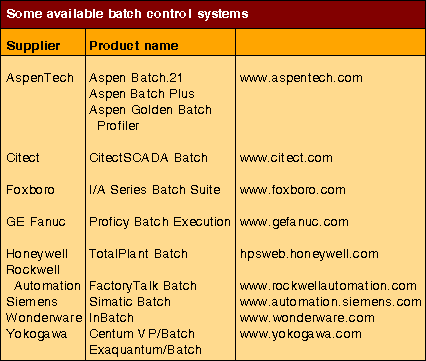 ISA-88
Parts 1 and 2 of ISA-88 focus on the level of the manufacturing process cell and below.
The ISA standards available are:
ANSI/ISA-88.01- 1995 (R2006), Batch Control Part 1: Models and Terminology: The goal of ISA-88 is the separation of equipment control from the procedure that describes how to make the end product. In this way it becomes possible to execute different procedures for different end products, using the same equipment.
Part 1 describes a physical and procedural control model hierarchy (Figure. 1). The physical (equipment) model hierarchy comprises Enterprise, Site, Area, Process cell, Unit, Equipment module and Control module, while that of the procedural control model (recipes) comprises Recipe procedure, Unit procedure, Operation and Phase.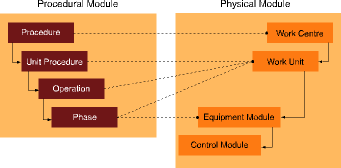 Figure 1. ISA-88 Procedural model
Within the standard a hierarchy of recipe types is defined: General, Site, Master and Control Recipes. General Recipes provide the enterprise with a corporate product description. They also facilitate the transformation of this information into Site recipes and Master recipes in a standardised way. The Control recipe is effectively the executable instance of the Master recipe.
ANSI/ISA-88.00.02-2001, Batch Control Part 2: Data Structures and Guidelines for Languages: This part defines the data models to describe batch control, data structures for communications within and between batch control implementations, and language guidelines for representing recipes.
ANSI/ISA-88.00.03-2003, Batch Control Part 3: General and Site Recipe Models and Representation: This part of the standard extends the recipe definitions of Part 1, defines a model for general and site recipes and models their use within and across enterprises and their representation.
ANSI/ISA-88.00.04-2006, Batch Control Part 4: Batch Production Records: Part 4 provides detailed definition for batch production records and includes a reference model for developing applications for the storage and/or exchange of batch production records. Solutions based on the standard support retrieval, analysis and reporting of selected batch production record data.
Batch Control Part 5: Modular Concepts for Automated Control Systems: This part is currently under development and will define methods for developing a library of automation control components that can be supported by automation vendors for all types of manufacturing.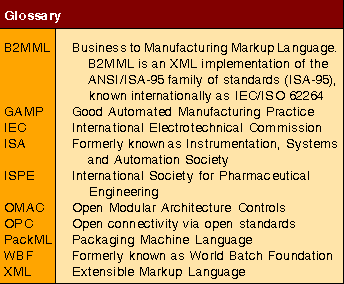 Outside the box
Users in continuous manufacturing are finding that they can apply the principles incorporated in ISA-88 to their manufacturing lines for product changeovers, start-ups and shut-downs. For instance when owners of multiproduct continuous manufacturing lines change from manufacturing product A to manufacturing product B they can use ISA-88 to help define and automate operations such as clean down and equipment size part changes.
ISA-88 principles can also help to achieve raw materials management and traceability in continuous processes.
The ISA-SP88 committee is currently working on Part 5 of the standard. In 2006, when work was started on this part, ISA-SP88 chair Dennis Brandl summarised its goals: "The components that we want to specify will provide a base of commonly used automation functions that encourage modularity and define common methods for component interaction in batch, continuous, and discrete manufacturing." Part 5 will include any PackML guidelines which are consistent with the standard.
In co-operation with ISA, WBF has taken the principles of ISA-88 and applied them to packaging automation, embodying them in the Make2Pack standard. For the description of batch phases in XML they have also developed BatchML.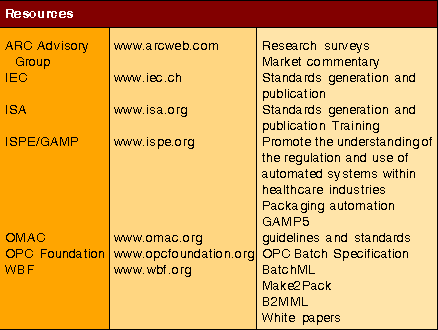 Benefits
Users of ISA-88 claim that there are many benefits to its application. These include:
* Improved interpersonal and intersystem communication achieved through common object model and vocabulary.
* Code re-usability through the application of object-oriented design principles and class-based programming techniques.
* Improved system modularity and maintainability.
* Reduced engineering costs.
* Increased flexibility.
* Improved and simplified integration with plant systems such as scada and MES.
* Facilitation of paperless manufacturing management using electronic records.
* Reduced validation effort for regulated industries - aid compliance with FDA 21CFR Part 11.
* Reduced total cost of ownership.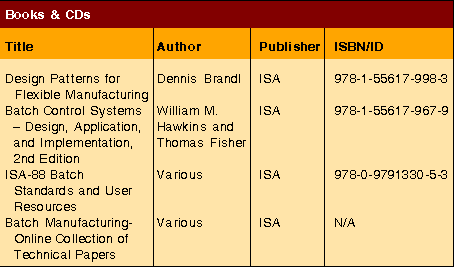 The ideal system?
Engineers planning to implement a batch control system for use in the regulated industries should start their project by deciding on a disciplined project definition and engineering process such as that described in GAMP.
Having started the project on this sound footing, then the logical choice is to use ISA-88 as the basis for batch control and ISA-95 for interfacing to the plant production system. Because the scope of these two standards have some overlap there will be decisions to be made and documented in the batch control system <> MES/ERP interface area.
If the decision is made to use standard software components then these should be carefully investigated in terms of the degree of validation support which they offer. A manufacturer's broad statement that his software aids validation and compliance with FDA 21CFR Part 11 is not sufficient detail on which to make system selection.

About the author
Andrew Ashton has electrical, mechanical and business qualifications and has been active in automation and process control since the early 1980s. Since 1991 he has headed up a company that has developed formulation management systems for the food, pharmaceutical and chemical manufacturing industries and manufacturing solutions involving the integration of various communication technologies and databases. Developed systems address issues around traceability, systems integration, manufacturing efficiency and effectiveness. Andrew is feature editor for S A Instrumentation and Control and editor of Motion Control in southern Africa.
Credit(s)
Further reading:
From the editor's desk: Is additive manufacturing poised to go mainstream?
Technews Publishing (SA Instrumentation & Control) News
As digital manufacturing technology pushes its way further towards the production floor, additive manufacturing (3D printing) is emerging as a viable option to complement the more traditional methods 
...
Read more...
---
Obituary: Steven James Meyer
January 1957 - January 2022
Technews Publishing (SA Instrumentation & Control) News SAIMC
It is with deep sadness and shock that we announce the sudden death of SA Instrumentation & Control Editor, Steven Meyer. Steven joined Technews in October 2007 in the position of Deputy Editor. His 
...
Read more...
---
What does digitalisation mean for food product safety?
Endress+Hauser South Africa IT in Manufacturing
Product safety remains a vital topic for achieving food security across the globe. To date, many manufacturers still question whether digitalisation can help reduce the effort involved in process optimisation, production monitoring and system installation.
Read more...
---
Digital twins enhance asset productivity in oil and gas applications
IT in Manufacturing
The ability to continue through various production cycles with zero unplanned downtime means that practical efficiencies using digitisation are essential.
Read more...
---
IaaS – paying for the experience but not the assets
Schneider Electric South Africa IT in Manufacturing
Infrastructure-as-a-Service has emerged as a feasible option that maintains crucial infrastructure such as IT, power consumption and business continuity while organisations focus on their core business.
Read more...
---
Siemens extends Xcelerator portfolio
Siemens South Africa IT in Manufacturing
Siemens Digital Industries has announced the release of NX Automation Designer software and NX Industrial Electrical Design software, a new suite of solutions that provide a central design application for industrial, electrical and automation design.
Read more...
---
Intelligent automation for Industry 4.0
IT in Manufacturing
Jumo smartWARE Evaluation is a software solution that allows browser-based process data analysis via customised dashboards.
Read more...
---
From the editor's desk: 2022 must be the year SA gets its vaccination act together
Technews Publishing (SA Instrumentation & Control) Editor's Choice News
This is his last
"From the editor's desk"
that Steven Meyer wrote before his death in early January 2022.
Read more...
---
Simplifying the management of hybrid IT environments
Schneider Electric South Africa IT in Manufacturing
With the ongoing move towards hybrid cloud environments there comes an extra layer of complexity; nothing is ever as simple as it seems.
Read more...
---
Server engine for increasing machine learning requirements
Beckhoff Automation IT in Manufacturing
TwinCAT Machine Learning offers further inference engine.
Read more...
---