printer friendly version
Ethernet networks in mining automation
July 2005
Fieldbus & Industrial Networking

Automation has rapidly defined itself as the key factor in the running of a successful mining operation.
However, the inherent reliance of automation on the reliable communication of data from the field to the control devices means that the connectivity can become a problem. Many fieldbuses have appeared, each claiming to be the `magic bullet', however since each of the buses simply places an emphasis on a different factor (ie, response time, control loop integrity, etc,) it is usually a case of understanding an application and then choosing a most suitable fieldbus.
Ethernet
One standard that has been growing from strength to strength has been the TCP/IP implementation running over Ethernet. In fact, looking at the traditional PLC/scada system and the role that the Ethernet plays, increasingly there is a trend towards moving away from proprietary buses when connecting PLCs to scada stations, and replacing these buses with one of Ethernet topology. This means that, where once Ethernet was positioned on a higher level (eg, management information systems), recently it has penetrated to a level below (commonly known as H2). In turn, this means that Ethernet has established itself as a bus, which can connect PLCs from multiple vendors without any restrictions.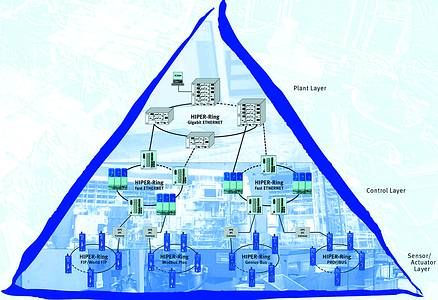 The mining industry has been at the forefront in using Ethernet in automation, and much of the great success that it has enjoyed with this technology is owed to the approach that has been taken in adopting Ethernet.
The mining industry recognised important factors that lead to the successful implementation:
1. Although Ethernet is a ubiquitous technology, care must be taken that the components used are designed by manufacturers that have a proven track record in harsh environments. Manufacturers, such as Hirschmann, have a thorough understanding of the environments and the conditions and produce equipment that is geared towards maximum availability under such conditions.
2. The automation environment has different priorities when compared to the traditional office Ethernet networks. Primarily, time response is critical, and if possible, priority must always be given to the control data.
Industrial Ethernet has come a long way in satisfying the requirements of the mining industry, most notably by replacing legacy 10Base-2 equipment with the modern full duplex, 100 Mbps Ethernet using either copper of fibre-optic cables as a medium.
Why has Ethernet become so successful in the mining industry?
The answer to this lies in the fact that alert manufacturers are continuously working to adapt and perfect Ethernet for the very specific demands of this environment. Recognising the absolute need for redundancy, as well as the fact that current technologies cannot offer the very fast failover switchover times, Hirschmann pioneered HIPER-Ring, a method where Ethernet can use a ring structure (without STP or RSTP and associated reconfiguration penalties). This has found good use in mine shafts, where the ubiquitous fibre-optic structure forms a backbone and one of the switches is designated a ring manager - monitoring the integrity of the medium and deploying the redundant link, usually within 50 ms of failure.
Other reasons why Ethernet has found a firm foothold in the mining environment are numerous, but most significantly it is the flexibility and abundant expertise that make it very attractive as an option. However the latter could prove to be the Achilles' heel - it is of utmost importance to source support and design staff which have a background in engineering as well as networking, since the design and the demands on the network are very much dependant on the particular application.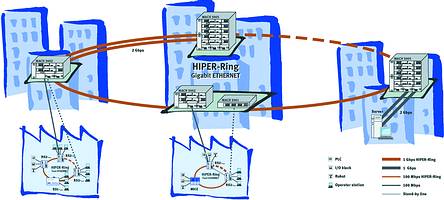 Demand for bandwidth grows
Many mines that have implemented Ethernet in their shafts have found initial bandwidth requirements to be very modest, but that has changed recently as more and more technology converges to use Ethernet as a medium. Therefore we can expect to see another trend in the mining arena, this time moving towards the high bandwidth Ethernet networks, to address bandwidth requirements from technologies such as video over IP. This is a particularly dynamic field at the moment, since Ethernet infrastructure is already present along most levels, and a camera overlooking, say, a conveyor gives the operator a much needed visual feedback simply by connecting an IP enabled camera to the first available network point. The network point can be either a fibre or a traditional UTP, depending on the distance, and highlighting the need for a modular system with a spread of FO and UTP connectors to cater for any type of media connectors.
Another reason for looking for more bandwidth is the new generation of control software which as well as providing an HMI, integrates automation with IT, and consumes significant bandwidth in the process. Modern systems such as the PowerMICE (modular industrial communication equipment) cater for such expansions by providing the facility to build Gigabit HIPER-Rings, trunk the Gigabit links for a maximum of 4 Gbps backbone capacity and offer full Layer 3 functionality to provide further load balancing and traffic shaping.

Determinism has been addressed
One of the most important hurdles for Ethernet in mining industry - lack of determinism - has recently been crossed. Inherently, Ethernet is a contention-based network, so determinism is difficult to achieve. A lot of progress has been made by the adoption of full duplex operation, queue prioritisation (IEEE 802.1p), however all these techniques simply sought to bring the variable latencies down to the effect of simple jitter. Some manufacturers sought to use proprietary implementations to achieve realtime operation, however this defeats the purpose of using Ethernet as an open and vendor independent technology. The IEEE 1588 Precision Time Protocol gives existing Ethernet systems true realtime qualities with minimum additional investment. In fact, for systems using a modular approach, an addition of realtime modules (such as Hirschmann RT series of media modules) will ensure that the Ethernet infrastructure is ready to receive any realtime capable components.
Credit(s)
Further reading:
IO-Link through to the cloud
May 2020, Pepperl+Fuchs , Fieldbus & Industrial Networking
The smart combination of the IO-Link sensor interface and the OPC UA communication protocol in a single device gives Pepperl+Fuchs new opportunities to offer complete, seamless, and transparent communication 
...
Read more...
---
Seamless integrated connectivity for electric automation from Festo
April 2020, Festo South Africa , Fieldbus & Industrial Networking
The cloud is everywhere. We save data on the cloud and access it on our phones and computers from anywhere at our convenience. The same applies to seamless connectivity in industrial automation from your 
...
Read more...
---
I/O for the IIot
April 2020, Opto Africa Holdings , Fieldbus & Industrial Networking
Intelligent, Ethernet-based I/O unit for IIoT connection to real-world signals.
Read more...
---
Breaking into the Industrial Internet of Things
March 2020, Pepperl+Fuchs , Fieldbus & Industrial Networking
IO-Link paves the way from the sensor to the cloud.
Read more...
---
ETG provides new developer tool
March 2020 , Fieldbus & Industrial Networking
The EtherCAT Technology Group (ETG) offers manufacturers, developers and users comprehensive support services for EtherCAT technology. The EtherCAT Device Protocol Poster is an additional tool that specifically 
...
Read more...
---
Wireless connectivity for hazardous locations
March 2020, Comtest , Fieldbus & Industrial Networking
Comtest – local representative of Industrial Scientific, global leader in gas detection – has introduced the RGX Gateway, which enables designated safety contacts to receive real-time alerts for gas hazards, 
...
Read more...
---
ETG officially supports EtherCAT G
December 2019 , Fieldbus & Industrial Networking
The Technical Committee of the EtherCAT Technology Group (ETG) has accepted EtherCAT G as an addition to the EtherCAT standard. Moving forward, EtherCAT G, which extends EtherCAT technology to 1 and 10 
...
Read more...
---
Adding mobile network visibility
January 2020, RJ Connect , Fieldbus & Industrial Networking
A high-speed railway operator built a fibre Ethernet backbone for data transmission between its operational management centre and railway stations to ensure high network availability. The customer used 
...
Read more...
---
Interference-free Ethernet media converter
October 2019, Phoenix Contact , Fieldbus & Industrial Networking
The new FL MC EF 660 SCRJ media converter from Phoenix Contact enables the connection of cost-effective polymer and HCS/PCF fibre technology. The optical transmission of data via fibre optics is free 
...
Read more...
---
I/O solutions with Profinet redundancy
October 2019, Turck Banner , Fieldbus & Industrial Networking
Turck's Simple IO-Link Device Integration, SIDI for short, simplifies the handling of IO-Link. As its first fieldbus module with Profinet S2 system redundancy, the company has introduced the TBEN-L5-8IOL. 
...
Read more...
---