printer friendly version
Smart engineering directly in the cloud
March 2020
IT in Manufacturing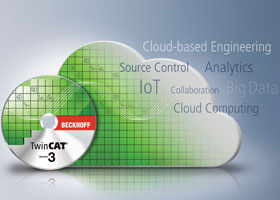 PC-based control offers a central, open and comprehensive machine control platform ideal for delivering highly efficient, IoT-based automation strategies. It enables machines, plants and production lines to be connected in ways that unlock their full efficiency potential across entire processes. In this context, TwinCAT Cloud Engineering adds a new dimension by providing users with an easy means of engineering TwinCAT instances and controllers in the cloud.
With TwinCAT Cloud Engineering, users can instantiate and use existing TwinCAT engineering and runtime products directly in the cloud. Quick and easy to access from the Beckhoff website with a web browser and requiring no additional software, the new solution enables registered users to work with the TwinCAT development environment even from previously unsupported devices such as tablet PCs.
The TwinCAT Cloud Engineering instances generated by users can be connected to physical control hardware over a secure transport channel. Users not only enjoy all the advantages of the TwinCAT control architecture, but distributed collaboration support through a source control repository as well. For new users in particular, having access to a TwinCAT Cloud Engineering instance in the cloud provides an ideal and comprehensive foundation on which to get to know the TwinCAT environment.
In addition, TwinCAT Cloud Engineering enables users to move their entire TwinCAT architecture to the cloud, the only difference versus a conventional TwinCAT environment being that they use a virtual machine instead of a local engineering PC. One advantage is that users need not get used to a new software environment but can simply continue to work in the same, familiar development environment. Another is that they do not have to install and maintain multiple software versions tailored to specific machine generations on their own PCs. Instead, users can run separate TwinCAT Cloud Engineering instances with different software versions, all of which they can access remotely whenever they need to. Project files are stored in a source code control repository which can be accessed directly from within TwinCAT Engineering.
Efficient team collaboration with source control
Based on modern source control features, connecting to Git-based systems and managing automation projects on them is easy. The TwinCAT multi-user functionality enables simple, seamless access to a source control repository without the need for special technical expertise. Here, TwinCAT Cloud Engineering enables multiple users to work together on a number of instances at the same time either by integrating a Git server into the instance or using a Git-based cloud service.
For more information contact Michelle Murphy, Beckhoff Automation, +27 11 795 2898, michellem@beckhoff.com, www.beckhoff.co.za
Credit(s)
Further reading:
Appointments
April 2020, Beckhoff Automation , News
Beckhoff has appointed Brendan van der Westhuizen as support technician.   
Read more...
---
A journey into the automation unknown
April 2020 , IT in Manufacturing
Jendamark's reinvention as an Industry 4.0 technology leader in the automotive industry.
Read more...
---
Implementing artificial intelligence in industrial manufacturing
April 2020, Omron Electronics , IT in Manufacturing
The introduction of AI solutions at the edge inside the machine now provides tools that enable you to look at that data and recognise patterns within it.
Read more...
---
More efficient engineering with automatically generated dashboard
April 2020, Beckhoff Automation , IT in Manufacturing
Engineering 4.0: One-Click Dashboard eliminates an entire work step.
Read more...
---
Engineering framework ready for continuous software development
April 2020, Siemens Digital Industries , IT in Manufacturing
With the new Totally Integrated Automation (TIA) Portal V16, Siemens has expanded its engineering framework with practical new functions for various phases from planning to engineering to commissioning. 
...
Read more...
---
How the IoT is affecting people
April 2020 , IT in Manufacturing
While the Internet of Things (IoT) may still be an emerging technology, it has become deeply entrenched in people's lives and its proliferation is likely to accelerate further in the next few years. The 
...
Read more...
---
Schneider Electric introduces Asset Advisor for critical assets
Technews Industry Guide: Maintenance, Reliability & Asset Optimisation 2020, Schneider Electric South Africa , IT in Manufacturing
Schneider Electric has announced the availability of EcoStruxure Asset Advisor for electrical distribution and critical data centre assets, as part of the company's EcoStruxure IoT-enabled system architecture 
...
Read more...
---
High-end measurement technology drives innovation in machine availability
Technews Industry Guide: Maintenance, Reliability & Asset Optimisation 2020, Beckhoff Automation , System Integration & Control Systems Design
EtherCAT measurement modules now include the cost-effective ELM314x Economy line.
Read more...
---
Digitisation and automation for mining: the only way forward
March 2020, SICK Automation Southern Africa , IT in Manufacturing
A global specialist for factory automation, logistics and process automation applications, SICK Automation has over 44 000 products for the most challenging industry applications that require high precision proximity detection systems.
Read more...
---
2020 IT trends by Rittal South Africa
March 2020, Rittal , IT in Manufacturing
Rapid upgrades to data centres and rising energy consumption are key factors to consider.
Read more...
---