printer friendly version
Radar sensors: frequently asked questions
September 2019
Sensors & Transducers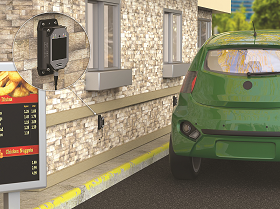 Radar sensors are commonly used for a wide variety of vehicle detection and collision avoidance applications, and they are a particularly good choice for outdoor deployments. Keep reading to learn more about radar sensors through answers to frequently asked questions.
Q: What are radar sensors?
Radar is an object detection system using radio waves. The benefits of radar include:
• Reliable outdoor use. Radar sensors are unaffected by wind, falling rain and snow, fog and sunlight. They are less affected by temperature fluctuations and operate in a wider range of temperatures than competing technologies.
• Long sensing range for flexible mounting.
• More durable and less downtime than other technologies.
Banner's radar sensors utilise frequency modulated continuous waves (FMCW). FMCW radiates continuous transmission power and changes its operating frequency during the measurement. FMCW measures the frequency shift between emitted and received signals and can detect both moving and stationary targets. (Doppler cannot see stationary targets.)
Q: Where should I use a radar sensor?
Radar sensors are an ideal solution for applications that need to detect a vehicle or avoid a collision when moving equipment. For example, radar can be used for:
• Vehicle detection including cars, trucks, and trains in traffic and parking applications, toll booths, loading docks, shipping canals and railroads.
• Collision avoidance in ports and manufacturing (i.e. overhead and gantry cranes).
• Collision avoidance for mobile equipment i.e. reach stackers, forklifts, and mining vehicles.
• Collision avoidance in low-visibility factory environments i.e. overhead bridge cranes.
Q: What objects can radar sensors detect?
Good targets for radar sensors include objects containing metal, large amounts of water, or similar high-dialectric materials. Poor targets include many plastics, cloth, wood, fibreglass and organic materials.
Q: Does the target have to be moving for a radar sensor to detect it?
No, radar sensors from Banner Engineering can detect both stationary and moving targets. Moving targets do provide more powerful reflections compared to stationary targets.
Q: Can radar detect people, or will nearby people interfere with sensing the target?
Radar sensors can detect people, but the radar cross section of a person is very weak so it is not intended to be used in personnel detection. Depending on sensitivity settings, a person could interfere with sensing the intended target if a person is near the sensor and within the its direct field of view.
Q: What is the difference between adjustable field and retro-reflective radar sensors?
An adjustable field radar sensor can detect vehicles and other objects by sensing the reflection of the radio waves bouncing off the object. Optimal targets include:
• Large metallic objects that reflect a lot of radio waves, a property referred to as a large 'radar cross section'.
• Objects that have surfaces that are perpendicular to the radar beam pattern to reflect the radio signal directly back to the sensor.
Adjustable field radar sensors have configurable set-point distances, where the sensor will use the time between emitted pulse and reflected signal detection to calculate how far away a sensed object is from the sensor and only turn the output on when the object is within the set-point distance.
A retro-reflective radar sensor uses a taught reference condition like a wall, floor, or special retro-reflective target. The sensor detects objects between it and the reference target by looking for disruptions in the signal coming back from the reference target.
This type of sensing can sense objects even if they do not have a good radar cross section, but they must block the signal reflection from the reference target. This makes retro-reflective radar sensors the most robust radar sensing option.
Q: What is the dead zone for radar sensors?
Radar sensors from Banner have a typical dead zone of 0,4 metres for moving targets and 1 metre for stationary targets. What this means is different depending on whether the sensor is adjustable field or retro-reflective:
• Adjustable field sensors: the sensor cannot reliably sense objects within the dead zone.
• Retro-reflective sensors: the retro-reflective target cannot be placed within the dead zone, but an object within the dead zone can still be sensed because it interrupts the signal from the reflector target.
Q: Can radar sensors have two independently set outputs?
Yes, depending on the series. Most radar sensors from Banner Engineering have an option with two zones with an independent output for each zone.
Q: When would I use a radar sensor with two zones?
It is common to use two zones in collision avoidance applications. For example, one long-range zone can be used as a 'slow down' signal, and the other short-range zone can be used as a 'stop' signal. Two zones can also be used to determine if the object is getting closer to or further away from the sensor.
Q: Can radar sensors tell me which way an object is moving?
Yes, by using two zones or an analog output, the radar sensor can tell which way an object is moving. But it can only determine if the object is getting closer or further away, not if it is moving left or right.
Q: Can radar sensors be used outdoors?
Yes, radar sensors can be effectively used outdoors. The housings are rated IP67 for reliable operation in harsh environments.
Q: Is radar susceptible to rain, snow, sleet or other weather conditions?
Radar sensors are resistant to extreme temperatures, falling snow, fog, heavy rain, humidity and strong wind. They are also immune to error from sunlight. They have no moving parts and are resistant to vibration from nearby traffic and heavy machinery.
Weather shields are also available to prevent rain/snow accumulation on the face of the sensor. The sensor can be placed in special fibreglass enclosures (radar can transmit through some materials) if the application requires it.
Q: What is a radar sensor's beam pattern?
The beam pattern for each sensor is defined by its antenna and remains constant.
Q: How wide is a radar sensor's beam?
The effective beam pattern chart for each sensor is provided in its datasheet. If the beam pattern is too wide, consider using a narrow-beam sensor. The effective beam width varies with the sensor, the distance to the target, the radar cross section of the target, and the sensor's sensitivity (signal strength threshold) setting.
Q: What does adjusting the sensitivity (signal strength threshold) do?
Changing the sensitivity selection for a radar sensor can be used to ignore unwanted weak targets within the field of view of the sensor (focusing the beam on the main target you want to see vs. smaller objects in the beam path).
Q: How should I mount a radar sensor to account for beam width?
When mounting the sensor, consider both the vertical beam pattern and the horizontal beam pattern. You may want to rotate the sensor 90 degrees to reduce the field of view of the sensor to ignore unwanted reflections.
Q: Can you locate two radar sensors next to each other without cross talk issues?
Yes. Radio waves travel at the speed of light. Each radar sensor knows when it should be receiving the radio pulse reflected from its target and is generally resistant to crosstalk.
Q: What might help to fix a chattering/flickering/intermittent output?
If a radar sensor's output is chattering when the target is fully within the field of view of the sensor, you could increase the response speed and/or the sensitivity of the radar sensor to make the output more consistent.
Q: How do I choose a radar sensor model that is approved in my country?
Country certifications are listed in the product datasheets. Contact Banner if you do not see the country needed. With recent FCC changes, we can now offer EU models in the US and other countries. EU models use a wider frequency bandwidth to achieve shorter dead-zones. If you have specific questions, please contact Turck Banner
For more information contact Brandon Topham, Turck Banner, +27 11 453 2468, brandon.topham@turckbanner.co.za, www.turckbanner.co.za
Credit(s)
Further reading:
Safety controllers with diagnostics
October 2020, Turck Banner , IS & Ex
The combination of an intuitive user interface and diagnostics makes it easy to design and troubleshoot complex safety systems in just a few clicks.
Read more...
---
Sensor for efficient pneumatic performance
October 2020, SICK Automation Southern Africa , Sensors & Transducers
SICK Automation's FTMg flow sensor detects pneumatic system leakages well before pressure loss causes machine failure. It is engineered to output up to eight process parameters.
Read more...
---
Conductivity sensor for interface detection
October 2020, ifm - South Africa , Sensors & Transducers
The LDL 100 conductivity sensor from ifm electroninc makes reliable differentiation between cleaning media possible in CIP applications.
Read more...
---
Inductive sensors for Industry 4.0
October 2020, Turck Banner , Sensors & Transducers
Inductive measurement sensors with IO-Link and a voltage output complete Turck's sensor portfolio for a variety of different application requirements.
Read more...
---
MicroHAWK smart cameras simplify code reading and inspection
October 2020, Omron Electronics , Sensors & Transducers
Omron's powerful new smart cameras simplify applications by combining code reading and vision inspection into a single, highly compact device.
Read more...
---
3D collision warning system
October 2020, ifm - South Africa , Sensors & Transducers
The 3D collision warning system is based on established 3D sensors from ifm electronic. It precisely detects obstacles and visualises them on a monitor.
Read more...
---
Prevent backward driving accidents
September 2020, SICK Automation Southern Africa , Sensors & Transducers
To prevent collisions and improve worker safety, Cologne-based sugar producer Pfeifer & Langen selected SICK Automation's Visionary-B CV 3D driver assistance system for use at its reloading point.
Read more...
---
Turck standardises its fluid portfolio
September 2020, Turck Banner , Flow Measurement & Control
Turck's new portfolio of fluid sensors offers a wide range of variants and combinations, while having common key features at the same time. The compact FS+ flow sensor with IO-Link now follows the launch of the PS+ pressure sensor.
Read more...
---
Monitoring for control cabinets
September 2020, Turck Banner , Enclosures, Cabling & Connectors
The IM18-CCM is particularly suitable for OEMs wishing to provide basic condition monitoring values in their IT system. It detects critical states of the control cabinet directly in the field.
Read more...
---
Conductivity sensor for CIP monitoring
September 2020, ifm - South Africa , Sensors & Transducers
The LDL200 from ifm electronic is designed to be used in cleaning processes (CIP) in the food industry.
Read more...
---