printer friendly version
So, what's left for us humans after the machines take over?
Technews Industry Guide: Industrial Internet of Things & Industry 4.0
IT in Manufacturing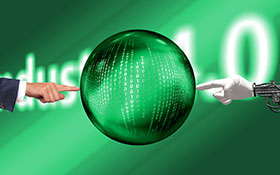 One of the questions that we at the International Data Corporation are asked is what impact technologies like Artificial Intelligence (AI) will have on jobs. Where are there likely to be job opportunities in the future? Which jobs (or job functions) are most ripe for automation? What sectors are likely to be impacted first? The problem with these questions is that they misunderstand the size of the barriers in the way of system-wide automation. The question isn't only about what is technically feasible; it is just as much a question of what is legally, ethically, financially and politically possible.
That said, there are some guidelines that can be put in place. An obvious career path exists in being 'on the other side of the code', as it were – being the one who writes the code, who trains the machine, who cleans the data. But no serious commentator can leave the discussion there, as too many people are simply not able or have no desire to code. Put another way, where do the legal, financial, ethical, political and technical constraints on AI leave the most opportunity?
AI is getting better but there are constraints
Firstly, AI (driven by machine learning techniques) is getting better at accomplishing a whole range of things – from recognising (and even creating) images, to processing and communicating natural language, completing forms and automating processes, fighting parking tickets, being better than the best Dota 2 players in the world, and aiding in diagnosing diseases. Machines are exceptionally good at completing tasks in a repeatable manner, given enough data and/or enough training. Adding more tasks or attempting system-wide automation requires more data and more training. This creates two constraints on the ability of machines to perform work:
1. Machine learning requires large amounts of (quality) data.
2. Training machines requires time and effort (and therefore cost).
Let's look at each of these in turn – and we'll discuss how other considerations come into play along the way.
Speaking in the broadest possible terms, machines require large amounts of data to be trained to a level to meet or exceed human performance in a given task. This data enables the bot to learn how best to perform that task. Essentially, the data pool determines the output.
However, there are certain job categories which require knowledge of, and then subversion of, the data set – jobs where producing the same 'best' outcome would not be optimal. Particularly, these are jobs that are typically referred to as creative pursuits – design, brand, look and feel. To use a simple example: if pre-Apple, we trained a machine to design a computer, we would not have arrived at the iMac, and the look and feel of iOS would not have become the predominant mobile interface.
This is not to say that machines cannot create things. We've recently seen several ML-trained machines on the Internet that produce pictures of people (that don't exist) – that is undoubtedly creation (of a particularly unnerving variety). The same is true of the AI that can produce music. But those models are trained to produce more of what we recognise as good. Because art is no science, a machine would likely have no better chance of producing a masterpiece than a human. And true innovation, in many instances, requires subverting the data set, not conforming to it.
Secondly, and perhaps more importantly, training AI requires time and money. Some actions are simply too expensive to automate. These tasks are either incredibly specialised, and therefore do not have enough data to support the development of a model, or very broad, which would require so much data that it will render the training of the machine economically unviable. There are also other challenges which may arise. At the IDC, we refer to the Scope of AI-Based Automation. Within this scope:
• A task is the smallest possible unit of work performed on behalf of an activity.
• An activity is a collection of related tasks to be completed to achieve the objective.
• A process is a series of related activities that produce a specific output.
• A system (or an ecosystem) is a set of connected processes.
A practical example of constraints in action
As we move up the stack from task to system, we find different obstacles. Let's use the medical industry as an example to show how these constraints interact. Medical image interpretation bots – powered by neural networks – exhibit exceptionally high levels of accuracy in interpreting medical images. This is used to inform decisions which are ultimately made by a human – an outcome that is dictated by regulation. Here, even if we removed the regulation, those machines cannot automate the entire process of treating the patient. Activity reminders (such as when a patient should return for a check-up, or reminders to follow a drug schedule) can in part be automated, with ML applications checking patient past adherence patterns, but with ultimate decision-making by a doctor.
Diagnosis and treatment are processes that are ultimately still the purview of humans. Doctors are expected to synthesise information from a variety of sources – from image interpretation machines to the patient's adherence to the drug schedule – in order to deliver a diagnosis. There are ethical, legal and trust reasons that dictate this outcome.
There is also an economic reason. The investment required to train a bot to synthesise all the required data for proper diagnosis and treatment is considerable. On the other end of the spectrum, when a patient's circumstance requires a largely new, highly specialised or experimental surgery, a bot will unlikely have the data required to be sufficiently trained to perform the operation and even then, it would certainly require human oversight.
The economic point is a particularly important one. To automate the activity in a mine, for example, would require massive investment into what would conceivably be an army of robots. While this may be technically feasible, the costs of such automation likely outweigh the benefits, with replacement costs of robots running into the billions. As such, these jobs are unlikely to disappear in the medium term.
Conclusion
Thus, based on technical feasibility alone, our medium-term jobs market seems to hold opportunity in the following areas: the hyper-specialised (for whom not enough data exists to automate), the jack-of-all-trades (for whom the data set is too large to economically automate), the true creative (who exists to subvert the data set) and finally, those whose job it is to use the data. However, it is not only technical feasibility that we should consider. Too often, the rhetoric would have you believe that the only thing stopping large scale automation is the sophistication of the models we have at our disposal, when in fact financial, regulatory, ethical, legal and political barriers are of equal, if not greater, importance. Understanding the interplay of each of these for a role in a company is the only way to divine the future of that role.
For more information contact International Data Corporation South Africa, +27 11 517 3240, irenevb@mcdsquared.co.za, www.idc.com
Further reading:
IIoT platforms, not all created equal
Technews Industry Guide: Industrial Internet of Things & Industry 4.0, Altron Bytes Systems Integration , IT in Manufacturing
Having a state-of-the-art architecture based on the most modern technology will not benefit any company unless it is tied to a specific purpose and business outcome.
Read more...
---
Bringing trust to the Internet of Things
Technews Industry Guide: Industrial Internet of Things & Industry 4.0 , IT in Manufacturing
Huge amounts of data are generated by and collected from a wide variety of IoT devices. It is then analysed and actions taken, depending on the results of the analysis. However, if you cannot trust the 
...
Read more...
---
Staying ahead of industrial cyber-security threats
July 2019, Parker Hannifin Sales Company South , IT in Manufacturing
The consequences of cyber attacks on businesses can be huge, operation downtime, loss of productivity, proprietary information loss, diminished reputation among customers, business partners and investors and disruption of services.
Read more...
---
Comos version 10.3 saves time
Technews Industry Guide: Industrial Internet of Things & Industry 4.0, Siemens Digital Industries , IT in Manufacturing
Modular engineering with intelligent templates and central data storage.
Read more...
---
Innovation and intelligence for smart manufacturing
Technews Industry Guide: Industrial Internet of Things & Industry 4.0, Omron Electronics , IT in Manufacturing
Adaptive algorithms offer new ways to optimise production lines.
Read more...
---
Securing the smart factory?
Technews Industry Guide: Industrial Internet of Things & Industry 4.0, Throughput Technologies , IT in Manufacturing
Secomea provides secure remote access without the need for advanced firewall configuration.
Read more...
---
Digitalisation drives compressed air system development
Technews Industry Guide: Industrial Internet of Things & Industry 4.0, Siemens Digital Industries , IT in Manufacturing
German company, Otto Boge (Boge), develops compressed air systems for which it offers an extensive portfolio of components, machines and complete plants. To increase the efficiency of its production, 
...
Read more...
---
Industrial cybersecurity risk assessment and management
Technews Industry Guide: Industrial Internet of Things & Industry 4.0, Proconics , IT in Manufacturing
Since the acceptance of the various IEC62443 modules as national standards: SANS62443-2-1/4, SATS62443-1-1 and SATR62443-3-1, there has been confusion about the requirements, methodologies and implementation. 
...
Read more...
---
High-performance rackmount computers for Industry 4.0
Technews Industry Guide: Industrial Internet of Things & Industry 4.0, RJ Connect , IT in Manufacturing
With more and more companies implementing IIoT applications, the demand to connect hundreds or thousands of devices to industrial automation systems has increased dramatically. Moxa's DA-720, a high-performance 
...
Read more...
---
SHEQ document reporting in real-time
Technews Industry Guide: Industrial Internet of Things & Industry 4.0 , IT in Manufacturing
While the manual compilation of a Safety, Health, Environment and Quality (SHEQ) documentation report can take up to 20 man hours, Passport 360 can potentially slash this to an astonishing three minutes. This 
...
Read more...
---