printer friendly version
Optimised fuel blending
May 2019
Analytical Instrumentation & Environmental Monitoring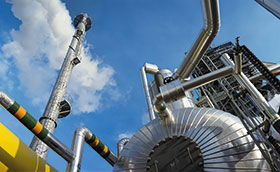 With the increase in emission regulatory norms worldwide, and the market moving from Euro 2 to 3, 4 and 5, the criticality of the refining process has increased and the risk of producing an out of specification product has increased.
This risk has led the refiners to give more than the norms specify, resulting in a giveaway on quality and profit. The use of near infrared (NIR) technology has helped refiners get real-time data to ensure product quality and reduce the risk of producing an off-spec products.
Why is it important to use NIR?
Final product blending represents perhaps the most quality-critical aspect of refinery operation. Tight product quality characteristics are defined, and must be met for product release. If these criteria are to be met economically, then rapid and accurate online product property measurement is necessary.
The measured product qualities are then available in real time for feeding to an online blending optimiser, thus ensuring the most economic blending operation to achieve blend targets.
Conventionally, this has been done with a large variety of analysers to monitor blend properties and octane. These analysers are extremely expensive, in terms of both capital and maintenance.
Typically, a conventional physical property analyser is slow to give results, however there are no online analysers for RON/MON or Cetane index measurement. A typical refiner's practice will be to collect samples every eight hours from three different heights in the storage tank. These are sent to the laboratory for conventional analysis. This takes another six to seven hours for laboratory testing, which means the refiner is without data for about fifteen hours. What if a product is then reported off-spec? The refiner will have to re-blend the entire tank, resulting in lost productivity and profit.
How does NIR technology help?
NIR is typically designated to measure certain physical properties like RON, MON, RVP, distillation curves E70, E100, E150, E180,FBP, D10, D50 and D90, oxygenates, benzene, aromatics and olefins.
By accurately measuring final product qualities in real time, these analysers allow feeding any online advanced blend control blend optimiser with the required product qualities to minimise product re-blends and quality giveaway, and allows the use of lower cost feedstocks, while still meeting final product quality targets. Accurate measurement of blending component qualities as they arrive at the blend header also allows the optimiser to determine the best achievable blend order.
The result of a sample analysis takes at most two minutes, so if anything is off-spec the refiner can take immediate corrective action, reducing the risk of re-blend to zero.
How does it work?
NIR works on the principle of IR spectroscopy i.e. when an infrared light is made to pass through a hydrocarbon the sample absorbs some and the remaining light is passed to the detector, which creates a spectrum.
The importance of a localised database
Database models are available for several key refinery streams and properties. These are built from data collected from several refineries. They may not provide accurate predictions due to differences in crude sources, processing steps and blending targets, however, they give usable results in the preliminary stages. Now, since each refinery has its own crude supply and operational parameters, it is important to introduce data from the local refinery to increase the accuracy of the system.
To make a model, samples should be collected from the process, for each of the sample the spectra (spectrum) should be generated on a Lab FT-NIR and the corresponding properties of each of these samples should be measured using conventional lab analysers. Now each samples spectrum and its corresponding properties measured on lab FTNIR and conventional lab analysers respectively can be used as a data point. A large number of such data points are required to make a local database.
The number of samples required to build a database depends on the variation for each of the properties. The model database should cover the entire range of variation expected in the process. These variations include the crude changes, seasonal variations, and also day and night variations.
However, in case of variations not being captured as it is difficult to change or alter the running process, it may be decided that the laboratory prepare synthetic samples by mixing various feed components in different ratios to create a database covering the entire range.
The ASTM accuracy: related to the number of samples taken to build the database, should be such that it has a 95% confidence level.
The quality giveaway: NIR technology is used to prevent the quality giveaway, which results in large savings on costly feed components. Thus for the example of RON, where the minimum limit may be 91 for regular gasoline, and the customer may decide on an accuracy of 0,5 RON, the samples in the database should be good enough to show 95% confidence level for the desired accuracy.
With all this in view, it is very difficult to determine the exact number of samples required to have a good enough database. The bigger and varied the database, the better, will be the prediction. However, with bigger datasets the work required by laboratory personnel on conventional analysers also increases.
What properties can be measured using NIR? What is the repeatability and accuracy?
This is an important aspect of maintaining the reliability and credibility of an installed process FTIR analyser, and is of particular significance for critical optimisation and quality giveaway applications. The discipline of monitoring the online analyser performance versus the site laboratory reference allows for rapid detection and adjustment in case of divergence. Medium-term drift and offset of the laboratory reference needs to be compensated, and calibration modelling effects caused by changes in the blend order or blending component availability need to addressed.
Yokogawa application engineering makes NR800 FT-NIR hardware come alive and work successfully.
Improving the refining margin with online analysis and optimisation
The table shows the results of cost of octane giveaway, per year 0,1 RON (pump octane) per 200 000 bbl/day CDU capacity.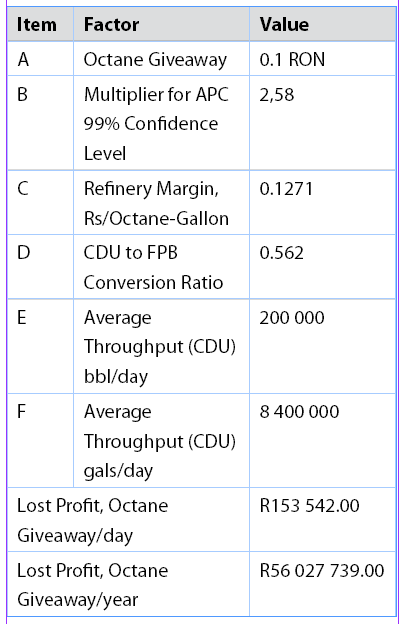 The ROI for payback based only on RON is 2-3 months.
Final product blending – summary
Yokogawa's NR800 FT-NIR is technology offers an excellent price-performance-value-risk trade-off for online final product blend optimisation. As an optically-based technology, it allows flexibility in terms of multi-stream, multi-property applications, since it is compatible with both local, fully extractive sampling, as well as remote, multi-cell extractive fibre-optic based analyser systems.
It offers multi-property analysis with rapid cycle times well-tuned to the requirements of an advanced blend control optimiser. It is also well established, with hundreds of installations globally providing examples of successful implementation.
Historically, the limitation to any spectroscopic measurement for online final blend product control has been the difficulty in developing, and more particularly maintaining, robust and stable calibration models. This has been mitigated by recent developments including well-controlled analyser to analyser variability, allowing easy maintenance and transferability of developed calibrations, and the use of globally applicable product databases to speed up calibration development.
Fuel blending optimisation is achieved through fuel analysis, which requires refiners to take control of the situation by continuously updating their inferential methods in an intelligent manner, based on experience, engineering expertise and judgment.
For more information contact Yuvisti Ramgulam, Yokogawa South Africa, +27 11 831 6300, yuvisti.ramgulam@za.yokogawa.com, www.yokogawa.com/za
Credit(s)
Further reading:
Climate is what we expect – weather is what we get
July 2019, GHM Messtechnik SA , Analytical Instrumentation & Environmental Monitoring
The influence of meteorology is significant on every human activity in modern life.
Read more...
---
On-line analysers for power chemistry applications
July 2019, Microsep , Analytical Instrumentation & Environmental Monitoring
Efficient and reliable monitoring of low concentrations of various impurities in pure water treatment is critical for microelectronics and power cycle chemistry applications. Mettler Toledo Thornton offers 
...
Read more...
---
The source of life
July 2019, Endress+Hauser , Analytical Instrumentation & Environmental Monitoring
The water and wastewater industry oversees one of the world's most important resources. This calls for continuous investments in infrastructure and new technologies. When viewed from outer space, the 
...
Read more...
---
Smart pH measurement solutions
July 2019, EOH Process Automation Solutions , Analytical Instrumentation & Environmental Monitoring
Foxboro has announced the expansion of its Smart pH product family. The enhanced Model 876PH-S transmitter, along with recently released Smart PH10 and PH12Smart pH Sensors, now provide smart pH measurement 
...
Read more...
---
Thermal compressed air meter
July 2019, ifm - South Africa , Analytical Instrumentation & Environmental Monitoring
This new thermal compressed air meter for compressed air in industrial use distinguishes itself as an all-rounder. It not only has an integrated temperature sensor, but also features a pressure sensor, 
...
Read more...
---
Inline analytical technology for liquor process control
May 2019, Morton Controls , Analytical Instrumentation & Environmental Monitoring
One of the most important processes in the pulp and paper industry is the alkaline sulphate process, where lignin is separated from the fibrous material. Recycling of the chemicals used is vital for environmental 
...
Read more...
---
Gas monitors
Africa Automation Fair 2019 Preview , Analytical Instrumentation & Environmental Monitoring
RTS Africa Technologies is exhibiting LaserGas gas monitors from Neo Monitors.    These are ideal for accurate measurement of specific components in gas mixtures such as flue gases. The NEO LaserGas monitor 
...
Read more...
---
Spectrum analysers for RF signals
Africa Automation Fair 2019 Preview, Accutronics , Analytical Instrumentation & Environmental Monitoring
Accutronics is exhibiting the SignalShark real-time spectrum analysers for the detection, analysis, classification and localisation of RF Signals. These are on show at Stand D06. Features include a frequency 
...
Read more...
---
In-situ gas analyser
Africa Automation Fair 2019 Preview, Microsep , Analytical Instrumentation & Environmental Monitoring
Mettler Toledo Ingold's GPro 500 TDL system is ideal for tough and challenging gas measurement applications and is designed for in-situ petrochemical processes and safety applications. TDL gas analysers 
...
Read more...
---
Process filtration solutions
Africa Automation Fair 2019 Preview , Analytical Instrumentation & Environmental Monitoring
National Separations is showcasing its range of liquid and gas filtration systems supplied by Amazon Filters at Stand B10. Amazon Filters is a global supplier of a comprehensive range of microfiltration 
...
Read more...
---