printer friendly version
DIN rail redundancy power modules
February 2020
Electrical Power & Protection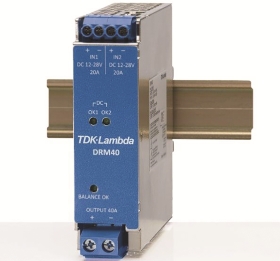 RS Components has announced availability of a new series of DIN rail-mount redundancy power modules from TDK-Lambda, a group company of TDK corporation and a leading maker of highly reliable power supplies for industrial equipment worldwide.
Designed for automation and general-purpose industrial applications, the DRM40 and DRM40B power modules offer 20 to 40 A current handling capability and can be used in N+1 redundancy systems and applications; alternatively, two supplies can be placed in parallel for additional power.
A key feature of the higher-end DRM40 unit is a current-balancing LED indicator, which turns on when two power supplies have been adjusted to deliver the same current, thereby making it easier to ensure load sharing. In addition, two isolated alarm signals indicate the output voltage status of each power supply, making it simple to enable remote fault monitoring. However, a lower cost unit – the DRM40B – is also available for applications not demanding these advanced features.
Designed to take up less space on the DIN rail, the DRM40 series comes in a highly compact unit with dimensions of only 35 x 125 x 124 mm. Offering an operating temperature range of –40 to 70ºC, key electrical characteristics include an internal voltage drop of only 200 mV at 40 A, enabling low power loss, a wide input voltage range of 10 to 30 V, and maximum input current of 20 A on each of the unit's two inputs, plus a peak input capability of 2 x 30 A for 4 seconds.
Credit(s)
Further reading:
EnI Electrical delivers at the sharp end of African contracts
March 2020, Zest WEG Group , Electrical Power & Protection
Usually the last contractor on site, electrical instrumentation and control (EC&I) specialist EnI Electrical puts extra effort into helping clients around Africa meet their scheduled start-ups. With 
...
Read more...
---
In-house testing of transformers
March 2020, Zest WEG Group , Electrical Power & Protection
The recent installation of an impulse voltage generator at Zest WEG's transformer manufacturing facility in Heidelberg will allow in-house testing of transformers, saving time and money for customers. According 
...
Read more...
---
Sulphate and chloride monitoring
March 2020, Microsep , Electrical Power & Protection
Chlorides and sulphates cause pitting and stress corrosion in expensive power plant components, such as turbines and boilers, leading to extensive maintenance and unplanned shutdowns. Monitoring these 
...
Read more...
---
Legrand's high-performance UPS systems
March 2020, Legrand , Electrical Power & Protection
Legrand's advanced uninterruptible power supply (UPS) systems ensure maximum continuity of service of essential electrical equipment, by providing reliable performance in terms of power and backup time, 
...
Read more...
---
Bringing critical power distribution infrastructure out of the dark
March 2020, Schneider Electric South Africa , Electrical Power & Protection
As the trend towards digitisation becomes pervasive across many industries and operations, the benefits offered to power distribution systems should not be overlooked. However, due to the ageing infrastructure 
...
Read more...
---
Quad-flow particle and gas respirators
March 2020, RS Components SA , IS & Ex
RS Components has introduced the 3M Secure Click HF-800 respirator series, which uses a quadruple-flow filter/cartridge system to enhance breathability. 3M Secure Click is a range of reusable half-mask 
...
Read more...
---
RS Components unveils expansion of hand-tool portfolio
March 2020, RS Components SA , Maintenance, Test & Measurement, Calibration
RS Components has announced a major expansion of its RS PRO hand-tools range, enabling maintenance engineers to purchase individual devices not previously available. The portfolio will see a significant 
...
Read more...
---
The importance of surge protection in the lightning protection arena
February 2020, DEHN Protection South Africa , Electrical Power & Protection
In order to understand the need for surge protection, it is important to understand how lightning causes damage. The sources of lightning damage can be quite different, therefore different protection 
...
Read more...
---
Power measurement from sensor to cloud
February 2020, Beckhoff Automation , Electrical Power & Protection
With the new SCT current converters, Beckhoff completes the power measurement chain that now ranges from measuring the physical value to transmitting the captured data to the cloud. The portfolio of current 
...
Read more...
---
Solar plant monitoring and control
February 2020, RJ Connect , Electrical Power & Protection
The power industry is now ready for clean power such as solar energy. Utility-scale solar power stations with electric power capacity of more than 50 MW and the capability to feed excess power back to 
...
Read more...
---