printer friendly version
A game plan for digital transformation
June 2018 News Security Services & Risk Management
X-Change 2018, Wonderware Southern Africa's 26th annual User Conference was recently held at the picturesque Champagne Sports Resort in the Drakensberg. The theme was GameON! Define your game plan for digital transformation – how digitalisation transforms business processes. The 420 industry professionals, a record-breaking number, were treated to in-depth information sharing, education and networking opportunities in a power-packed event. The outcome was that delegates learnt how to cut through the IIoT hype and to have a game plan to improve productivity and return on capital, enabling insights across enterprise value chains, enhance competitiveness and improve customer experience. It was also an opportunity to learn about the significant benefits that AVEVA and Schneider Electric's industrial software business have combined to create a leading engineering and industrial software company.
The event was a huge success – bigger and better than ever. Here are some of the statistics:
• 420 delegates.
• 5 keynote addresses.
• 36 international and local presenters.
• 67 breakout sessions including 12 end-user presentations featuring major South African projects.
• 20 partner exhibitors and 20 Wonderware stands featuring the latest product releases, capabilities and hands-on training.
Top drawer presentations by the five keynote speakers set the scene
1. Vision and strategy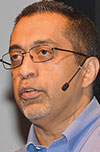 Ravi Gopinath, COO of AVEVA delivers the opening keynote address.
Ravi Gopinath, COO of AVEVA, gave an overview of the company's vision and strategy and Schneider Electric's new look industrial software business. The aim is to drive digital transformation across the asset and operational lifecycle of capital intensive industries. He said that the industrial landscape is changing profoundly. Today we are overwhelmed with information and there is a wealth of technology available.
Companies need to ensure reliability of their assets through an opex phase of over 50 years. His advice was to be led by your business process, not technology – you do not need to implement all the buzzwords. Rather step back and look through the lens of your business processes and value chains. Critical factors when embarking on the digital transformation journey are to look for the value leaks or unrealised opportunities across value chains. Identify the business processes and activities associated with these areas, determine the technology that will best realise the value, and then work with partners through a roadmap.
He related international success stories, with examples of how functionality across the platform delivers value. These included ADNOC, Shell Pernis Refinery, EDF Nuclear Power Plant, Duke Energy, BP, Roy Hill Australia and New Belgium Brewery. All have realised significant return on investment in areas such as visualisation control, predictive asset analytics, planning and scheduling, and utilisation of renewable energy.
2. Customer innovation
Grant Wolff, demand manager for AB InBev, painted a picture of ABI's journey of innovation, starting with iBayi Brewery in Port Elizabeth, where, in partnership with Wonderware, they are creating the brewery of the future. He said that only 12% of the Fortune 500 companies of 1995 are still in business today. The average age has come down to 20 years. Disruptive technology is blamed for killing corporate America, but in fact it is the lack of embracing new technology. Most companies do not know how to implement innovation, they throw buzzwords at the problem and innovate for its own sake. He added that innovation must be infused in the business and gave some examples of how ABI achieves this.
3. Fact or fiction
Stephan Kotze, client director of manufacturing for Aurecon, said that we have access to all the technology and money we can hope to spend. The question is how to make choices about what investment to make and what to change in your business in order to work more effectively. Bigger is no longer better, the biggest obstacle to achieving your potential is mindset. According to the World Economic Forum, digitalisation will bring another €298 billion in additional value to MMM companies from 2018 to 1025 through productivity gains, cost reductions and fuel and energy savings. He warned that if your organisation is not thinking about disruption and revolution, then expect a short lifecycle. Standard ERP solutions offer no competitive advantage. You have to make a difference in the core value chain.
He described how the merger of AVEVA's 3D design tools with the software assets of Schneider Electric has resulted in the development of a platform to create a digital twin at the early stages of a project. This has brought new immersive technologies for training in order to deliver a safer environment.
4. Trends, technology and software roadmap
Didier Collas, technical sales director for AVEVA, spelt out the benefits of cloud technology and what AVEVA can offer with its unique value proposition, Hybrid. The cloud can bring agility, scalability and nearly unlimited capacity. Typical applications are in process design, handling of process data and training.
5. What is life?
For anyone not already in orbit after this feast of new ideas, theoretical physicist, Dr Adriana Marais, provided the booster. She is on the shortlist of 100 to go to Mars – one way. She had the audience spellbound with her vision of life on Mars.
Sessions – delving into today's verticals
Introduced for the first time at X-Change 2018, delegates had the opportunity to delve deep into vertical-specific content and solutions for each of Wonderware's key markets. They could access every possible bit of information in an easily digestible colour-coded form using the Hello Crowd app. There are far too many to mention but here are a few highlights.
Experts covered how to start your digital transformation in oil and gas with predictive analytics; how the BASF catalyst plant in Port Elizabeth optimised a complex chemical production process; new developments in Wonderware Historian Server for comprehensive industrial data management; and AVEVA's fascinating SimCentral 2.0 platform simulation, which can create a digital twin for the entire process lifecycle.
The mining industry is in the very early stages of transformation. The contributions in this vertical focused on how to make a start; make continuous improvements in efficiency; implement an end-to-end optimised plan; move from reactive to proactive maintenance; and centralise the monitoring and control functions of all processes.
In the food and beverage and CPG line, emphasis was placed on the challenges food and beverage manufacturers face. Solutions were explored to make the most out of existing investments and improve operational efficiency through digital transformation.
If day one was about strategy, day two was about the products, diving deeper into four new ground-breaking AVEVA products focusing on asset management, maintenance and monitoring, predictive asset analytics, and an industry-leading mobile workforce decision-making system.
A highlight at the Expo was the video wall, collaboratively designed by Iritron, Oculus, Datacentrix, First Technology, APC by Schneider, and Wonderware as part of a project at Assmang Black Rock Mining Operations. They demonstrated a catastrophic failure of a data centre and how the servers could be brought back into full operation within nine minutes.
The grand finale
The conference was topped off with a gala dinner, while wacky comedian, Alan Committie entertained the crowd. The following awards were made in recognition of excellence:
• Best Presenter: Grant Wolff, AB InBev.
• Best Flow Software Innovation: Oranjevis Joint Venture.
• Best HMI/Scada Application: Oranjevis Joint Venture.
• Best Industrial Information Management Application: Assmang Manganese, Black Rock Mining Operations.
• Best Manufacturing Operations Management Application: Namibia Breweries.
• Best Innovation: BASF.
• Best Digital Transformation Strategy: Assmang Manganese, Black Rock Mining Operations.
• Best Business Value: RCL Foods.
• Best Workforce Empowerment: Aspen.
• Most Current Certifications: Control Systems Integration.
• Top System Integrator, 4th Runner-up: Systems Anywhere.
• Top System Integrator, 3rd Runner-up: Welkom Industrial Controls.
• Top System Integrator, 2nd Runner-up: Iritron Group.

Top System Integrator, 2nd Runner-up: Iritron Group.
• Top System Integrator, Runner-up: Advansys.
Top System Integrator, Runner-up: Advansys.
• Top System Integrator, Winner: Control Systems Integration.

Top System Integrator, Winner: Control Systems Integration.
What to take away
Chatting to some of the exhibitors their enthusiasm bubbled over. The three days were a celebration of the union between AVEVA and Schneider Electric and an opportunity for end-users to see for themselves the benefits, an introduction to digital transformation for some, and a helping hand in embarking on this journey. Among all the words of wisdom, some nuggets to take away were:
• Be led by your business process not your technology.
• You do not have to implement all the buzzwords.
• Consider the cloud as a value proposition.
• You need to disrupt to innovate.
• If you can visualise your process you can follow it for fifty years.
For more information contact Clarise Rautenbach, Wonderware Southern Africa: Distributor of AVEVA Software, +27 (0)11 607 8473, clarise.rautenbach@wonderware.co.za, www.wonderware.co.za
Credit(s)
Further reading:
From the editor's desk: Is additive manufacturing poised to go mainstream?
March 2021, Technews Publishing (SA Instrumentation & Control) , News
As digital manufacturing technology pushes its way further towards the production floor, additive manufacturing (3D printing) is emerging as a viable option to complement the more traditional methods 
...
Read more...
---
The year resilience paid off
Issue 8 2020 , Editor's Choice, Security Services & Risk Management
Hi-Tech Security Solutions spoke to Michael Davies about business continuity and resilience in a year when everything was put to the test.
Read more...
---
Fluid Systems Africa – official Arpol partner for Africa
August 2021, Fluid Systems Africa , News
Fluid Systems Africa has recently been appointed as the official partner of Arpol flexible pipe couplings in Africa.
Read more...
---
BMG boosts solutions through Heko products
August 2021, Bearing Man Group t/a BMG , News
Through the supply and support of Heko products, BMG has boosted its solutions service to customers wanting to optimise the efficiency of their bulk material conveyor systems.
Read more...
---
Bosch Rexroth electrifies subsea process automation
August 2021 , News
Bosch Rexroth has engineered a disruptive innovation for electrically actuating valves in the subsea process industry.
Read more...
---
Endress+Hauser opens vaccination centre
July 2021, Endress+Hauser South Africa , News
As part of a model project, Endress+Hauser is operating a vaccination centre for employees in Maulburg.
Read more...
---
Top 10 security misperceptions
Issue 4 2021 , Cyber Security, Security Services & Risk Management
The Sophos Rapid Response team has compiled a list of the most commonly held security misperceptions they've encountered in the last 12 months while neutralising and investigating cyberattacks in a wide range of organisations.
Read more...
---
IS³ accelerates digital transformation through its AVEVA Select partnership
July 2021, IS³ - Industry Software, Solutions & Support , News
IS³ has announced that it has become the first AVEVA Select partner in the EMEA region, making it the only authorised distributor for AVEVA products in southern Africa.
Read more...
---
Flow Software joins the Eclipse Foundation and Sparkplug Working Group
July 2021 , News
Sparkplug governing body and industry collective welcomes an innovative industrial data analytics and information management software provider to help drive the future of the protocol.
Read more...
---
IS³ accelerates digital transformation through its AVEVA Select partnership
July 2021, IS³ - Industry Software, Solutions & Support , News
IS³ has announced that it has become the first AVEVA Select partner in the EMEA region, making it the only authorised distributor for AVEVA products in southern Africa.
Read more...
---