printer friendly version
Schneider Electric announces local manufacturing and reduced lead times
January 2020
News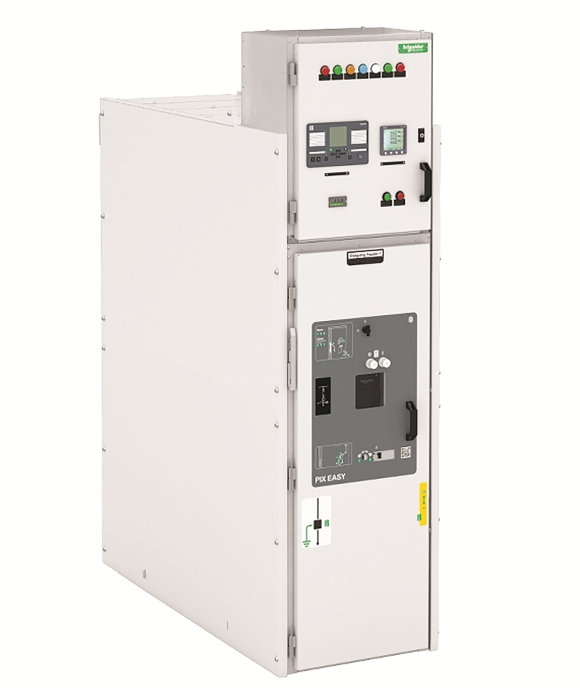 Schneider Electric South Africa has announced that its PIX Easy Air Insulated Switchgear, previously 100% internationally manufactured, will now have a 68% local finishing process, reducing the customer waiting period from 12 weeks to 4 weeks, and boosting local manufacturing and empowerment.
"This is only the second local manufacturing licence on this particular offering that Schneider Electric global has signed and represents a major step for Schneider Electric South Africa and our Gauteng-based RWW Engineering partner," said Taru Madangombe, vice president of power systems, Anglophone Cluster for Schneider Electric. "Through this partnership, we are able to service our customers quickly, with the certain knowledge that the local assembly meets the stringent global requirements and standards of Schneider Electric.
"This type of deal is crucial to grow the South African economy and boost our exports, as we are now able to reach other markets outside our borders, as evidenced with the projects that we have already done in Ghana with RWW, subsequent to the signing of the PIX project.
"President Ramaphosa is pushing for support of local manufacturing and design and this is key to our organisation in terms of making sure that we transfer the knowledge and skills to our own people in the country. We are committed to increasing this local content, possibly even aiming as high as 80%."
"This has been a long and involved design process," added Jeremy Woods, director of RWW Engineering. "Safety is a prime concern with switchgear and PIX Easy is locally made to meet international safety requirements. I believe that this kind of high-quality equipment will be well received in the market."
The PIX Easy Air Insulated Switchgear adapts to all electrical power distribution requirements up to 17.5 kV. It is metal enclosed, intended for medium voltage applications such as those found in HV/MV or MV/MV substations, buildings and industries.
"PIX Easy is essential for electrical utilities and smart cities," concluded Madangombe. "It is utilised in the food and beverage, automotive, water and wastewater, small industries and life sciences."
For more information contact Prisca Mashanda, Schneider Electric SA, +27 11 254 6400, prisca.mashanda@se.com, www.se.com/za
Credit(s)
Further reading:
HMA Geotechnical solution for greenfield ammonia plant in Indonesia
June 2020 , News
HMA Geotechnical has supplied its Wisenmeshnet wireless infrastructure monitoring system for one of the largest industrial projects in Indonesia. This is the first time that this system, intended mainly 
...
Read more...
---
Africa Medical Supplies Platform launched
June 2020, Bearing Man Group t/a BMG , News
The Africa Medical Supplies Platform (AMSP), of which local company, Invicta Holdings, is a key supplier, is now officially live as part of a continent-wide effort to contain the Covid-19 pandemic. In 
...
Read more...
---
Africa Automation Technology Fair announces launch of virtual event series
June 2020, Reed Exhibitions , News
The Africa Automation Technology Fair (AATF) organiser, Reed Exhibitions, announced the launch of a series of virtual events to take place from July 2020 on the AATF digital platforms. The event series 
...
Read more...
---
Tektronix and Coherent Solutions partner for integrated optical communications
June 2020, Comtest , News
Comtest has announced that technology companies Tektronix and Coherent Solutions have an exclusive partnership agreement to provide fully integrated optical communications platforms to new and existing 
...
Read more...
---
Artificial Intelligence and Dawn of Disruption
June 2020 , News
Since the phrase Artificial Intelligence (AI) was coined in the 1950s, technology has advanced significantly and transformed our social and work worlds. Some industry luminaries are bullish about the 
...
Read more...
---
Limestone calciner takes command of operations with new control room
June 2020, Rockwell Automation , News
There are few qualities so desirable for a business to have than an ability to adapt to change. Industries evolve, circumstances shift, but what remains over time are those businesses with the foresight 
...
Read more...
---
Africa Automation Technology Fair 2021
May 2020, Reed Exhibitions , News
It's one year until the doors open to Africa's leading industrial automation technology event. Set to take place at the Ticketpro Dome from 18-20 May 2021, the event will be attended by South African, 
...
Read more...
---
Endress+Hauser sees itself as well positioned
May 2020, Endress+Hauser South Africa , News
Endress+Hauser performed well across all fields of activity, industries and regions in 2019. The Group created hundreds of new jobs, invested record amounts and improved in the area of sustainability. 
...
Read more...
---
Comtest trading for 15 years
May 2020, Comtest , News
Comtest, one of South Africa's leading providers of test, measurement and communications equipment, is proud to mark its 15-year trading milestone in 2020. CEO Barend Niemand says, "Comtest has representation 
...
Read more...
---
Hytec Pretoria exhibits at Mining & Technical Expo
May 2020 , News
Hytec Pretoria exhibited at the Mining and Technical Exhibition (MTE) at the Cullinan Sports Ground in Tshwane, the first MTE for the year held in February. The company showcased a wide range of products 
...
Read more...
---