printer friendly version
ETG officially supports EtherCAT G
December 2019
Fieldbus & Industrial Networking
The Technical Committee of the EtherCAT Technology Group (ETG) has accepted EtherCAT G as an addition to the EtherCAT standard. Moving forward, EtherCAT G, which extends EtherCAT technology to 1 and 10 Gb/s, respectively, will be supported and promoted by the ETG.
EtherCAT G was introduced by Beckhoff Automation in 2018 as an extension of the EtherCAT standard. Beckhoff recently presented the gigabit technology addition to the ETG, and after thorough review, the organisation's Technical Committee accepted it. Dr Guido Beckmann, chairman of the ETG Technical Committee, explains: "EtherCAT is already the fastest industrial Ethernet fieldbus, and will remain so due to its special functional principle. With EtherCAT G, particularly data-hungry applications, such as machine vision and high-end measurement technology, can now also be integrated, which extends the range of applications."
The well-known 100 Mb/s EtherCAT technology remains the proven solution for the majority of applications. However, EtherCAT G offers additional user advantages, especially in applications where particularly large amounts of process data must be transported per device. This can include, for example machine vision, high-end measurement technology or complex motion applications that go beyond the scope of classic drive control. Existing devices designed for 100 Mb/s can be seamlessly integrated into an EtherCAT G system, and EtherCAT G devices in a 100 Mb/s EtherCAT system behave like classic EtherCAT devices.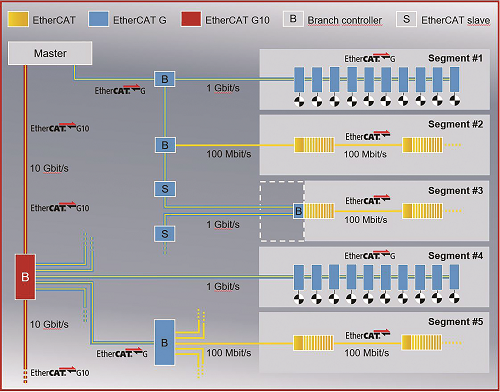 The central element of EtherCAT G is the use of EtherCAT Branch Controllers, which essentially fulfil two functions: On the one hand, they act as a node for the integration of segments from 100 Mb/s devices; while on the other, they enable parallel processing of the connected EtherCAT segments. This significantly reduces the propagation delay in the system, which increases system performance.
The integration of EtherCAT G is simple as the extension is fully compatible with the IEEE 802.3 Ethernet standard, and no software adaptions in controllers are required standard modes. "The advantages of EtherCAT are well known and include processing on the fly, comprehensive diagnostics, simple configuration and integrated synchronisation," concludes Beckmann. "These attributes are of course fully retained when EtherCAT G is used."
For more information contact EtherCAT Technology Group, +49 911 540 56 226, press@ethercat.org, www.ethercat.org
Further reading:
Integration gateway for industrial automation
June 2020, SICK Automation Southern Africa , Fieldbus & Industrial Networking
Sensor specialist company SICK recently announced its new SIG200 Profinet Sensor Integration Gateway. The product is the first of a new line of gateways created to work as both IO-Link masters and small 
...
Read more...
---
Bronkhorst adds Ethernet/IP
June 2020, Mecosa , Fieldbus & Industrial Networking
Bronkhorst High-Tech has announced the availability of Ethernet/IP and Modbus-TCP interface options for its mass flowmeters and controllers, as well as its digital pressure controllers. Like the previously 
...
Read more...
---
Tailored to the demands of the future
June 2020, Pepperl+Fuchs , Fieldbus & Industrial Networking
Gateway for the seamless integration of device and process data.
Read more...
---
IO-Link through to the cloud
May 2020, Pepperl+Fuchs , Fieldbus & Industrial Networking
The smart combination of the IO-Link sensor interface and the OPC UA communication protocol in a single device gives Pepperl+Fuchs new opportunities to offer complete, seamless, and transparent communication 
...
Read more...
---
Seamless integrated connectivity for electric automation from Festo
April 2020, Festo South Africa , Fieldbus & Industrial Networking
The cloud is everywhere. We save data on the cloud and access it on our phones and computers from anywhere at our convenience. The same applies to seamless connectivity in industrial automation from your 
...
Read more...
---
I/O for the IIot
April 2020, Opto Africa Holdings , Fieldbus & Industrial Networking
Intelligent, Ethernet-based I/O unit for IIoT connection to real-world signals.
Read more...
---
Breaking into the Industrial Internet of Things
March 2020, Pepperl+Fuchs , Fieldbus & Industrial Networking
IO-Link paves the way from the sensor to the cloud.
Read more...
---
ETG provides new developer tool
March 2020 , Fieldbus & Industrial Networking
The EtherCAT Technology Group (ETG) offers manufacturers, developers and users comprehensive support services for EtherCAT technology. The EtherCAT Device Protocol Poster is an additional tool that specifically 
...
Read more...
---
Wireless connectivity for hazardous locations
March 2020, Comtest , Fieldbus & Industrial Networking
Comtest – local representative of Industrial Scientific, global leader in gas detection – has introduced the RGX Gateway, which enables designated safety contacts to receive real-time alerts for gas hazards, 
...
Read more...
---
Adding mobile network visibility
January 2020, RJ Connect , Fieldbus & Industrial Networking
A high-speed railway operator built a fibre Ethernet backbone for data transmission between its operational management centre and railway stations to ensure high network availability. The customer used 
...
Read more...
---