printer friendly version
From the editor's desk: The power of 23
December 2019
News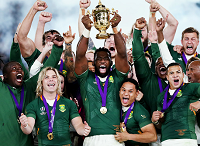 Have you ever looked back on a year and wondered how you survived it? For the majority of South Africans, 2019 was such a year. It started benignly enough, cosily wrapped in the blanket of Ramaphoria that enveloped us all at the end of last year. By the beginning of February though, the blanket had worn thin, and by March, it offered little comfort against the chill of bad news sweeping the country.
No sooner had we recovered from the misery of Stage 4 load shedding, than an unprecedented outbreak of looting and xenophobic violence left Johannesburg reeling in horror. State capture hearings dominated the news bulletins, along with gloomy forecasts of lower than expected economic growth, failed state owned enterprises, and a burgeoning unemployment problem.
It culminated on Saturday 2 November in a headline to the effect that ratings agency Moody's had revised its assessment of South African government debt from stable to negative. More bad news; next step, a downgrade to junk, and an inevitable increase in taxes. But this time there was a glimmer of hope. The Springbok team had made it all the way to the final of the rugby World Cup and head-coach, Rassie Erasmus, had just named the squad of 23 players to face co-finalists England later in the day. The English were favourites, but, captained by Siyamthanda Kolisi, the Springboks looked in formidable condition. The entire country united behind them, desperate for a win to cut through the prevailing negativity and restore a semblance of national pride, ala 1995.
The rest is history. During eighty pulsating minutes under the floodlights of a packed Yokohama Stadium, 23 Springbok heroes played their hearts out and did more for 57 million South Africans than their entire government had in the last decade. Refreshingly humble during a post-match interview, the Springbok captain thanked all South Africans for their support and attributed the team's success to their belief in each other and their shared commitment to become stronger together. Imagine then what we could achieve as a nation if only we could find 23 such committed politicians, and a hero to unite us…
Thanks to sport, we South Africans end a difficult year filled with pride. So let me use the opportunity on behalf of the team at South African Instrumentation & Control to wish all our readers and advertisers a relaxed and joyful holiday season. Come back safe, rejuvenated and ready to face the challenges of 2020 #StrongerTogether.
Steven Meyer
Editor: SA Instrumentation & Control
Credit(s)
Further reading:
Plan your media strategy with Technews Publishing
November 2019 , News
Dear Marketer, Have you ever looked back on a year and wondered how you survived it? For the majority of South Africans, 2019 started benignly enough, cosily wrapped in the blanket of Ramaphoria that 
...
Read more...
---
Robust absolute linear position measurement
December 2019, ATI Systems , News
Temposonics, an MTS Systems company, is a leading supplier of magnetostrictive sensors, which are rapidly becoming the transducers of choice in many applications.
Read more...
---
Honeywell helps transform petrochemical operations
December 2019, Honeywell ACS South Africa , News
Honeywell has announced that Braskem Idesa has adopted a hands-free, wearable connected technology solution at its plant in Veracruz, Mexico. Honeywell's Intelligent Wearables will allow Braskem Idesa 
...
Read more...
---
Lonza selects Rockwell Automation for digital transformation of pharmaceutical operations
December 2019, Rockwell Automation , News
Lonza has selected Rockwell Automation for the turnkey implementation of the strategic vision to bring the digital factory to nine facilities that manufacture drug capsules. The Swiss-based company, founded 
...
Read more...
---
Rocket car arrives in South Africa
December 2019 , News
The Bloodhound LSR car has arrived at Hakskeenpan, the dry salt lake bed in South Africa's northern Cape province, where over the next month a 25-strong crew will run tests that may see it exceed 800 
...
Read more...
---
Europe's largest-ever Emerson Users Conference to be held in Milan
December 2019, Emerson Automation Solutions , News
The largest-ever Emerson Global Users Exchange in Europe will be taking place in Milan, Italy, in 2020. The biennial conference will be held at the Milano Convention Centre from March 18 to 20, with current 
...
Read more...
---
World record for Festo's BionicOpter
December 2019, Festo , News
The Festo BionicOpter will be included in the 2020 Guinness World Records. The chapter 'Robots' presents the most amazing records from the world of super robots and artificial intelligence. The Festo 
...
Read more...
---
BMG's Food & Beverage Expo voted a success
December 2019, Bearing Man Group t/a BMG , News
BMG's recent Food & Beverage Expo, held at the BMG World distribution and engineering facility, has been voted a great success. "Highlights of the event included presentations from guest speaker, Linda 
...
Read more...
---
BI leverages synergies across Hudaco Group
December 2019 , News
As part of the Hudaco Group, Bearings International (BI) is able to leverage synergies across a broad range of companies, meaning it can offer a complete product basket across its branch network countrywide. In 
...
Read more...
---
Nidec extends warranty on Commander drives
December 2019, Nidec , News
Control Techniques has launched a free, five-year warranty for its Commander range of general-purpose drives. Anyone who purchases a drive from the Commander range will now be able to register to extend 
...
Read more...
---