printer friendly version
From the editor's desk: IT-OT integration becoming a must, but there are challenges
October 2019
News
We're seeing the insecurity around digital transformation start to fade as the history of case studies builds to show how enlightened manufacturing companies have applied the ideas to rationalise their operations. The IIoT is moving beyond hype and becoming a reality thanks to advances in sensor, networking and analytics technologies. However, as connectedness permeates down to the shop floor, the spread of Ethernet-enabled devices has started to give this traditional OT domain a distinctly IT look and feel.
Traditionally, IT has been responsible for the creation, transmission, storage and security of the organisation's data, mostly at the levels of administrative and customer relations activities. OT, on the other hand, centres on control of the manufacturing processes, with a direct and measurable impact on production efficiency and quality control. Thanks to the rise of the industrial Internet, these two conventionally separate domains are getting squeezed ever closer together. The introduction of smart metering devices, augmented reality, self-monitoring assets and cloud-based analytical packages has forced a gradual extension of the office IT network down to the production level, and even out into the field.
This does not come without risk, perhaps the most obvious being to network and device security. Some level of risk is vindicated of course, provided the rewards justify it and the situation can be responsibly managed. The question then becomes: Who should be held accountable for this? The answer is the CIO, but it's more complicated than that.
Making the CIO accountable in an IT-OT converged structure means that barriers between the engineering and IT departments must somehow be broken down and the two entities joined at the hip. Easier said than done when one considers that it involves much more than just rerouting a line on an organogram.
If the challenge were simply about technology integration then convergence would be easy. But it's not. It's about two different worlds colliding. Two departments which worked using completely different systems, technologies and vendors in the past, must now come together in such a way that the new generation of operational technologies exists alongside the organisation's current information and administration-focused IT systems.
To be successful requires new ways of thinking about traditional business structures, and in particular, the role of the CIO. In the converged business model, the responsibility of the CIO grows from purely leading IT delivery within the organisation, to taking responsibility for all process and information related assets, whether or not these were supported and managed by IT in the past.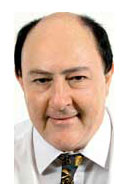 To reap full benefit from Industry 4.0's new digital technologies, IT and OT must live side by side in the future, which means an extension to the CIO's traditional areas of responsibility. As the call for digital transformation grows louder, the organisation's top management will be required to adopt new ways of thinking and expand their traditional skill sets. Contributing editor Gavin Halse examines these challenges in more detail in 'Integrating IT with Operations Technology – a CIO perspective'.
Steven Meyer
Editor: SA Instrumentation & Control
steven@technews.co.za
Credit(s)
Further reading:
From the editor's desk: Is additive manufacturing poised to go mainstream?
Technews Publishing (SA Instrumentation & Control) News
As digital manufacturing technology pushes its way further towards the production floor, additive manufacturing (3D printing) is emerging as a viable option to complement the more traditional methods 
...
Read more...
---
Obituary: Steven James Meyer
January 1957 - January 2022
Technews Publishing (SA Instrumentation & Control) News SAIMC
It is with deep sadness and shock that we announce the sudden death of SA Instrumentation & Control Editor, Steven Meyer. Steven joined Technews in October 2007 in the position of Deputy Editor. His 
...
Read more...
---
ESG certified as Level 2 contributor to B-BBEE
News
Invicta Holdings Limited's Engineering Solutions Group (ESG) has achieved recognition as a Level 2 contributor to B-BBEE.
Read more...
---
Abrasive Flow Solutions celebrates its first year of business
News
Abrasive Flow Solutions (AFS) – specialists in the design and manufacture of slurry related valves – celebrates its first year of business.
Read more...
---
Microsatellite production gets a boost in Stellenbosch
TANDM Technologies News
Dragonfly Aerospace is investing in a 3000 square metre design and manufacturing facility in Techno Park, Stellenbosch.
Read more...
---
Danfoss doubles down on energy efficiency
Danfoss News
Danfoss encourages decision makers to act at COP26.
Read more...
---
Zest supplies SA's new gas helium project
Zest WEG Group Africa News
Zest WEG is supplying locally manufactured transformers, switchgear and substations to South Africa's onshore natural gas and helium project, Tetra4.
Read more...
---
Emerson announces commitment to venture capital initiative
Emerson Automation Solutions News
Emerson Ventures to focus on disruptive discrete automation solutions, environmental sustainability technologies and industrial software.
Read more...
---
Valve & Automation's new Secunda Valve Repair Centre
Valve & Automation News
On 1 November 2021, Valve & Automation's Secunda Valve Repair Centre opened at 18 Kingfisher Street, Ext 57, Secunda, Mpumalanga.
Read more...
---
SECO Process Instrumentation appointed East Rand agent for Yokogawa
SECO Process Instrumentation News
SECO Process Instrumentation, a consulting company in the fields of instrumentation, moisture analysers, pneumatics and VSD solutions, has recently been appointed as the East Rand agent for Yokogawa.
Read more...
---