printer friendly version
EtherCAT P: EtherCAT with integrated power supply
February 2017
Fieldbus & Industrial Networking
Recently, EtherCAT P extended the well-known EtherCAT technology by integrating a power supply component, offering EtherCAT users a whole new way to improve topology flexibility and reduce system costs.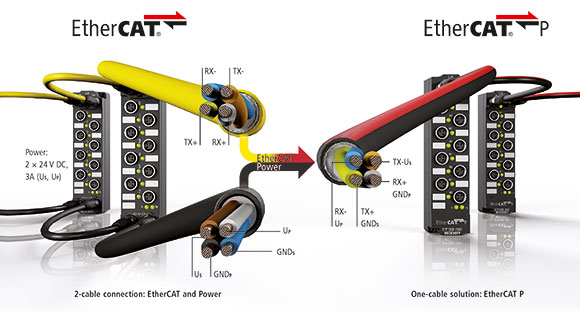 Accordingly, this technology has been accepted as addition to the EtherCAT standard within the EtherCAT Technology Group (ETG). The following article explains what EtherCAT P is, whether the EtherCAT standard will be replaced in the future, who benefits the most from the addition of EtherCAT P, and the role played by the ETG in its development.
One cable powers I/O and field devices
With EtherCAT P, Beckhoff Automation has developed an addition to the EtherCAT technology which extends the well-known advantages of EtherCAT by including a power supply on the very same cable as the system data. Users benefit not only from the typically high performance and flexibility of EtherCAT, but also from the option to directly transmit the current via two electrically isolated, individually switchable 24 V supplies within a standard 4-wire Ethernet cable. Thanks to this power transmission, the user can cascade several EtherCAT devices and therefore only needs one cable to connect and power I/O and field devices.
One of the main goals behind the development of EtherCAT P was to create a practical, robust system that enables the supply of power to EtherCAT devices via the same cable used for communication. Indeed, this was possible with PoE (Power over Ethernet) previously, but only usable to a limited extent for industrial applications. With EtherCAT P, this has changed: Beckhoff's One Cable Technology originally implemented for drive engineering now enables the implementation of this principle in entire machines, including at the sensor and I/O levels. Reducing cabling lowers system costs and also reduces potential error sources while connecting devices: M8 connectors specially designed for EtherCAT P make false connections practically impossible. In addition, the machine builder can use far more compact drag chains and can eliminate dedicated cabinet parts, thanks to the integrated energy supply.
Depending on the requirements of the device for power consumption, as well as the distance that must be bridged, one has to evaluate each application to determine if the use of EtherCAT P is possible and reasonable. Integrators must keep in mind that with EtherCAT P, just like with separately conducted supply lines, one has to consider the voltage drop caused by line resistance. This means that, if applicable, only shorter distances can be bridged. EtherCAT P is especially interesting for those parts of a machine that are self-contained, and often a bit isolated, as they can now be supplied with data and power through a single stub cable. Sensors of all types are perfectly suitable for EtherCAT P, as well: via one single compact M8 connector, these field devices are efficiently integrated into the high-speed network and connected to the supply voltage.
An addition to the portfolio
So, is EtherCAT P a new version of EtherCAT, and will EtherCAT be replaced by EtherCAT P? Of course not. EtherCAT P is positioned as an addition to the successful EtherCAT standard on the physical layer, which now contains a power supply, as well. Besides that, EtherCAT and EtherCAT P are identical regarding the protocol technology, which highlights the fact that no new EtherCAT slave controllers are necessary when using EtherCAT P. One could say that EtherCAT P has the same communication advantages as EtherCAT – high-speed, flexibility, performance and more – so adding the power supply via the communication cable offers attractive benefits and enhancements for dedicated applications. EtherCAT P is used where needed, residing in the same network together with standard EtherCAT technology. Appropriate rectifier units transform common EtherCAT physics to EtherCAT P by consistently maintaining the Ethernet data encoding. In the same way, a device itself can be supplied with EtherCAT P but, in turn, can also transmit standard EtherCAT.
To further the implementation and distribution of EtherCAT P, and to support new users, the EtherCAT Technology Group (ETG) has decided to include the technology as an addition into its technology portfolio. Since EtherCAT P has been accepted into the ETG technology portfolio by the organisation's Technical Committee, the group is working to integrate EtherCAT P into its processes. The goal is to embed EtherCAT P seamlessly into the existing technical content and engineering support resources, as well as into the workshops conducted by the ETG. For instance, future development workshops will contain a section which focuses specifically on EtherCAT P technology. Also, on the master configuration side, the ETG offers its members expert support to help implement EtherCAT P. In addition, the ETG is finalising the official specification of EtherCAT P which will simplify the integration for all device manufacturers. Testing will be extended, too – not only the Conformance Test Tool, but the test cases will also be amended accordingly. In the future, there will be an automated hardware test which includes testing of the marginal parameters for EtherCAT P, as specified by the device manufacturers.
The ETG will make a concerted effort to establish EtherCAT P as a worldwide accepted standard just like EtherCAT. Already big users have announced EtherCAT P implementation plans, which, in turn, have motivated many device manufacturers to invest in the technology. Thanks to ETG support, EtherCAT P will not stay a Beckhoff-only technology, but will become an industry standard supported by numerous manufacturers around the world, just like EtherCAT.
For more information contact EtherCAT Technology Group, +49 911 540 56 226, press@ethercat.org, www.ethercat.org
Further reading:
IO-Link portfolio for decentralised automation
Turck Banner Fieldbus & Industrial Networking
Turck Banner has expanded its IO-Link portfolio with a robust IO-Link master, a compact IO-Link master in IP20 and an I/O-hub with an additional power supply.
Read more...
---
Turck Banner's Profinet integration with S2 redundancy
Turck Banner Fieldbus & Industrial Networking
The TBEN-L5-8IOL is an IO-Link master module in IP67 that supports S2 system redundancy. The master establishes a logical communication relation to more than one controller and combines high availability with a wide range of potential uses through IO-Link in the field.
Read more...
---
Siemens gateway for the process industry
Siemens South Africa Fieldbus & Industrial Networking
Siemens has introduced the Sitrans CloudConnect 240: a new gateway for the process industry. It provides a second data channel, that is used to transmit data from any HART-based field devices to the IT world.
Read more...
---
Cleaning machine 4.0
ifm - South Africa Fieldbus & Industrial Networking
For the digitalisation of its industrial cleaning machines, the French company Mecanolav counts on IO-Link sensors from ifm electronic.
Read more...
---
RS Components supplies Siemens intelligent IIoT gateways
RS Components SA Fieldbus & Industrial Networking
Maximising operational efficiency, these UL-approved units have been designed to deal with the capture and pre-processing of data, before subsequently forwarding it on.
Read more...
---
Secure gateways for power communications
Fieldbus & Industrial Networking
Moxa has introduced a new series of secure hardened Modbus-to-BACnet protocol gateways.
Read more...
---
Upgraded IoT communications module
Instrotech Fieldbus & Industrial Networking
ARC1 with the latest NB-IoT and LTE-M mobile communications technology.
Read more...
---
Modbus to IO-Link converters
Turck Banner Fieldbus & Industrial Networking
Are you using IO-Link to enable OEE analytics yet still have remote pockets where critical equipment should be continuously monitored during operations?
Read more...
---
New Siemens gateway provides access to lifecycle data
Siemens South Africa Fieldbus & Industrial Networking
A second data channel, independent of the control system, is used to transmit data from any HART-based field devices to the IT world.
Read more...
---
IO-Link range with repeaters
ifm - South Africa Fieldbus & Industrial Networking
Using the IO-Link repeater E30444 from ifm electronic, transmission distance can be increased and costs reduced.
Read more...
---