printer friendly version
From the editor's desk: 4IR could solve South Africa's youth unemployment problem
July 2019
News
From 4-6 June, Africa Automation Fair 2019 attracted some 4500 visitors and 131 exhibitors from seven countries, including Australia, China, Germany, South Africa, South Korea, Switzerland and Taiwan. As is customary, the biennial event showcased industrial automation and smart control innovations, alongside the high-level Connected Industries Conference focused on the fourth industrial revolution (4IR) and smarter manufacturing in South Africa.
During the opening presentations, the CSIR's Dr Daniel Visser explained how 4IR is about a fusion of technologies, rather than a single disruptor like steam or electricity in the eras before it. The implication of this is that a much broader regulatory framework needs to be established in order for countries to achieve a successful implementation.
Some of the more important aspects that these new frameworks will need to address include drone operation, biotechnology (genetic engineering), autonomous vehicles, artificial intelligence, environmental sustainability and skills development. While data is the currency of 4IR, it needs to be applied in different ways to achieve the maximum benefit for any unique population demographic. In Japan, for instance, where the issues are around an ageing workforce, robots are being used to replace human workers, while in Africa's case, robots must be used to enhance productivity in ways that do not cost humans their jobs.
It was interesting then to listen to the DTI's Ilse Karg describe how South Africa's burgeoning youth unemployment problem could be turned into an advantage through the right development strategies. She described how government must create an environment that encourages entrepreneurship and the creation of a much stronger small business component in South Africa's economy. "Government must use the opportunities that go with 4IR to create a policy framework that addresses the double-edged sword of job losses and deindustrialisation that continue to stifle economic development in our region," she said.
Karg believes that 4IR is something that needs to be taken seriously. In South Africa's case this involves an incremental evolution underpinned by a youth development strategy designed to create a competitive advantage through talent development within the country's large youth group – something the developed world simply does not have.
2019 Industry Guide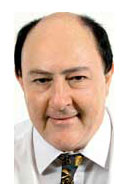 Posted with the magazine this month is the 2019 edition of the Technews Industry Guide: Industrial Internet of Things & Industry 4.0. Whether we like it or not, digitalisation is upon us and those that do not embrace the opportunities will likely be left behind. While many companies have by now grasped the basic tenets, very few have access to the variety of skills and resources required to achieve a successful digital transformation. We hope this handbook serves as a useful reference to help you identify the partners you need to take your company forward in the fourth industrial age.
Steven Meyer
Editor: Instrumentation & Control
Credit(s)
Further reading:
From the editor's desk: Automation professionals need communication strategy too
September 2019, Technews Publishing (SA Instrumentation & Control) , News
Catching the eye of a potential customer has become more difficult than ever thanks to the ethos of information promiscuity that defines the 21st century. It's never been easy to stand out in a crowded 
...
Read more...
---
South Africa sets plans in motion with new LNG import terminal
September 2019 , News
State-owned freight logistics firm, Transnet, said on Tuesday that it had signed a cost-sharing agreement with the World Bank's International Finance Corporation (IFC) to conclude a feasibility study 
...
Read more...
---
Emerson completes acquisition of Zedi's software and automation businesses
September 2019, Emerson Automation Solutions , News
Emerson has announced the purchase of Zedi's software and automation businesses. The addition of Zedi's cloud supervisory control and data acquisition (scada) platform will further enable Emerson to help 
...
Read more...
---
ETG conducts first Safety over EtherCAT Plug Fest
September 2019 , News
The EtherCAT Technology Group (ETG) recently held its first Safety over EtherCAT (FSoE) Plug Fest with great success. Numerous manufacturers of EtherCAT safety master and slave devices came to Verl, Germany, 
...
Read more...
---
Endress+Hauser strengthens ­expertise for advanced analysis
September 2019, Endress+Hauser , News
Endress+Hauser has expanded its centre of competence for advanced analysis in Lyon, France. The Group invested €2 million in a new production facility and office space to meet growing demand in the area 
...
Read more...
---
Festo inspires with smart digital solutions at the Automation Expo
September 2019, Festo , News
Festo hosted the first leg of the Automation Expo in Johannesburg at the Sandton Convention Centre, while the second took place in Port Elizabeth at the Boardwalk Convention Centre. Both ended on a high 
...
Read more...
---
AVK Academy gains traction in Africa
September 2019 , News
The Academy, the training arm of AVK Southern Africa, has taken the Group's training into Africa. With training on basic and advanced valve fundamentals recently concluded at Mulonga Water and Sewerage 
...
Read more...
---
WearCheck acquires reliability testing company, boosts services
September 2019 , News
Durban-based condition monitoring specialists, WearCheck, has bought Anglo Field Services (AFS), which adds three new established divisions to the company's comprehensive reliability solutions portfolio, 
...
Read more...
---
Siemens South Africa puts Smart City vision into action
September 2019, Siemens Digital Industries , News
Fourteen months ago, Siemens installed a microgrid at its headquarters in Midrand and data shows it is using 50% less supplied energy, drawing it from solar resources instead. By extracting energy off 
...
Read more...
---
Implementing Industry 4.0 technologies in Africa's manufacturing environment
September 2019 , News
African manufacturers are aspiring to raise their standards and increase the efficiency of their enterprise operations. To discuss the rising prevalence of technology within the industrial realm, the 
...
Read more...
---